Dale looks back on USC, TV show, bikes
Updated April 20, 2023 - 8:09 pm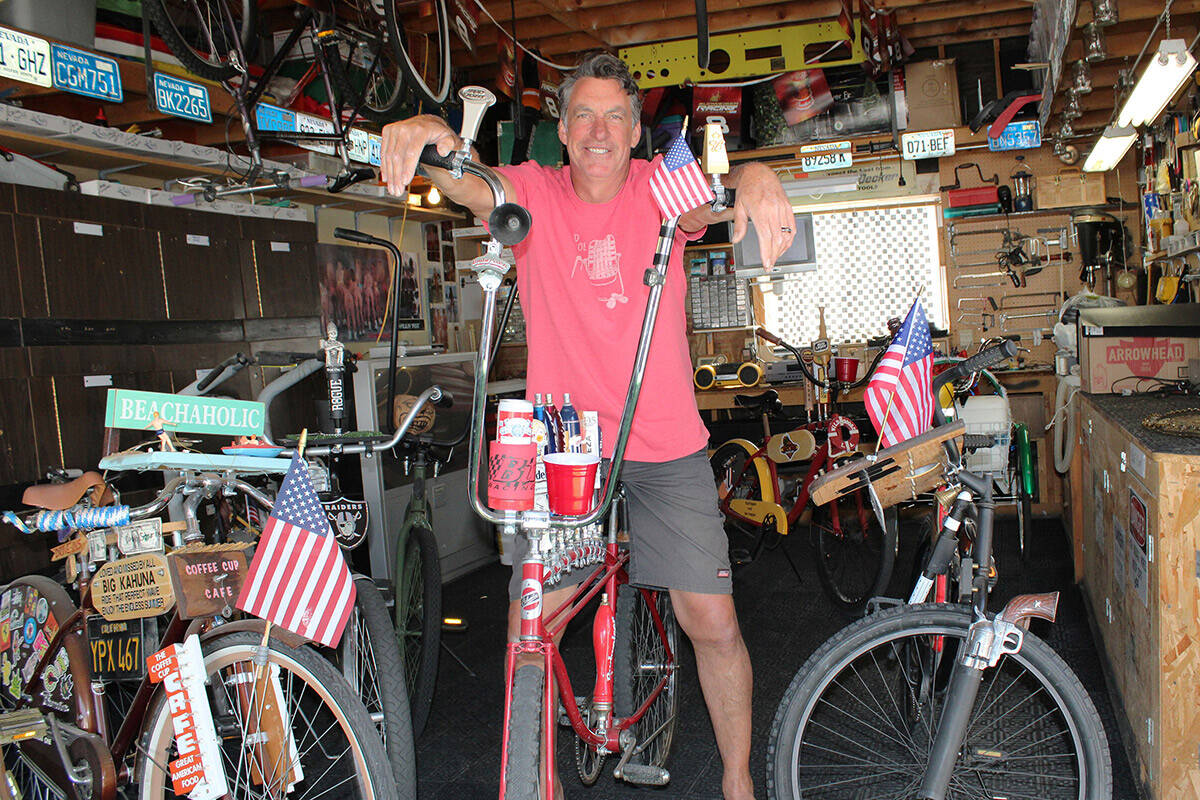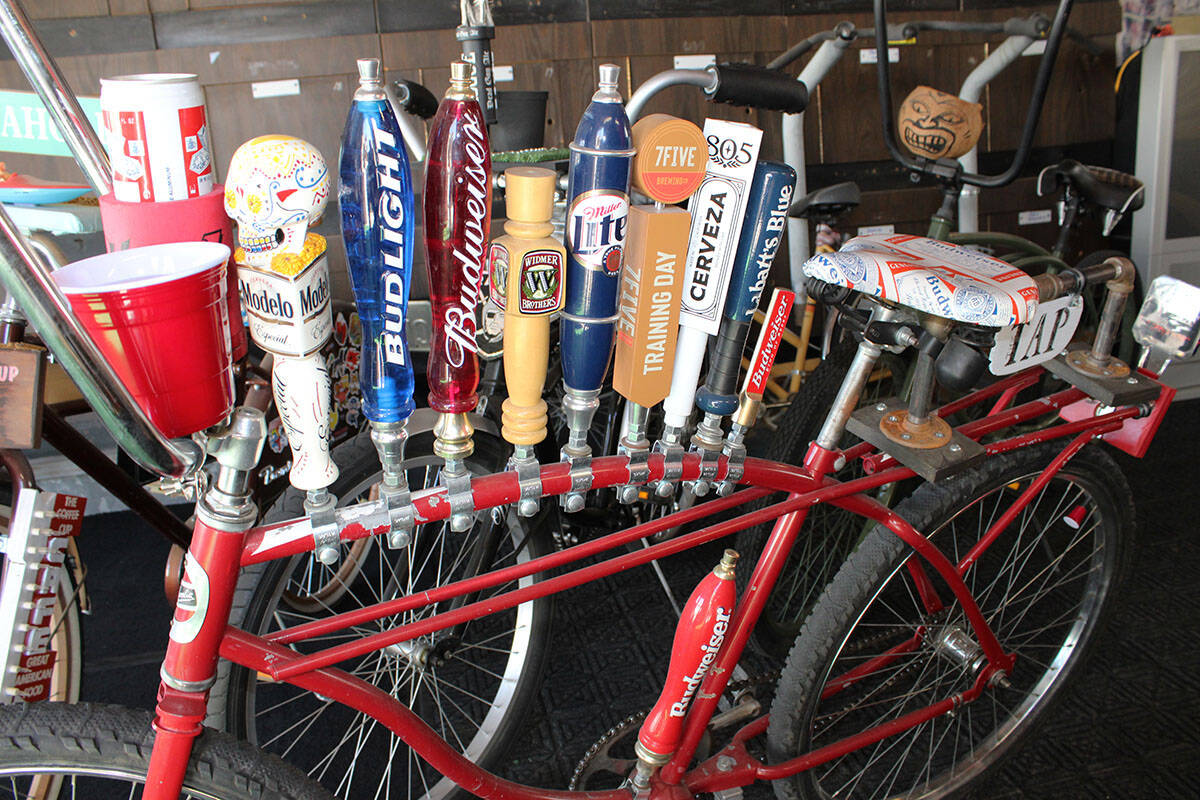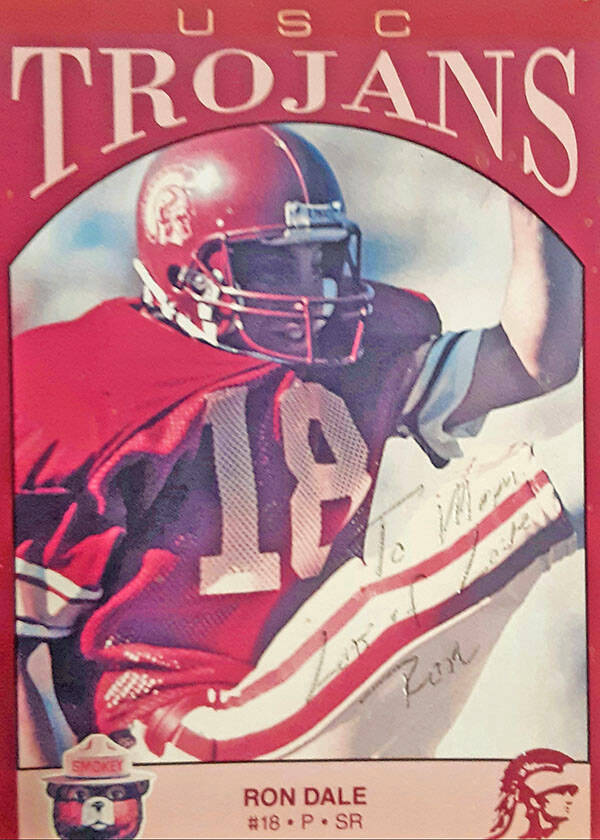 When you walk into Ron Dale's home workshop, you can't help but notice what can best be described as artistry in motion – literally.
That's because his canvas is a bit unique. Bicycles.
"Honestly, it started when I was working with my brother, 10 or 11 years ago," he said. "But it began with cup holders. I was going to make these extravagant cup holders. Then it snowballed into getting bicycles and naming each (with a theme) after different bars in town. I started the BC Bar Hoppers.
"There are no customers, yet. It's just been for my enjoyment. It's just me, having a couple of cocktails and going to the drawing board and deciding what's going to be fun and cool."
With electric bikes being all the rage, Dale said he finds a lot of his bikes at garage sales, with beach cruisers being his artist canvas of choice.
As to why he chose the beach cruiser, his answer was simple.
"It's all about Southern California," he said, with a wide grin. "If I can't be at the beach, I'm going to act like I'm at the beach."
To date, he's completed nearly a dozen bikes with another five in the works. But after that, he plans to branch out to tandem bikes. As for selling them, he has no plans to do so. For now, he's perfectly content to put in his hours at Albertsons, and then come home and tinker in his workshop.
"When you see them, they're nothing like what my brother is able to do," he said. "They're not restored or pristine, they're just fun to look at and ride. We had all of them in last year's Fourth of July parade and we're doing it again this year. And next month at the Spring Jamboree I'll have them on display. It's just a hobby – I'm not looking for a side hustle. It is fun having people stop me to take pictures of them. It's cool."
As he noted, his older brother, Rick, knows a thing or two about restoration. After being featured on the popular show "Pawn Stars," Rick Dale, known not only for his restoration abilities but his sleeveless denim shirts, was given his own show on the History Channel called "American Restoration." The show ran for six seasons beginning in 2010.
The elder Dale asked his brother to come back to his shop, Rick's Restorations, since the writing was on the wall that they may get their own series.
"My role on the show was that of a buyer, or picker," he said. "I had been doing that for him off and on long before the show started, back when he was restoring things out of his garage.
"Doing the show was incredible. It really was awesome but there was a lot of pressure on my brother. He was busy and as the show became popular, he got busier and busier. I think at one point there was a two-year waiting list to get something restored. He felt bad for just the regular customer who came in and wanted something done and they had to wait so long because stuff for the show took priority."
He said one of the best parts of the show for him was that he got to be himself – a self-proclaimed goofball. That, and the ability to travel the country to pick different items for the show and his brother's shop.
While he doesn't recall what it was like the first time he saw himself on the show, he does remember what it was like being recognized.
"That was crazy," he said, laughing. "Things just snowballed. We were on it (show) and then next thing I knew my nephew (Tyler Dale) and I were being invited to go and sign autographs. It was fun being kind of a semi-celebrity. But for my brother it got to the point he couldn't go out to dinner without people stopping him."
That said, "I miss it (doing the show) every day. It's the most fun I've ever had at a job."
For Dale, who recently got married and has two adult children, Jordyn and Hunter, from a previous marriage, being on "American Restoration" was somewhat of his second 15 minutes of fame.
A 1988 graduate of Boulder City High School, Dale's senior year was a whirlwind, to say the least. While baseball was his first love, it was football, with the emphasis on 'foot,' which helped lead him from being an Eagle to a Trojan.
USA Today listed Dale as the No. 1 high school punter in the nation. He was being recruited by University of Miami, University of Southern California, Michigan, Nebraska, Notre Dame and Texas A&M. He said a surreal moment was when over the intercom he was called to then BCHS head coach Chuck Stuart's office because University of Miami, and later Dallas Cowboys coach, Jimmy Johnson was waiting to talk to him.
In this end, he chose USC, primarily so that his parents and other family and friends could drive four hours to see his home games. For those family and friends, it was a balancing act of wanting USC to win but in order for them to see Dale on TV or in person, the Trojans were having to punt, and thus turning the ball over.
"It was great having my family and friends there to see me play," he said.
Following his days at USC, Dale would focus on baseball. While he did play for USC, he would go on to pitch for several minor league teams, including those for the San Diego Padres organization from 1992 to 1994. After being cut that final year, he said he returned to Boulder City and licked his wounds once realizing his professional athletic days were behind him.
He would later work for Budweiser for several years before joining the television show.
Despite having many high points and a few lows along the way, Dale said he has no regrets when looking back on his life.
"With all the support of family and coaches throughout the years, they gave me a lifetime full of opportunities," Dale said. "I'm only 53 and living my best life ever. Great family leads to great love, which leads to a great life."
Contact Editor Ron Eland at reland@bouldercityreview.com or 702-586-9523.