December 17, 2014 - 2:07 pm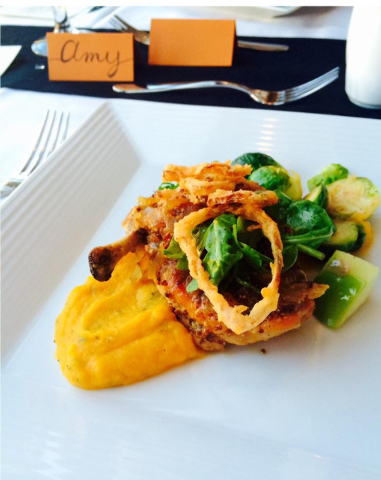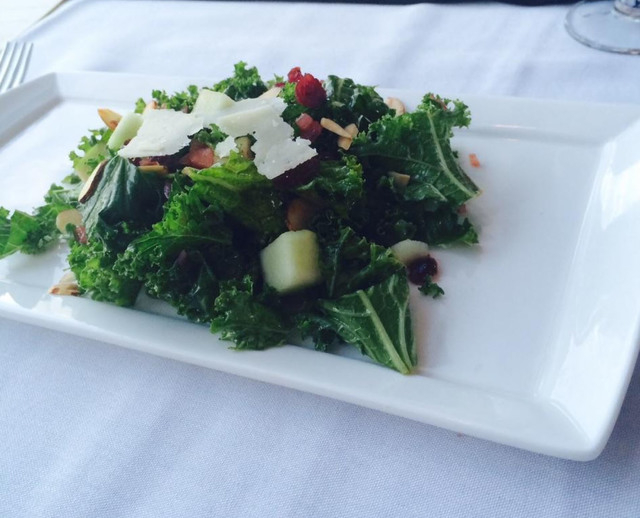 Small town Boulder City girl Emily Hewett recently took her charming smile and spunky personality to the Big Apple, where she is embarking on her newest adventure, working as the culinary events associate for Chobani.
The 2011 graduate of Boulder City High School attended Johnson &Wales University in Charlotte, N.C., after being granted scholarships from the Miss Boulder City Scholarship Pageant and Epicurean Charitable Foundation.
"I moved to Boulder City at the very beginning of my freshman year of high school. It was so easy to acclimate. I could not imagine attending high school anywhere else," Hewett said.
Looking back to what inspired her to go in the direction of culinary arts she said, "My home economics teacher in middle school (in Gardnerville) motivated me to turn cooking into a career. Since then I have continued to develop my passion for cooking."
While the school in Boulder City didn't offer any home economics classes, Emily still found inspiration here. At 15, she began her first job at Milo's Cellar continuing throughout high school.
"I loved every minute of it. I loved the energy and camaraderie of it. My first summer after college, I came back and worked in their bakery and bed and breakfast as the innkeeper and barista," she said.
Hewett said she fell in love with Charlotte after visiting during a Wildcat Weekend where students go through information sessions, cooking classes and tours of the city to get a feel for the university and city culture.
"I worked all throughout college. I began with a catering company as a server and cook for almost two years," she said. "Milo's was the summer of my freshman year, and in the spring term of my sophomore year I moved to Charleston, S.C., for six months to complete my culinary internship."
After returning to school when her internship ended, she began working as a teaching assistant and being a culinary brand ambassador for Chobani Greek yogurt during her junior year.
She said she made a name for herself based on her sassy outspokenness and the ability to boost morale.
"I am known as the short, sassy, red-headed TA (teaching assistant) and wouldn't have it any other way."
Last year Hewett received a teaching assistant award that read, "Excellence in Poultry Procurement: Emily 'Mad Dog' Hewett (Not Even a Sub-Zero Freezer Can Cool Your Temper)."
After two years, Hewett earned an associate of applied sciences in culinary arts, and in November of this year, she graduated with her Bachelor of Science in food service management with concentration in beverage management and psychology.
Hewett graduated two terms early from a four-year program with the aid of Advanced Placement credits from high school, as well as a term abroad for International Hotel Management and Travel Tourism. She was scheduled to travel to Thailand but was rerouted to Italy this past summer.
Every year Hewett flies back to Las Vegas to participate in the Epicurean Charitable Foundation's function M.E.N.U.S. (Mentoring and Educating Nevada's Upcoming Students.)
"I would not be where I am today without their scholarship and their support. I always try to give back to the communities that I am a part of whether it be Las Vegas, Boulder City, Charlotte or now New York."
While Hewett lovingly talks about her mother, Stephanie Sportsman, as her confidante and best friend, she admits it is her grandmother, Linda Hewett of Bascom, Fla., who is the best chef she knows.
"I enjoy cooking for my family the most and hope to someday have the same instinctual cooking techniques as my grandma. She taught me to make her delicious biscuits and gravy, banana pudding and peach cobbler — comfort food at its finest." she said.
"My dad, Don Sportsman, is a source of love, support and comic relief. My immediate family is quite large and I wouldn't have it any other way," Hewett said.
Hewett said her mother doesn't enjoy cooking the way she does, but proudly said she has shared some of her tricks and skills broadening her mom's cooking techniques and possibly inspiring her to get a bit creative in the kitchen.
Hewett said she dreams of owning a business where she has the ability to donate all unused food to the hungry in the area.
"If I could close down my establishment one day a week and dedicate that day to serving the community, then I would have done some small part and contributed my talent to those in need," Hewett said.
Caramelized Onion and Mustard Braised Chicken
7 chicken breasts
1 small onion, diced
3 cloves garlic, smashed
2 lemons, juiced (keep peels)
¼ cup whole grain mustard
¼ cup soy sauce
2 tablespoons butter
¼ cup white wine
2 cups chicken stock, use as needed
Salt, to taste
Pepper, to taste
Canola oil, as needed
½ cup honey
Prepare sauce: Whisk together lemon juice, honey, whole grain mustard and soy sauce. Add garlic and lemon peels.
Trim excess fat from chicken, leaving skin intact.
Season with salt and pepper.
Heat two large rondeaus (wide and shallow pans with straight sides and two loop handles). Add canola oil. Sear chicken, skin side down first. Sear until golden brown on each side. Remove from pans and place onto sheet pan. (You are not cooking chicken all the way through.)
In the same rondeaus, sauté onions in butter until caramelized. Deglaze with white wine. Allow at least 25 minutes for adequate caramelization.
Whisk in sauce. Bring to a simmer.
Place chicken back into rondeau, skin side up. Pour sauce and onions over chicken. Add chicken stock if needed to cover half way up the breasts.
Cover in foil and cook for 30-45 minutes until done.
Serves 7.
Roasted Garlic Butternut Squash Mash
1½ pounds butternut squash
½ head garlic
1 lemon, juiced
1 teaspoon thyme
5 tablespoons butter, use as needed
¼ cup chicken stock, use as needed
Salt, to taste
Pepper, to taste
Water, as needed
1 tablespoon olive oil
Cut butternut squash in half lengthwise and remove seeds. Place face down in a pan and fill pan with ¼ inch of water and roast in a 400 degree oven for 30-45 minutes or until flesh is soft.
Season head of garlic with olive oil, salt and pepper and wrap in foil. Roast in oven for 30 minutes.
Pick thyme and finely chop. Set aside to season at the end.
Once squash is done roasting, remove it from the oven and let it cool slightly. When it is cool enough to handle, use a spoon to scoop flesh away from skin. Place it in a bowl.
Put squash through a ricer and into a pot. Fold in butter and squeeze in roasted garlic in small increments, tasting as you go.
Bring the mixture up to temperature on the stove and thin with stock, if needed. Season with salt, pepper, thyme and a squeeze of lemon.
Makes 6 servings.
Curried Carrot Sweet Potato Ginger Soup
3 cups sweet potato, medium dice
1½ cups carrot, medium dice
2 tablespoons fresh ginger, grated
½ cup shallots, rough chop
1 tablespoon curry powder
1 quart chicken stock
Black pepper, to taste
Salt, to taste
1 lemon, juiced
¼ heavy cream
Peel sweet potatoes and carrots and cut roughly into medium dice, approximately ½-inch pieces. Roughly chop shallots and garlic. Peel and grate ginger using a microplane.
Heat a small amount of oil in a pot. Over a medium heat, sauté shallots until tender, then add garlic.
When shallots are translucent, add sweet potatoes, carrots, ginger, salt and curry. Cook for 2 minutes then add 3 cups of stock. Bring to boil. Cover and reduce heat to a simmer.
Simmer until vegetables are tender, approximately 30 minutes.
Pour mixture into blender. (You may have to do this in stages.) Blend on high until smooth and no chunks remain. Repeat with remainder of soup.
Place back in pan and bring and season to taste with salt, curry and lemon juice. Whisk in heavy cream.
Makes 32 6-ounce servings.