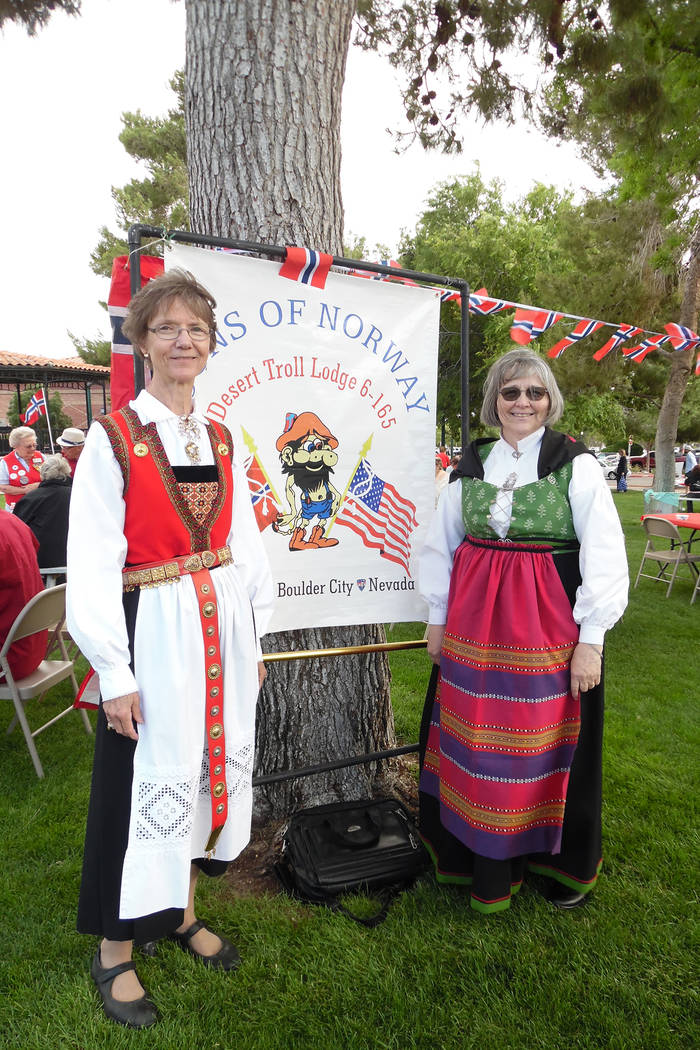 Sons of Norway to celebrate Constitution Day
Members of the community are invited to join the Desert Troll and Vegas Viking Sons of Norway lodges as they celebrate Norwegian Constitution Day today, May 17, in Bicentennial Park, 999 Colorado St.
The free festivities will begin at 5 p.m., and dinner will be served starting at 5:30 p.m. On the menu will be a Norwegian-style smoked sausage wrapped in lefse, a potato bread. Additionally there will be baked beans and coleslaw, with dessert consisting of homemade Scandinavian heart-shaped waffles and krumkakes along with lingonberry juice. Ice cream also will be available.
New this year will be the addition of Norwegian and American beers, which will be available for purchase.
A Taste of Norway table will provide the opportunity for people to sample Norwegian fish, cheeses, crisp bread and fresh rosettes.
Donations for the food will be accepted.
There will be a full-size Viking ship along with Scandinavian music played by DJ Marcela Fastow.
Guest of honor will be Barbara Cegavske, Nevada's secretary of state.
Other activities will include a bounce house, Viking battle, lawn games and raffle. A 7 p.m. there will be a Norwegian-style flag parade complete with classic cars and costumed marchers.
Republican women to host attorney general candidates
Boulder City Republican Women will hold its monthly luncheon meeting today, May 17, at Railroad Pass, 2800 S. Boulder Highway, Henderson.
Guest speakers will be Wes Duncan, Brent Jones and Craig Mueller, candidates for attorney general.
Doors will open at 11 a.m., and the meeting will start at 11:45 a.m.
For additional information, call 702-393-1228 or email bcgop@yahoo.com.
Boulder City Democratic Club is holding its yearly picnic
The Boulder City Democratic Club will hold its yearly picnic Saturday, May 19 at Frank Crowe Park, 640 Nevada Way, from 11 a.m. to 1 p.m. The club will provide hamburgers, hot dogs and beverages. Attendees are welcome to bring a potluck dish as well as chairs to sit on.
Sin City Opera to present version of 'Magic Flute' for children
"The Princess and the Magic Flute" will be presented by Sin City Opera at 2 p.m. Sunday, May 20, in the amphitheater at the Boulder City Library, 701 Adams Blvd.
The show is a shortened version of Mozart's "The Magic Flute." It tells the story of a young princess and prince who fall in love and must overcome obstacles to be united in the end, with the help of a magic flute and some magic spirits.
It will be presented in English with live accompaniment and is geared for a young audience. The interactive performance will last about 45 minutes.
Admission is free.
Featured in the cast are Kayla Wilkens as Princess Pamina, Karsten Pudwill as Prince Tamino; Bonita Bunt as the Queen of the Night; Meric Pittman as Sarastro; Victor Romero as Pappageno and Nicole Harris as Pappagena.
Jae Ahn-Benton is the troupe's accompanist.
Library board to discuss annual budget
Boulder City Library, 701 Adams Blvd., has several activities planned for the coming week. These include:
■ Library budget hearing, 7 p.m. today, May 17. For fiscal year 2018-19. The board of trustees meeting will follow.
■ Crochet for a cause, 2:30 p.m. Tuesday, May 22, in the community room. Learn how to crochet a sleeping mat for the homeless out of plastic bags. For those 12 and older.
■ Positive Action, 3 p.m. Wednesday, May 23, in the board room. For those 12-18.
■ Chess club, 4 p.m. Wednesday, May 23, in the community room.
Call 702-293-1281 for details, reservations or more information.
Importance of life jackets focus of events at Lake Mead
Lake Mead National Recreation Area has a variety of special events happening in the coming week. These include:
■ Wear Your Life Jacket to Work Day, Friday, May 18. People are asked to wear a life jacket to work to celebrate National Safe Boating Week. Participants can then post a picture on social media using #lifejacket2work or #safeboating.
■ Ranger program "Ready, Set, Wear It," 2-4 p.m. Saturday, May 19, at the Katherine Landing marina. As part of National Safe Boating Week, the park will attempt to set a world record for the most number of people wearing a life jacket. There will be life jackets and family-friendly activities. Additional information is available at 702-293-8970.
■ Ranger chat "Bugs and Blooms," 11:30 a.m. and 1 p.m. Sunday, May 20, at the Alan Bible Visitor Center, 10 Lakeshore Road. Learn about the relationship between Mojave Desert wildflowers and insects.
For additional information or reservations, call 702-293-8990.
Guild to showcase art on silk
Featured in the Boulder City Art Guild's gallery throughout May is Diane Ricks' work "Offerings in Silk."
Ricks paints in acrylics and watercolors on silk, paper and canvas. Some remain as works of art; others are transformed into gowns. She will show her silk paintings with a unique blend of applique and stitching.
Ricks, who moved to Boulder City from California about a year ago, was a fashion designer and costume-maker. After learning about painting and dyeing her own fabric, she began teaching her techniques across the nation. Her wearable art garments have been in shows and galleries throughout the United States and abroad.
The gallery is open from 10 a.m. to 4 p.m. Monday through Saturday and from 10 a.m. to 3 p.m. Sunday.
For more information, visit www.bouldercityartguild.com.