September 30, 2015 - 3:15 pm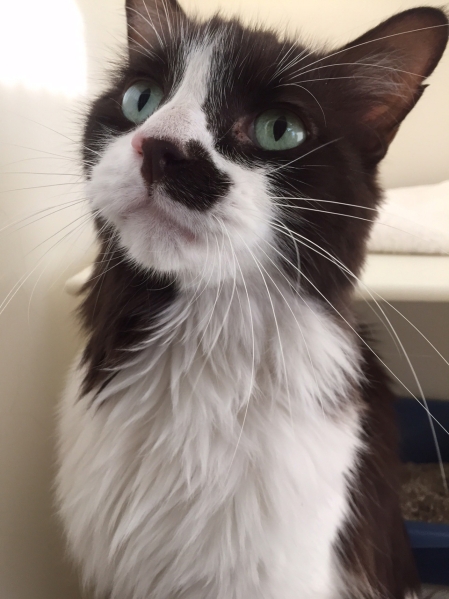 Composting topic for garden club speaker
The Boulder City Garden Club will meet at 6:45 p.m. Wednesday at the Boulder City Library, 701 Adams Blvd. Guest speaker will be Emily Beamguard, who will talk about "The Science of Composting: Turning Waste into Garden Riches."
The meeting is open to the public. For more information, call Libby Powell at 702-293-9064.
Animals to be blessed at church Wednesday
The Rev. James Lyons Jr. of St. Christopher's Episcopal church will commemorate the Feast of St. Francis of Assisi with a blessing of the animals at 6 p.m. Wednesday on the patio of church, 812 Arizona St. Pet owners may bring their leashed or contained pets or photos of their pets to be blessed.
St. Francis, who founded the Franciscan Order, lived in Italy during the 12th and 13th centuries. He is remembered for his kindness to the poor and for his love of animals.
Donations of pet food, blankets and towels for Boulder City animal Shelter can be brought to the church.
For more information, call the church at 702-293-4275 or Patty Jacobson at 702-371-3577.
Voter registration topic for Democrats
The Boulder City Democratic Club will hold its monthly meeting at 6:30 p.m. Oct. 8 at the Boulder City Library, 701 Adams Blvd. The topic of discussion will be voter registration efforts.
The meeting is open to the public. For more information, call 702-530-6604 or email bouldercitydemocraticclub@gmail.com.
'Wicked' theme of Oct. 10 wine walk
The Best Dam Wine Walk presented by the Chamber of Commerce continues its series of walks from 4-8 p.m. Oct. 10. The theme for this walk is "Wicked."
Stop by the Chamber of Commerce at 465 Nevada Way first to get a glass and map of participating locations, all within the historic downtown area.
Cost is $25 a person or $45 a couple.
The wine walk is part of the chamber's Second Saturday festivities. Also planned are sidewalk sales, entertainment, human foosball and a corn hole.
All events are happening in the Historic District and are within a walkable distance.
"The wine walk and other associated activities on the second Saturday of each month has truly generated a lot of energy that evening. The businesses love having the extra 75 to 125 extra guests strolling through their establishments. The economic impact of this event has been favorable and has incentivized more and more businesses to come online and join in the fun," said chamber CEO Jill Rowland-Lagan.
Original work to be auctioned at art gallery
The Boulder City Art Guild Gallery is having a silent auction for an original watercolor painting by the late Aileen Dike.
The piece, "Autumn in Full Dress," was donated by a private collection and comes with a certificate of authenticity. It was painted in 2010 during Dike's last trip to Mexico.
The piece, which is 10.5-by-13.5 inches, is matted and framed. It is on display in the gallery inside the Boulder Dam Hotel, 1305 Arizona St., from 10 a.m. to 4 p.m. Monday through Saturday and from 10 a.m. to 3 p.m. Sunday.
The silent auction ends Oct. 10.
Color dash to benefit St. Jude's Ranch
St. Jude's Ranch for Children will host is first 5K Color Dash Oct. 17.
Participants will be given a white T-shirt at the start of the run, and at each kilometer they will add different colors. At the end of the run there will be a color explosion where participants will throw their color packets into the air allowing everyone to be multicolored together.
Packet pick up begins at 9 a.m. and the race is scheduled to start at 10:30 a.m. The color explosion is scheduled for 11:45 a.m.
The race begins and ends at St. Jude's, 100 St. Jude's St. Tickets are $40 each, with discounts available for groups. Fifty percent of each ticket sold for this charity event will benefit the ranch.
For tickets or more information, visit http://bit.ly/1FyAjOP.
Movie, club meetings fill library's schedule of activities
The Boulder City Library, 701 Adams Blvd., has several activities planned for the coming weeks. These include:
n Crazy 8s math club, 3:30 p.m. today in the community room. For those age 5-8. Reservations requested.
n Banned book movie, 5 p.m. today in the community room. "The Hunger Games: Mockingjay Part 1" will be shown.
n Movie, 6 p.m. Friday in the community room. "Spy" will be shown. Bring blankets and snacks. Note, this move is rated R for language throughout, violence and some sexual content, including brief graphic nudity.
n Craft, 1 p.m. Saturday in the community room. Participants will learn to make scarves out of recycled T-shirts. Reservations and a $5 refundable deposit are required by 8 p.m. today.
n Teen movie, 5 p.m. Monday in the community room. "The Avengers" will be shown.
n Preschool story time, 10 a.m. Tuesday in the board room. For children 3-5 and their caregivers.
n Teen movie, 5 p.m. Tuesday in the community room. "Avengers: Age of Ultron" will be shown.
n Toddler story time, 10 a.m. Wednesday in the board room. For children younger than 36 months.
n Teen time, 2:30 p.m. Wednesday in the community room. Those 12 and older are invited to come play games, work on homework or just hang out.
Call 702-293-1281 for details, reservations or more information.
Chocolate tasting, fishing event on tap at Lake Mead
Lake Mead National Recreation Area has a variety of special events happening in the coming weeks.
These include:
n Evening program: Chocolate and wine pairing, 7 p.m. Saturday at the Alan Bible Visitor Center. Taza Mexican chocolate will be paired with wine. Participants must be 21 or older and proof of identification is required.Cost is $35 per person. The event is limited to 25 participants. Reservations required.
n CAST (Catch a Special Thrill) for Kids, Saturday at the Lake Mead Marina. Children with disabilities are invited to the recreation area to fish. Volunteers are needed. Call 702-293-8562 for details or visit http://bit.ly/1WnAdxS.
Call 702-293-8990 for additional information or to make reservations.
Free tour of Security Site scheduled
A tour of the Nevada National Security Site, formerly known as the Atomic Test Site, has been scheduled for Nov. 17 by the local Romeo group.
The tour, which is booked until May 2016 for individuals, is limited to 50 residents.
A private chartered bus will take the group from the Atomic Test Museum, 755 E. Flamingo Blvd., to the site, where they will go on a guided tour. Those attending must be at the museum by 7:25 a.m. and the bus will return around 4 p.m.
There is no cost to participate. Those taking the tour must bring their own lunch and drinks, and shorts, sandals, cellphones, cameras, radioactive measuring devices, telescopes, binoculars and computers are prohibited.
Reservations will be on a first-come, first-served basis. Each visitor to the security site must undergo a background check.
Those interested in attending need to send their full name, including middle initial, date and place of birth, home address and citizenship to Glenn Nakadate at BCPebble@yahoo.com.
Additional information is available at www.nv.doe.gov/outreach/tours.aspx.
Donations sought for Country Store
Grace Community Church is now accepted donations for its Country Store sale to be held Oct. 16-17. Donations can be left at the church, 1150 Wyoming St.
The storeroom is open from 8-10 a.m. Mondays or you can call the church at 702-293-2018 to arrange for donations to be picked up.
Proceeds from the sale are used for missionary projects and church operations.