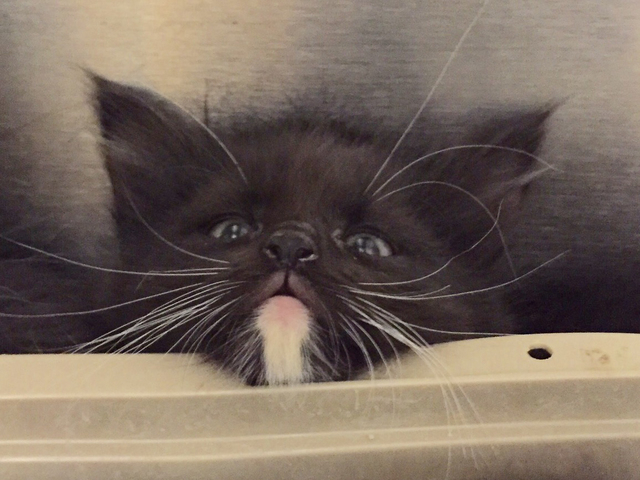 See Spot Poker Run to be held downtown Saturday
See Spot Run will hold a See Spot Poker Run in downtown Boulder City from 5-9:30 p.m. Saturday. Players can visit or start at any of the participating locations to play their poker hands.
Participants are Boulder Bowl, Boulder Dam Brewing Co., The World Famous Coffee Cup, The Dillinger Food and Drinkery, Evan's Old Town Grille, Grandma Daisy's, Jack's Place, Milo's Cellar, Oasis Boutique Motel, Southwest Diner and Tony's Pizza.
The final stop will be the brewpub, where players can turn in their cards.
There is a $20 buy in. Winners of the highest and lowest hands will receive a prize. All proceeds will be used to maintaining the dog park at Veterans' Memorial Park, 1650 Buchanan Blvd.
Girl Scouts schedule 'Back to Basics' camp
Local Girl Scouts will hold a Back to Basics Twilight Camp from 4-7 p.m. Tuesday through June 12. It will be held at the Girl Scout house, 1206 Sixth St.
Girls going into first through fourth grade are welcome.
Space is limited. There is a $5 fee for currently registered members and a $35 fee for unregistered girls.
For more information or to register, call Pam Gove at 702-293-0753.
Democratic club members to discuss election's outcome
The Boulder City Democratic Club will hold its monthly meeting at 6:30 p.m. June 11 at the Boulder City Library, 701 Adams Blvd.
On the agenda is a discussion of the outcome of the recent election.
Club members, guests and the general public are invited to attend. For more information, call 702-530-6604 or email bouldercitydemocraticclub@gmail.com.
Lend A Hand sets class to train new volunteers
Lend A Hand will hold a training class from 9 a.m. to 1:30 p.m. June 16 for those interested in volunteering for the nonprofit organization.
For additional information about the organization or volunteer opportunities, call 702-294-2363.
Library schedules variety of activities, events
Boulder City Library, 701 Adams Blvd., has several activities planned for the coming weeks. These include:
n "I Survived" book club, 3:30 p.m. Friday in the board room. Participants are asked to read "I Survived: The San Francisco Earthquake, 1906" by Lauren Tarshis before attending. The session will include a discussion, activity and craft related to the book. For those 6-11.
n Summer reading program kickoff, 11 a.m. Monday in the community room. Mad Science will kick off the program.
n Movie, 2 p.m.Monday in the community room. "Goonies" will be shown. Bring blankets and snacks.
n Math Bash, 10 a.m. Tuesday in the board room. Explore and learn at fun math stations. For those 5-10.
n Teen movie, 5 p.m. Tuesday in the community room. "The Fault in Our Stars" will be shown.
n Craft hour, 10 a.m. Wednesday in the community room. For all ages.
n Hero Club, 3 p.m. Wednesday in the community. Learn how to be a hero in this four-week club. Getting the hero look is on tap for the first session. Sign up in the youth department or call the library for details.
n Family story time, 6 p.m. Wednesday in the community room. There will be science, crafts, games, Legos and stories.
Note, the library will be closed Sunday.
Call 702-293-1281 for details, reservations or more information.
Myriad special events on tap at Lake Mead
Lake Mead National Recreation Area has a variety of special events happening in the coming weeks. These include:
n Ranger chat: Lake Mead Rocks: Geology 101, 11:30 a.m. and 1 p.m. Saturday and Sunday at the Lake Mead Visitor Center. Learn how the landscape has changed over millions of years.
n Evening bat hike, Saturday. Join a range for a walk along the Historical Railroad Trail to explore bat myths and how they benefit people. The group will watch the sun set over the lake. Participants should bring a flashlight. Reservations required.
Call 702-293-8990 for additional information or to make reservations.
Emergency Aid needs volunteers to help with operations
Emergency Aid of Boulder City, a nonprofit organization that assists residents of Boulder City and those who travel through the community, needs volunteers to assist with its operations.
Emergency Aid operates a food pantry and provides financial assistance to those in the community who are in need. It is open from 9 a.m. to noon Monday through Friday at the old Los Angeles Water and Power Building, 600 Nevada Way.
Volunteers are asked to work a minimum of three hours a week. There also are opportunities to help from your home.
Emergency Aid relies on volunteers, grants and private donations to operate.
For more information, call 702-293-0332 or email emergencyaid@lvcox.mail.com.