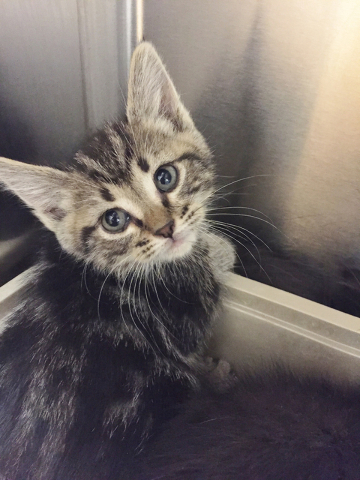 Retired public employees to hear of hospital programs
The Boulder City chapter of the Retired Public Employees of Nevada will hold its monthly meeting at 11 a.m. today at The Homestead of Boulder City, 1401 Medical Park Drive.
Guest speaker Ellise Hayden of Boulder City Hospital will speak about the geriatric psychology and acute rehabilitation units.
There will also be updates about the Nevada Legislature.
For additional information, email Bernard at bernardpaolini@cox.net or call 702-294-0636.
Lend A Hand holding annual nonevent fundraiser
Lend a Hand is holding its annual nonevent event fundraiser, inviting area residents to stay at home in their pajamas and send in a donation.
The fundraiser continues through the end of the month.
Donations can be submitted online at www.lendahandbouldercity.org or by sending a check to 400 Utah St., Boulder City, NV 89005.
Cactuses, succulents are talk topic for garden club speaker
The Boulder City Garden Club will meet at 6:45 p.m. Wednesday at the Boulder City Library, 701 Adams Blvd.
Guest speaker Tom Bohannon of Moon-Sun Cactus and Koi Gardens Nursery will talk about "Cactus and Succulents: A Primer."
All interested people are welcome to attend.
For more information, call Libby Powell at 702-293-9064.
Blood drive for community, hospital scheduled for today
A blood drive for the Boulder City community and hospital will be held from 1 to 7 p.m. today in the gymnasium at the Church of Jesus Christ of Latter-day Saints, 916 Fifth St.
For more information, call Lee McDonald at 702-795-8335.
Philanthropic group's chapter will hold annual yard sale
Chapter K of the Philanthropic Educational Organization will hold its annual yard sale fundraiser from 7 a.m. to noon Friday and Saturday at 540 Bender Court.
Sale proceeds benefit the chapter's philanthropic projects and scholarship fund.
For more information, call Patty Jacobson at 702-293-7454.
Gardening workshop will focus on coping with summer heat
A master gardener workshop about summer gardening will run from 11 a.m. to 1 p.m. Saturday at the Boulder City Community Garden, 300 Railroad Ave.
Participants will learn ins and outs of desert gardening through the hottest time of the year.
For more information, call the parks and recreation department at 702-293-9256.
VFW to raffle bicycle in memory of charter member
Veterans of Foreign Wars, Cpl. Matthew A. Commons Memorial Post 36, will raffle off a Dynacraft Alpine Eagle 26-inch mountain bike in memory of post charter member Arthur Monetti.
Tickets can be purchased from 8 a.m. to 4 p.m. Sunday in front of Albertsons, 1008 Nevada Highway.
The winning ticket will be drawn after the Fourth of July parade outside the multiuse building in Broadbent Park.
The winner does not have to be present.
For further information, or to buy a ticket, call Bob Garlow, past state commander, at 702-808-4750.
Library schedules variety of activities, events
Boulder City Library, 701 Adams Blvd., has several activities planned for the coming weeks. These include:
n Lego challenge, 3:30 p.m. today in the community room. The session is designed for people 6 and older.
n Anime Club, 3 p.m. Friday in the boardroom. For junior high-age participants.
n Teen and adult craft, 1 p.m. June 6 in the community room. Learn how to make yarn fairy light globes. For participants 12 and older. Advance reservations and a $5 refundable deposit are required by June 4.
Note, the library will be closed Sunday.
Call 702-293-1281 for details, reservations or more information.
Myriad special events on tap at Lake Mead
Lake Mead National Recreation Area has a variety of special events planned for the coming weeks. These include:
n Ranger chat: Wingspan Myths, 11:30 a.m. and 1 p.m. Saturday and Sunday at the Lake Mead Visitor Center. Learn about the wingspans of a variety of desert birds.
Call 702-293-8990 for additional information or to make reservations.
See Spot Poker Run to be held downtown on June 6
See Spot Run will hold a See Spot Poker Run in downtown Boulder City from 5-9:30 p.m. on June 6.
Players can visit or start at any of the participating locations to play their poker hands.
Participants are Boulder Bowl, Boulder Dam Brewing Co., The World Famous Coffee Cup, The Dillinger Food and Drinkery, Evan's Old Town Grille, Grandma Daisy's, Jack's Place, Milo's Cellar, Oasis Boutique Motel, Southwest Diner and Tony's Pizza.
The final stop will be the brewpub, where players can turn in their cards.
There is a $20 buy-in. Winners of the highest and lowest hands will receive a prize.
All proceeds will go toward maintaining the dog park at Veterans' Memorial Park, 1650 Buchanan Blvd.
Hospital auxiliary seeks volunteers
Volunteers are needed to work in Goldies' Gift Shoppe and in long-term care at Boulder City Hospital.
Anyone interested should contact the Boulder City Hospital Auxiliary by calling the hospital gift shop at 702-293-4111, visiting the gift shop or downloading an application on the auxiliary's page on the hospital's website at bchcares.org.
Emergency Aid needs volunteers to help with operations
Emergency Aid of Boulder City, a nonprofit organization that helps Boulder City residents and those who travel through the community, needs volunteers to assist with its operations.
Emergency Aid operates a food pantry and provides financial assistance to needy people in the community. The food pantry is open from 9 a.m. to noon Monday through Friday at the old Los Angeles Water and Power Building, 600 Nevada Way.
Volunteers are asked to work at least three hours a week.
There also are opportunities to help from home.
Emergency Aid relies on volunteers, grants and private donations to operate.
For more information, call 702-293-0332 or email emergencyaid@lvcox.mail.com.
Writers group meets every Thursday at library
The Boulder City Writers Group meets from 7-8:20 p.m. each Thursday in the community room at Boulder City Library, 701 Adams Blvd.
Writers of all levels are welcome to attend to learn more about writing and receive feedback on their work.
Membership is free.
For more information, email jenballif@gmail.com.
Consultant offers free help to seniors mastering computers
Boulder City resident Beverly Burke, owner of marina and resort management company BSB Consulting, is offering help to area senior citizens who are having computer difficulties.
She said she welcomes calls to "rant, rave, cry, scream or just yak."
There is no cost.
Call her at 702-293-0769.