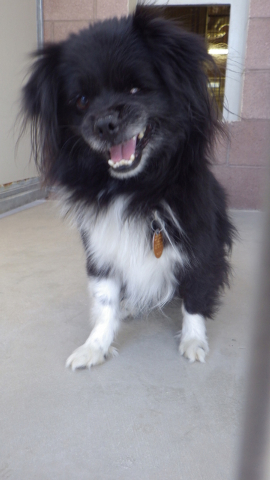 Retired Public Employees' monthly meeting to be held today
The Boulder City chapter of the Retired Public Employees of Nevada will meet at 11 a.m. today at The Homestead of Boulder City, 1401 Medical Park Drive.
Guest speaker will be Kelley Ferrence, owner of Right at Home, who will talk about in-home care and assistance.
Updates on the Nevada Legislature are planned.
A no-host lunch at a local restaurant will follow the meeting.
For additional information, contact Bernard at bernardpaolini@cox.net or call 702-294-0636.
Community Club's Trinkets, Treasures sale planned
Community Club members will gather today for their annual Trinkets and Treasures luncheon. The meeting will begin at 12:30 in the Multiuse Building, 1204 Sixth St.
Trinkets and Treasures, a sale featuring a variety of items brought in by members, is a fundraiser for the club.
The club will provide pizza for lunch and members are asked to bring a dessert.
Grace Christian Academy schedules open house for tonight
Grace Christian Academy, 512 California Ave., will hold its spring open house from 6-7 tonight, which is also the school's annual science and history night.
All interested people are welcome to learn more about the school, view students' science fair projects, participate in science activities in the classrooms and learn about U.S. history through first-person presentations of famous Americans.
The school offers classes for kindergarten through sixth grade. Registration materials for the 2015-16 school year will be available.
For more information, visit www.gracechristianacademybc.org or call 702-293-3536.
'Medication Management' topic of free program at center
A program about "Medication Management" will be at 10 a.m. Friday at the Senior Center of Boulder City, 813 Arizona St. This free presentation will deal with the interactions of over-the-counter and prescription medications.
The program is being presented by Boulder City Hospital through a Nevada Community Prevention Coalition grant.
Advance registration is requested. Call 702-293-3320 to register or sign up at the front desk at the center.
Anew Women's Network to meet at library Saturday
Anew Women's Network will meet at 2 p.m. Saturday at Boulder City Library, 701 Adams Blvd.
The network is for widows, and offers friendship, fun and resources.
A free light lunch will be served.
For more information, contact Fran Jordan at 702-293-0620 or Pastor Marjorie Kitchell at 702-293-7773.
Lake Mead to host Great American Cleanup Saturday
Residents are invited to participate in the Great American Cleanup Saturday at Lake Mead National Recreation Area.
Volunteers are needed to remove trash at the park. Each year, more than 4 million volunteers in 20,000 communities nationwide take part in the event.
Anyone younger than 18 will need to complete a permission slip signed by a parent or guardian.
For more information, contact Nancy Bernard at 702-293-8714 or nancy_bernard@nps.gov.
Pancake breakfast will benefit Honor Flight
A pancake breakfast Saturday will raise funds for Honor Flight Southern Nevada, which takes veterans on all-expense-paid trips to Washington, D.C., to see war memorials.
The breakfast will be served from 8-11:30 a.m. at Red Rock Harley-Davidson, 2260 S. Rainbow Blvd., Las Vegas.
Tickets are $5 per person.
Donations can be mailed to 2190 E. Pebble Road, Suite 150, Las Vegas, NV 89002.
For more information, visit www.honorflightsouthernnevada.org or call 702-749-5912.
Garden club to hear about growing roses at meeting
The Boulder City Garden Club will meet at 6:35 p.m. Wednesday at Boulder City Library, 701 Adams Blvd.
Marie Kaplan, a consulting rosarian and master gardener, will speak about "Growing Roses in Southern Nevada."
All interested people are welcome.
For more information, call Libby Powell at 702-293-9064.
Library schedules variety of activities, events
Boulder City Library, 701 Adams Blvd., has several activities planned for the coming weeks. These include:
n Lego challenge, 3:30 p.m. today in the community room. The session is designed for those 6 and older.
n Bedtime Math Club, 3:45 p.m. Friday in the community room. The program features hands-on math games. For children in kindergarten through second grade.
n Movie, 11 a.m. Tuesday in the community room. Snacks and drinks are permitted. Call for the movie title.
n Toddler story time, 10 a.m. Wednesday in the board room. For children younger than 36 months.
n Teen time, 2:30 p.m. Wednesday in the community room. For those 12 and older. Teens are invited to play games, work on homework or just socialize with each other.
Call 702-293-1281 for details, reservations or more information.
Emergency Aid needs volunteers to help with operations
Emergency Aid of Boulder City, a nonprofit organization that assists residents and those who travel through the community, needs volunteers to assist with its operations.
Emergency Aid operates a food pantry and provides financial assistance to those in the community who are in need. It is open from 9 a.m. to noon Monday through Friday at the old Los Angeles Water and Power Building, 600 Nevada Way.
Volunteers are asked to work a minimum of three hours a week. There also are opportunities to help from your home.
Emergency Aid relies on volunteers, grants and private donations.
For more information, call 702-293-0332 or email emergencyaid@lvcox.mail.com.
Writers group meets every Thursday at library
The Boulder City Writers Group meets from 7-8:20 p.m. each Thursday in the community room at Boulder City Library, 701 Adams Blvd.
Writers of all levels are welcome to learn more about writing and receive feedback on their work.
Membership is free.
For more information, email jenballif@gmail.com.
American Legion breakfast served Thursday mornings
All veterans and their families are invited to the American Legion's varied menu breakfast from 6-8:30 a.m. Thursdays at the American Legion Hall, 508 California Way, between Boulder Bowl and Grace Christian Academy. There is no cost to attend, but donations are welcome.
Legionnaires and eligible veterans are invited to the American Legion meeting at 7 p.m. the first Tuesday of the month at the hall.
Call Cmdr. Gregory Hall at 702-293-6374 for more information.
Hospital auxiliary seeks volunteers for gift shop, long-term care
Volunteers are needed to work in Goldies' Gift Shoppe and in long-term care at Boulder City Hospital.
Anyone interested should contact the Boulder City Hospital Auxiliary by calling the hospital gift shop at 702-293-4111, visiting the gift shop or downloading an application on the auxiliary's page on the hospital's website at bchcares.org.