October 15, 2014 - 1:17 pm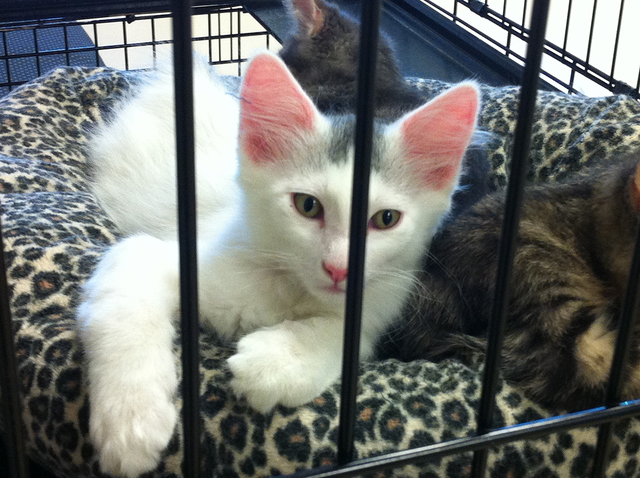 Elementary schools' Fall Festival set for Friday
King and Mitchell elementary schools will hold a Fall Festival from 5:30-8 p.m. Friday at Mitchell Elementary School, 900 Avenue B.
The fun, family event will feature more than 20 carnival-style games including a bean bag toss, pumpkin putting and football throw. There also will be a haunted bus, pie toss, maze and performances by King's choir and physical education classes.
Pizza, popcorn and drinks will be available. Tickets are 25 cents each, with games costing one ticket and food costing four tickets.
The Parent Advisory Committees from both schools are sponsoring the event, which will benefit the schools.
Art guild marks state's birthday with exhibit
Boulder City Art Guild's current exhibit, "Happy Birthday Nevada, 150 Years," celebrates the state and its colorful history, with guild members showing works inspired by Nevada throughout the years. It continues through Nov. 15.
The guild's gallery is at the Boulder Dam Hotel, 1305 Arizona St.
A reception will be held from noon to 2 p.m. Sunday. Cake and ice cream will be served.
The gallery is open from 10 a.m. to 5 p.m. Monday through Saturday and 10 a.m. to 3 p.m. Sunday.
Lions club hosting golf tourney Sunday
Boulder City Lions Club is presenting a fundraising golf tournament Sunday at Boulder City Municipal Golf Course, 1 Clubhouse Drive.
The best ball tournament begins at noon. The $100 entry fee includes a golf cart and awards ceremony.
Proceeds from the tournament benefit the Lions' various charities, including its efforts to provide eyeglasses to those who cannot afford them.
Sponsors also are needed.
For more information, call Walter Stocker at 702-688-2109.
University Women to discuss voters rights at meeting
The American Association of University Women will hold its monthly meeting at 6 p.m. Monday in the Segerblom Meeting Room at the Boulder Dam/Hoover City Museum within the Boulder Dam Hotel, 1305 Arizona St.
The evening's topic will be voter rights and issues, facilitated by Howard Watts III, elections field director with the Progressive Leadership Alliance of Nevada. Additionally, input and volunteers for the annual home tour, set for Dec. 13, will be sought.
All interested people are welcome to attend. Refreshments will be served.
For more information, leave a message at 702-290-5592 and your call will be returned as soon as possible.
Candidates to appear Sunday at meet and greet
Area residents are invited to meet candidates for judicial, county administrative and other offices during a meet-and-greet session from 2-4 p.m. Sunday at the Boulder Dam Hotel, 1305 Arizona St. The candidates will be open to questions as well as explaining why he or she feels best qualified for the job.
Participants are encouraged to bring their sample ballots with them.
Refreshments will be served.
Dementia, Alzheimer's, depression focus of seminar
The Senior Center of Boulder City and Boulder City Hospital will present a seminar about what to do after getting a diagnosis of dementia, Alzheimer's disease or depression at 10 a.m. Oct. 24 at the center, 813 Arizona St.
The seminar is designed for those 50 and older. It will feature support organizations, those who are managing their diagnosis and those who have supported family members with an illness.
Advance registration is requested and can be done by calling 702-293-3320 or visiting the front desk at the senior center. The seminar is funded through a grant from the Nevada Community Prevention Coalition.
Grimaldi Circus makes stop in Boulder City
Grimaldi Circus will stop in Boulder City for five performances Friday through Sunday.
Performances are scheduled for 7:45 p.m. Friday, Saturday and Sunday, and 5 p.m. Saturday and Sunday at the gym in the Parks and Recreation Department, 900 Arizona St.
Lend A Hand to help sponsor program about chronic disease
Lend A Hand of Boulder City, in collaboration with Dignity Health and St. Rose Dominican Hospitals, will present a free chronic disease self-management program developed by Stanford School of Medicine.
The six-week workshop begins Oct. 21 and runs through Nov. 25. The two-and-a-half-hour sessions are scheduled from 1-3:30 p.m. at the Lend A Hand office, 400 Utah St.
Anyone who suffers from a chronic disease or is caretaker for someone with a chronic disease is welcome to attend. Topics to be discussed include techniques for dealing with the disease, exercise to improve strength, decision-making tools, communication skills and nutrition.
To register, call Lend A Hand at 702-294-2363.
Emergency Aid prepares for annual Angel Tree
Emergency Aid of Boulder City is gearing up for its annual Angel Tree project that provides gifts during the holiday season for local children who would otherwise not have their wish lists filled.
Parents wishing to place their children's names on the tree must live in Boulder City. Emergency Aid will sign up participants from 9 a.m. to noon Monday through Friday Oct. 27 through Nov. 26. Children from newborn to 18 can be registered for the program.
Boulder Dam Credit Union will again house the tree with the children's names. It will be set up Nov. 17.
Community Club plans potluck for October meeting
The Community Club will hold its October luncheon at 12:30 p.m. Oct. 23 at the Multiuse Building, 1204 Sixth St. It will be a potluck. Guest speaker for the afternoon will be Patty Sullivan of the Parks and Recreation Department.
Reservations are required and can be made by calling Beverly Parry at 702-293-7623 after 1 p.m.
Chamber sponsoring free shred day Oct. 23
Boulder City Chamber of Commerce is sponsoring a free shred day Oct. 23 in the parking lot at Albertsons, 1008 Nevada Highway. The shredding service will be offered from 8 a.m. to noon.
For additional information, call the Chamber of Commerce at 702-293-2034.
Haunted house, carnival at rec center Oct. 29
To celebrate Halloween, Boulder City Parks and Recreation Department will present a haunted house and carnival Oct. 29 at the recreation center gym, 900 Arizona St. The carnival will be held from 6-8 p.m. Admission is free, but tickets for each game are 75 cents.
The haunted house will be open from 6-8:30 p.m. Admission is $5.
Those attending are welcome to wear costumes. For more information, call 702-293-9256.
Sons of Norway to present lutefisk, meatballs dinner
The Sons of Norway, Desert Troll Lodge of Henderson/Boulder City, will present a traditional lutefisk and meatballs dinner Nov. 1.
The Scandinavian celebration gets underway at 4 p.m., with dinner served at 5 p.m. The evening's menu will include Scandinavian meatballs, lutefisk, pork roast, potatoes, vegetables and lefse, a flat potato bread. Lutefisk is cod prepared in a traditional Scandinavian manner.
Additionally, there will be homemade Norwegian cookies and Aquavit, the traditional liquor of Norway, will be available at the bar.
The festivities are scheduled from 4-7 p.m. at the Elks Lodge, 1217 Nevada Highway. There will be raffle prizes, door prizes and gifts for children.
A lodge spokesman said the annual dinner usually sells out so those interested in attending should purchase their tickets early.
Tickets are $20 for adults and $5 for youths 5-12. For tickets or more information, call Vikki at 702-617-8898 or Bob at 702-338-4918.
Efforts to create local garden club underway
An organizational meeting to create a garden club in Boulder City will be held at 7 p.m. Nov. 5 at the Boulder City Library, 701 Adams Blvd.
Vicki Yuen, president of Nevada Garden Clubs, will speak on the benefits of creating a garden club and will show a short film about National Garden Clubs Inc.
All interested people are welcome to attend. Refreshments will be served.
For more information, call Libby Powell at 702-293-9064.
Library schedules variety of activities, events
Boulder City Library, 701 Adams Blvd., has several activities planned for the coming weeks. These include:
n "Storytime to Go Kit" party and story, 3:30 p.m. today in the community room. For preschool-age children. The launch party will highlight the new kits, which include the supplies needed to put on a fun story time: books, a CD, flannel board story or dry erase board activity, and suggestions from library staff members.
n Mystery potluck club, 5:30 p.m. Friday. Participants are asked to read any mystery that contains recipes and prepare a dish from that book. Advance reservations required.
n Movie, 5:30 p.m. Monday in the community room. "Man of Steel" from 2013 will be shown. Snacks and drinks are permitted.
n Preschool story time, 10 a.m. Tuesday in the board room. For children 3-5 and their caregivers.
n Toddler story time, 10 a.m. Wednesday in the board room. For children younger than 36 months.
n Crazy 8s math club, 4 p.m. Wednesday in the community room. For those in kindergarten through second grade. Reservations requested.
n Computer class, 6:30 p.m. Oct. 23. Introduction to the Internet will be taught. Reservations and a $5 refundable deposit are required. Reservations must be made by 8:30 p.m. Tuesday.
n Library talent show, 3 p.m. Oct. 23. For those 17 and younger. Reservations required.
Call 702-293-1281 for details, reservations or more information.
Support group for widows to meet Oct. 25
Anew Women's Network will meet at 2 p.m. Oct. 25 at Christian Center Church, 571 Adams Blvd. This is a community group for women whose husbands have died.
The group meets the fourth Saturday of every month to provide encouragement and friendship, as well as share information.
have lost their husbands to death.
A free lunch will be served.
For more information, contact Fran Jordan at 702-293-0620 or Pastor Marjorie Kitchell at Christian Center, 702-293-7773.
Hospital auxiliary seeks volunteers
Volunteers are needed to work in Goldies' Gift Shoppe and in long-term care at Boulder City Hospital.
Anyone interested should contact the Boulder City Hospital Auxiliary by calling the hospital gift shop at 702-293-4111, visiting the gift shop or downloading an application on the auxiliary's page on the hospital's website at bchcares.org.
Writers group meets every Thursday at library
The Boulder City Writers Group meets from 7-8:20 p.m. each Thursday in the community room at Boulder City Library, 701 Adams Blvd.
Writers of all levels are welcome to attend to learn more about writing and receive feedback on their work.
Membership is free.
For more information, email jenballif@gmail.com.
American Legion breakfast served Thursday mornings
All veterans and their families are invited to the American Legion's varied menu breakfast from 6-8:30 a.m. Thursdays at the American Legion Hall, 508 California Way, between Boulder Bowl and Grace Christian Academy. There is no cost to attend, but donations are welcome.
Legionnaires and eligible veterans are invited to the American Legion meeting at 7 p.m. the first Tuesday of the month at the hall.
Call Cmdr. Gregory Hall at 702-293-6374 for more information.
Support group helps family of those with breathing problems
Area residents are invited to attend the Friends and Family of Chronic Obstructive Pulmonary Disease support group. The group meets at 10 a.m. the third Wednesday of each month at the Senior Center, 813 Arizona St.
Bruce Borchard of Vital Care leads the group, which explores ways for better living with COPD, asthma and emphysema. It is sanctioned by the Better Breathers and American Lung Association.
Walking group meets at Veterans Park
Boulder City United Methodist Fellowship has a walking group that meets at 8 a.m. Monday, Wednesday and Friday at Veterans' Memorial Park, 1650 Buchanan Blvd. Group members walk 30 minutes before they begin their day. Everyone is invited to come out and improve their health and make new friends. They meet at the duck pond next to Pratte Field. For more information, contact the Rev. Sandy Johnson at 702-293-7240 or email sandy_L_johnson@hotmail.com.
Support groups help with memory loss, dementia
The Homestead at Boulder City is offering its Alzheimer's support group, memory loss support group and dementia workshops on the third Thursday of each month. The groups will meet in the library at The Homestead, 1401 Medical Park Drive.
The Alzheimer's group meets from 11:30 a.m. to 12:30 p.m.; the memory loss group meets from 1-2 p.m.
There is no cost for these workshops and refreshments will be served. Those attending are welcome to bring a loved one, who will be cared for during the meeting.