April 23, 2014 - 12:54 pm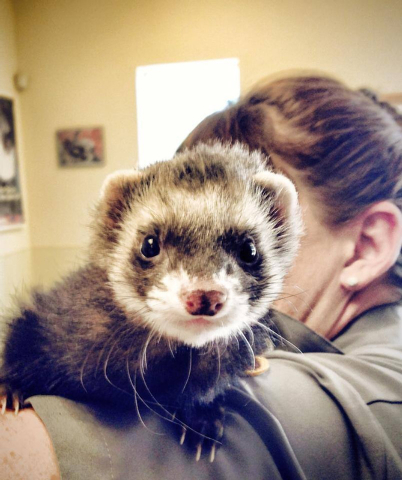 Nevada Supreme Court justice to speak at meeting
The Boulder City Chapter of the Retired Public Employees of Nevada plans its monthly membership meeting at 11 a.m. today at The Homestead of Boulder City, 1401 Medical Park Drive.
The guest speaker will be Nevada Supreme Court Justice James Hardesty, who will discuss the Nevada Intermediate Court of Appeals Amendment.
Members will go to an area restaurant after the meeting for a no-host lunch.
All public employees, working or retired, are welcome to join.
For further information, contact president Bernard Paolini at bernardpaolini@cox.net.
Community Club end-of-year luncheon scheduled today
The Community Club plans its end-of-the-year luncheon at 12:30 p.m. today at the Boulder Dam Hotel, 1305 Arizona St. During the afternoon, new officers will be installed and Fran Haraway from the Boulder City Library will speak.
The cost is $9 per person. For reservations, call Beverly Parry at 702-293-7623.
Guilian Grasso's Helmet Up 5K fun run set for Saturday
Guilian Grasso's third annual Helmet Up 5K fun run or one mile walk will be held Saturday at Bicentennial Park, 999 Colorado St.
The event, hosted by the Grasso family, friends and Boulder City Chamber of Commerce, helps raise funds for Head Strong G, which helps offset medical costs for the 17-year-old Boulder City resident who was injured in a skateboard accident. It also helps celebrate his second year of recovery.
There is a $35 registration fee. Children 12 or younger can participate free. If they would like an event T-shirt, there is a $15 fee.Check in will begin at 7 a.m. and the fun run and walk are set to start at 8 a.m.
Prizes will be awards to the first-, second- and third-place winners.
A golf tournament to benefit the medical fund is planned at 7 a.m. May 10 at the Boulder City Municipal Golf Course, 1 Clubhouse Drive.
The entry fee is $100, which includes lunch. Prizes will be awards to the first-, second- and third-place winners.
Online registration for both events is available at active.com. For more information, contact Kayla Grasso at 702-232-2135.
Boulder City charities to take part in Nevada's Big Give
More than 40 Boulder City nonprofits have signed up to participate in Nevada's Big Give, a 24-hour online fundraiser.
From midnight to 11:59 p.m. Friday, Nevadans can visit nvbiggive.org and make donations to their favorite charitable causes or find new ones to support. A minimum $10 donation is asked. The top nonprofits that receive donations from the greatest number of unique donors will receive bonus cash prizes.
Information about the nonprofit organizations and, in some cases, what can be done with a specific donation, is available on the website.
Plein Air Paint Out event scheduled Saturday at park
The third annual Plein Air Paint Out is scheduled from 9 a.m. to 1 p.m. Saturday at Escalante Park South, 1007 Arizona St. at the corner of California Street.
The event is open to all. There is a $10 fee to participate.The Paint Out is sponsored by the Boulder City Art Guild and Gallery and is a fundraiser for the guild.
For more information, call 702-501-9219.
University Women meeting scheduled Monday evening
The American Association of University Women, Boulder City Branch, plan to meet at 7 p.m. Monday in the Gene Segerblom Theater in the Boulder City/Hoover Dam Museum at the Boulder Dam Hotel, 1305 Arizona St.
The monthly meeting is one week later than usual because of spring break.
All interested people are welcome to attend. Refreshments will be served.
Lopez Memorial Tennis Tournnament set Sautrday
The second annual Jimmie Lopez Memorial Tennis Tournament is planned Saturday at the city's tennis courts in Broadbent Park, 1301 Fifth St. Tournament play will be divided into several age divisions.
Participants need to be at the tennis courts by 7 a.m. Play is set to begin at 7:30 a.m. Registration through Saturday will be $20.
For more information, call the city's recreation department at 702-293-9256.
Mobile home park to host community sale Saturday
Gingerwood Mobile Park plans a community sale from 11 a.m. to 1 p.m. Saturday at 1300 Gingerwood St.
Household items, clothes, furniture, tools and crafts will be sold. There also will be a bake sale, hot dogs and soft drinks.
Proceeds from the sale benefit the community's club, which provides activities and events for residents.
Boulder City Library schedules activities, events
Boulder City Library, 701 Adams Blvd., has several activities planned in the coming weeks. These include:
n Lego challenge, 4-5 p.m. today in the community room. The session is designed for those 6 or older.
n Movie, 1-2:45 p.m. Saturday. "Oceans 11" from 2001 will be shown. Bring blankets and snacks.
n Preschool storytime, 10 a.m. Tuesday in the board room. For children 3-5 and their caregivers.
n Toddler storytime, 10 a.m. Wednesday in the board room. For children younger than 36 months.
n Computer class: 1:30 p.m. May 1. An introduction to Gmail will be presented. Class size is limited to five people and advanced reservations are required.
Call 702-293-1281 for details, reservations or more information.
Boulder City Republican Women's luncheon set May 15
The Boulder City Republican Women will meet Republican candidates for the state comptroller position at its next meeting, scheduled for 11:30 a.m. May 15 in the banquet room at Railroad Pass Casino, 2800 Nevada Highway, Henderson.
An 11 a.m. social time precedes the meeting. Reservations are required and must be made by noon May 8. They can be made by calling 702-393-1228 or emailing bcgop@yahoo.com.
All interested people are welcome to attend the luncheon meeting.
Language classes for young children offered in summer
Boulder City Parks and Recreation is offering a Language for Tots class that will introduce youngsters ages 3-5 to Spanish, German, Italian and French.
It will be offered from 11:30 a.m. to 12:15 p.m. Wednesdays in May at the recreation center and in June and July at the ABC Park administration building.
Cost for the program is $32 per month.
Instructor Beatrice Werner teaches at CSN and has a Master of Arts from the School of Languages of Middlebury College. She speaks five languages and has taught people of all ages.
According to Werner, introducing young children to multiple languages offers a variety of benefits and changes the way their brains are structured by forming connections that otherwise would not be found.
Studies have shown that children who have studied a second language do better in seemingly unrelated areas such as math.
For more information, call the recreation department at 702-293-9256.
Registration underway at Grace Christian Academy
Registration for the 2014-2015 school year at Grace Christian Academy is underway in the school office.
A $140 nonrefundable registration fee, a copy of the child's birth certificate and immunization record are required. Half-day and full-day kindergarten classes are offered.
To complement the school's core curriculum, specialty classes include art, physical education, music and music theory, explorations and technology.
Grace Christian Academy, a ministry of Grace Community Church, is at 513 California Ave. For more information or to schedule a tour, call the office at 702-293-3536 or visit gracechristianacademybc.org.
Lake Mead's Wetland Trail to be closed through June 30
Portions of Wetland Trail in Lake Mead National Recreation Area are temporarily closed through June 30 during the construction of a grade control structure in the lower Las Vegas Wash. The trail head and parking area on Northshore Road, along with adjacent areas, will be closed.
The grade control structure will reduce erosion in the Las Vegas Wash to protect the stability of the bridge. It also will reduce sediment transported from erosion in the wash into Lake Mead, as well as protect Lake Las Vegas Dam.
Additionally, Virgin River Basin is closed through May 12. The closed area includes the northern tip of the recreation area where the Virgin River meets Lake Mead.