Coalition receives donation
April 23, 2014 - 12:48 pm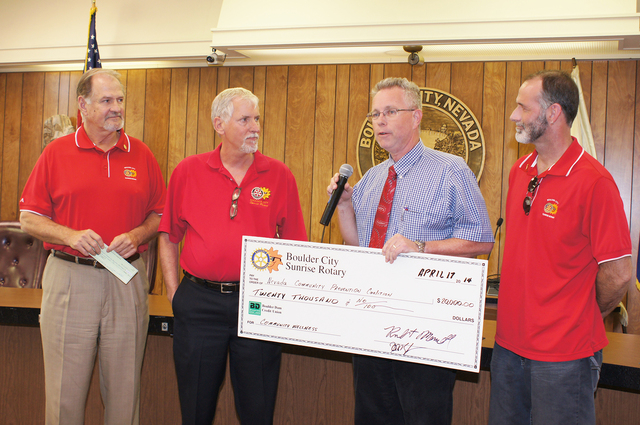 The Nevada Community Prevention Coalition received a $20,000 donation from the Boulder City Sunrise Rotary Club on April 17 at City Hall with the hopes of promoting education of prescription drug abuse in rural Clark County.
Michael Corti, the Boulder City-based coalition's director, emphasized the importance of educating children and adults about how deadly prescription drugs can be.
"There's no mechanism to mine the data with prescription drug statistics," Corti said. "This grant will help us collect and maintain those stats so the youth, seniors and everyone in between will gain an education."
With $106,000 issued to the coalition from the state, Corti said the $20,000 donation from the Rotary Club will help keep a line of credit available for future donations.
"We were looking to give back to the community, and one issue we wanted to help with was young adults who suffered from addiction," Rotary Club member Dr. Robert Merrell said. "And with grants, timing is of the essence. We thought it could become an even bigger problem if they didn't get it (a grant) in time."
Merrell the Rotary Club learned that there were programs to help addicted teens in Las Vegas and Henderson, but Boulder City's resources were limited. Judge Victor Miller is the coalition's board president and strongly supported the grant.
"It was a no-brainer for us," Merrell said. "We thought it was a perfect fit."
Nine agencies within rural Clark County have applied for coalition grants. The agencies will be told by June 30 whether they qualified.
The Rev. Paulee Curran of the Lost and Found Christian Fellowship applied for a coalition grant. Curran, a former alcoholic and methamphetamine addict, and his teenage daughter Emily spoke at the April 17 meeting about their personal experiences with drug and alcohol abuse.
Emily described her first experience at a "pharm party" where people put random prescription drugs into a bowl and take them without knowing what they are. She was 12 then, and a friend at the party with her died after mixing pills and ecstasy with beer.
It's a growing problem with society's youth today, Paulee Curran said.
"These kids have access to things we can't even think about," he said. "It's an epidemic, but we can educate and talk to these kids."
Curran speaks to children around Clark County about his experiences with drug and alcohol abuse. He said the looks on their faces and the silence in the room after he's done speaking let him know his message is resonating.
Curran, said children in rural towns are more susceptible to prescription drug abuse because the education isn't there.
The Boulder City Senior Center is collaborating with Boulder City Hospital for a coalition grant. Prescription drug abuse, Corti said, is as prevalent with senior citizens as it is with anybody else.
"It's the pill culture, and that seems to be the culprit," Corti said. "I hurt my neck, I take a pill. I hurt my back, I take a pill. The common misconception is that because they're prescribed, they're safe."
Teaching the public how to live well without relying on pills, about the need to properly label pill bottles and about the dangers of overprescribing medication is only part of where the money goes, Corti said.
"Keeping track of all of those handful of pills just can't be healthy," he said. "If one person talks to another person about prescription drug abuse, then that's two more people than we had yesterday."
The coalition helps agencies in Boulder City, Moapa Valley, Virgin Valley and Laughlin.
For more information, visit nv-cpc.org.