City's foundation as 'first planned community' honored with marker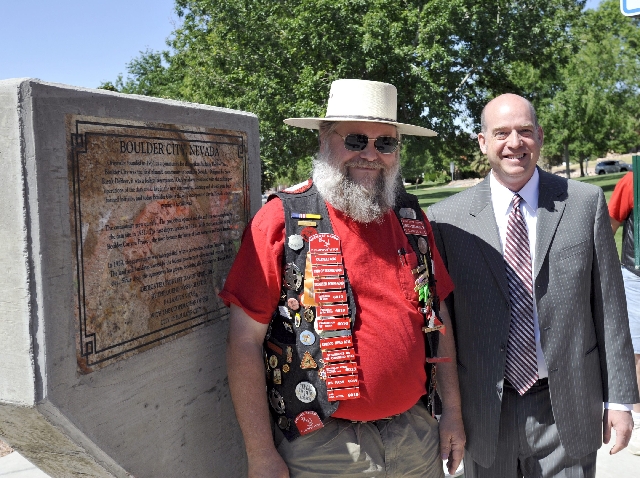 A new historical marker was dedicated Sunday in Wilbur Square Park commemorating the founding of the town in 1931 by a regional historical society.
The Southern Nevada Chapter of E Clampus Vitus, Queho Posse No. 1919, dedicated the marker Sunday, with the cooperation of Boulder City. The chapter calls itself "The Ancient and Honorable Order of E Clampus Vitus, an organization dedicated to the study and preservation of the heritage of the Western United States."
The plaque reads, in part, "Originally founded in 1931 as a community for the workers building Hoover Dam, Boulder City was the first planned community in Southern Nevada. Designed by Saco Rienk DeBoer, it was a federal reservation. Only workers associated with the building or operations of the dam could live in the new community. Gaming and alcohol were both banned initially, and today Boulder City is the only incorporated city in Nevada where gaming is not allowed."
Forty members of the group, which call themselves Clampers, were on hand last weekend to help pour the cement Saturday, and Sunday's dedication.
Sunday's event was the seventh marker dedicated in the Boulder City area. The group's markers also stand at Hoover Dam, Railroad Pass Hotel, Boulder Dam Hotel, the Elk's Lodge, Bootleg Canyon, and at the McKeeverville Town Site.
Clampers' historian Mark Hall-Patton, administrator for the Clark County museums and a consultant for the reality television program "Pawn Stars," was on hand Sunday to unveil the plaque. City Manager David Fraser also attended the event.