Church graces community with annual Country Store
October 15, 2014 - 1:18 pm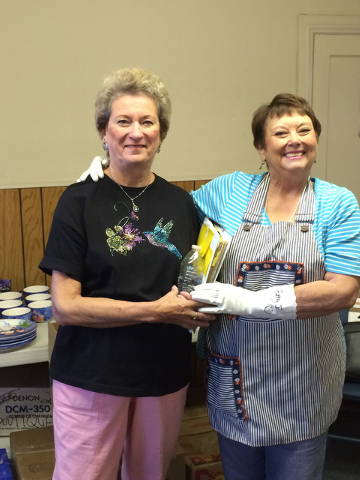 Members of Grace Community Church take the community part of its name to heart, especially when it comes to the annual Country Store, which opens its doors at 8 a.m. Friday.
More than just a rummage sale, Country Store is an event. For generations members of the church, as well as their friends and members of neighboring churches, having been gathering, sorting and selling items to raise funds for the church and to help the community. This year is the 67th annual event.
"It started in the basement with a few families and has gradually spread out," said Jack Rants, one of three event chairpeople and head of warehouse management, pickups and deliveries. "At first it was held the third Thursday in October because it was the government payday and a lot of people in town worked for the government. There were games for children and they would run over at lunch from school to look for Halloween costumes."
Now, the sale has expanded to two days with items in about 15 departments spread throughout the church, its basement, adjoining school and neighboring American Legion Hall.
Some things, however, remain the same. There are still plenty of Halloween costumes, as well as a variety of clothing, shoes and accessories that can be transformed into costumes, said Janet Self, who assumed the third chairperson's spot and is in charge of security and staffing.
Other departments include furniture; linens; housewares; books, movies and music; electronics; sporting goods; hardware; toys; gardening; jewelry; and boutique. New this year will be a department showcasing vintage, collectible and high-quality merchandise.
Items for the sale are collected from February through October, with a smaller sale in the spring to thin its inventory, Self said.
The church has two permanent storage units on Park Street, where donations are dropped off and sorted each Monday.
Self said it takes 180 to 200 volunteers to prepare the merchandise for sale and staff the two-day event. Every item is priced before the gates open.
"We are all volunteers," said Patty Jacobson of St. Christopher's Episcopal Church, noting there are representatives from seven Boulder City churches helping. "This is our town. It's not just a Grace thing; it's a community thing."
Additionally, they receive help from local Boy Scouts and clubs at Boulder City High School that help unload the boxes brought to the church from the storage area, and fathers of schoolchildren who move desks and other items from classrooms to make way for the sale.
Grace Christian Academy closes for the week before the sale so that the classrooms and other buildings on campus can be used during Country Store.
Another highlight of the sale are the baked goods, which typically sell out by midday Friday, and an area where shoppers can rest and enjoy a piece of pie and a cup of coffee. Additionally, they sell chili, hot dogs and drinks.
Proceeds from the Country Store are split between the church and its women's association. According to Self, much of the money is used for scholarships and to support activities in Boulder City.
Don Walker, the third co-chairman, is in charge of administration.
The sale is scheduled from 8 a.m. to 6 p.m. Friday at the church, 1150 Wyoming St., and in the American Legion Hall, 508 California Ave. The sale will continue from 8 a.m. to noon Saturday.
Hali Bernstein Saylor is editor of the Boulder City Review. She can be reached at hsaylor@bouldercityreview.com or at 702-586-9523. Follow @HalisComment on Twitter.