Cheer squad leads parade at Disneyland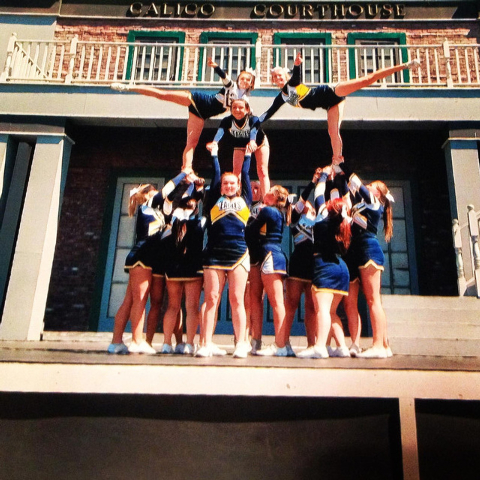 The Boulder City High School cheerleading squad was chosen out of 20 teams across the Southwest to lead the Disneyland Main Street Parade in March.
The squad auditioned for the All Star Extravaganza, a program funded by Disneyland and Knott's Berry Farm that gives cheer teams the opportunity to participate in the Main Street Parade at Disneyland and perform at Knott's Berry Farm in Southern California.
Vivian Sanders, BCHS head cheerleading coach, said she had strived for the squad to perform for the All Star Extravaganza since the beginning of the season last August.
"Once we were approved, it was practice, practice, practice," Sanders said. "When we arrived at Disneyland, we were practicing with other schools backstage. Right before the performance, the parade lineup was announced and BCHS was selected to lead the entire Main Street Parade."
More than 20 schools performed for the All Star Extravaganza choreographers. After the auditions, the choreographers selected BCHS to lead the Main Street Parade, she said.
"The schools performed in two groups and the lead All Star Extravaganza choreographers placed the schools in the lineup," Sanders said.
"It was an honor to be picked to lead the parade," said Aspyn Fisher, cheerleading captain and BCHS senior. "It was the highlight of my senior year and my last year of cheer."
The day following the squad's appearance in the Main Street Parade at Disneyland in Anaheim, the group traveled to Knott's Berry Farm in Buena Park to perform on one of the main stages in the park. The squad showcased an advanced dance and stunt routine.
The cheerleaders' performance will be used for future promotional material for All Star Production's Extravaganza program.
"Once we had finished, the coordinator for All Star Extravaganza approached me to discuss next year. She asked if I would send a video of their routine to be used as the demo for 2014-2015 DVD," Sanders said.
The cheerleading squad sold ad packages to local companies to raise money for the trip. The advertisements were displayed at BCHS football and basketball games.
"Some girls even did their own fundraising," Sanders said. "It took a lot of individual time for these girls to raise the amount of money needed."
Fisher, along with many of the other cheerleaders on the BCHS varsity and junior varsity squads, is heavily involved in other extracurricular activities.
Emma Herr, varsity cheerleader and senior, is the student body president and will be graduating with an advanced honors diploma this June.
"Cheerleading has taught me the importance of teamwork and responsibility," she said. "It has undoubtedly influenced my character. Without cheer, I would be nowhere near as outgoing or involved in school."
Throughout the fall and spring seasons, the cheerleaders were busy not only preparing for their Disneyland performance, but also choreographing routines for assemblies, games and other school events.
"These girls have been through stress and challenges that will push your buttons …," Sanders said. "After all of it, they have exceeded expectations and went beyond anything we could have asked for."