Center offers youths safe alternatives as activities, trips help keep them 'out of trouble'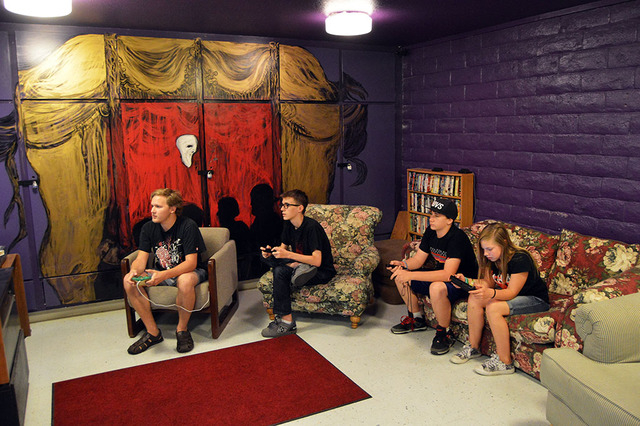 On a hot summer day, Boulder City High School junior Chandler Polley and Garrett Junior High seventh-grader Skylar Szimhardt needed to beat the heat, so they walked to the Boulder City Youth Center.
The two teens have been going to the center for years. It is a place where they can unwind, play video games, shoot pool or get a snack.
"I come here all the time," Chandler said. "There are just a lot of things I can do during the school year and summer."
Skylar said she also enjoys visiting the center.
"There is always something I can do with my friends here," Skylar said as she played with Chandler on the Wii U.
The youth center is a small building at 801 E. Adams Blvd., next to the library. About 20-25 kids visit each day. According to the center's coordinator, Debbie Barth, the facility gives kids something to do and keeps them out of trouble.
"We don't want these kids to get bored," Barth said. "When kids get bored they get into trouble."
Last year, the youth center waived the $20 annual membership fee because of dwindling attendance, making the center free for all teens.
"We were just losing so many kids," Barth said. "I know $20 is not much to some, but for a lot of people it is a big deal, so we just decided to open the center up to everybody."
Since Barth got rid of the membership fee there has been a slight rise in attendance, but getting rid of an old source of income meant fundraising.
"Fundraising is something that we have to do now," Barth said. "When we made the youth center free we knew we had to find another way to make some of that money back."
Barth said the youth center, operated by Boulder City Parks and Recreation Department, is not desperately in need of money. They have funds to keep the center open and fun; however, donations from the community would go a long way in making the youth center experience more fun.
"We have a budget and we don't need the money to keep this place running," Barth said. "But having a few extra donations from people would help us out a lot."
According to Barth, extra money would go to planning trips and making repairs to center equipment.
"We could do more field trips with the extra money," Barth said. "We take the kids out to places like Cowabunga Bay Water Park and Mount Charleston. We could do more trips like that if the community donated what they can."
Chandler said extra donations would go a long way in fixing broken equipment they use at the center.
"It would be nice to have some extra money when we need to fix stuff," Chandler said. "We have some broken game controllers right now that really need to be fixed."
Barth said the center is not planning to bring back an annual fee, but that donating is important because it goes to the betterment of local children.
"We are here for the kids," Barth said. "When people donate that money goes into making sure your kids are having fun and staying safe."
For more information or to donate to the youth center, call at 702-293-1780.
Contact reporter Max Lancaster at mlancaster @bouldercityreview.com or at 702-586-9401. Follow him on Twitter @MLancasterBCR.