Best Dam Barbecue fest returns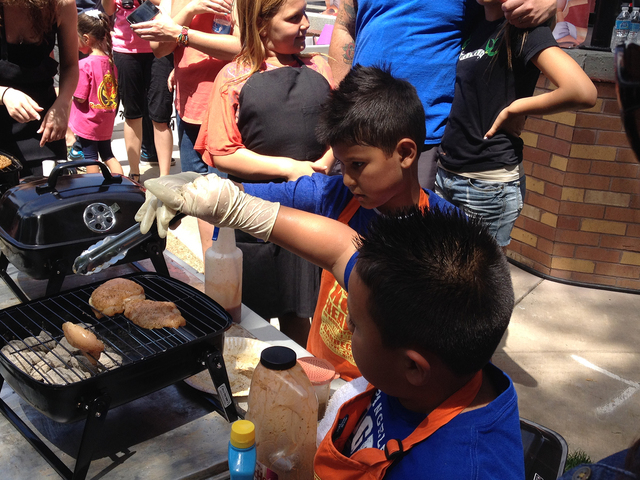 The sweet and savory smells wafting above the downtown area can only mean one thing. It's Memorial Day weekend and time for the Best Dam Barbecue Challenge.
The 11th annual competition, presented by the Rotary Club of Boulder City, will feature nearly 40 teams competing in four categories: pork, ribs, brisket and chicken.
Teams will be competing for $12,000 in prize money, said Christy Springgate-Hill, event chairman and president of the Rotary club.
She said they are expecting at least 10,000 people to attend the festivities in Bicentennial Park, with competitors coming from Arizona, Utah, California and Montana, as well as Nevada. There is no admission to attend the festival.
The contest is sanctioned by the Kansas City Barbeque Society, with competitors earning titles and points to qualify them for the national grand champions competition to be held this fall in Kansas City, Springgate-Hill said.
Festivities get underway at 4 p.m. Friday as teams start cooking. The evening's festivities continue until 10 p.m. and will include music and a DJ dance party with Mike Pacini.
Saturday's activities are scheduled from 9 a.m. to 6 p.m. Highlights will include the KidsQue Challenge from 11 a.m. to 2 p.m., annual rib eating contest at 2:30 p.m. pitting Boulder City's police and fire departments against each other, and the main barbecue competition.
Awards for the KidsQue contest will be presented at 3:40 p.m. and the main competitors awards will start at 4:15 p.m.
Springgate-Hill said award-winning barbecue champion Mike Mills will kick off the KidsQue contest with a cooking class for the youngsters. A maximum of 20 children will then compete in two classes, one for those 8-12 and another for those 13-17.
Those interested in competing can sign up at the information booth or online at www.bestdambarbecue.com.
In addition to the barbecue competition, the festival will include musical entertainment, a classic car show, vendor village and a kids zone with a rock wall, bungee jump and bounce house.
New this year is the sale of admission wristbands for $5 a day or $10 for both days allowing unlimited entry to the bounce house, she said.
Springgate-Hill said members of Boulder City High School's wrestling team will be monitoring the bounce house this year.
The marketplace area will feature about 25 vendors. Several informational booths also will be on hand.
Then, of course, there's the food. Some of the barbecue contestants will be have booths where visitors can purchase a meal. Favorites such as funnel cakes and corn on the cob also will be available.
The Rotary club will be selling hamburger and hot dog meals, complete with chips and a soda, for $5.
The wrestling team also will provide manpower throughout the event, helping to raise funds to attend a competition in Texas.
All proceeds raised by the Rotary club at the festival remain in the community, Springgate-Hill said, adding the club donates funds to at least six Boulder City organizations and activities each year.
"Barbecue means community. It's a way for us to give back to the community and its something fun to do." she said.
For additional information, visit www.bestdambarbecue.com.
Hali Bernstein Saylor is editor of the Boulder City Review. She can be reached at hsaylor@bouldercityreview.com or at 702-586-9523. Follow @HalisComment on Twitter.