BC woman wages war against congestion
January 16, 2014 - 4:40 am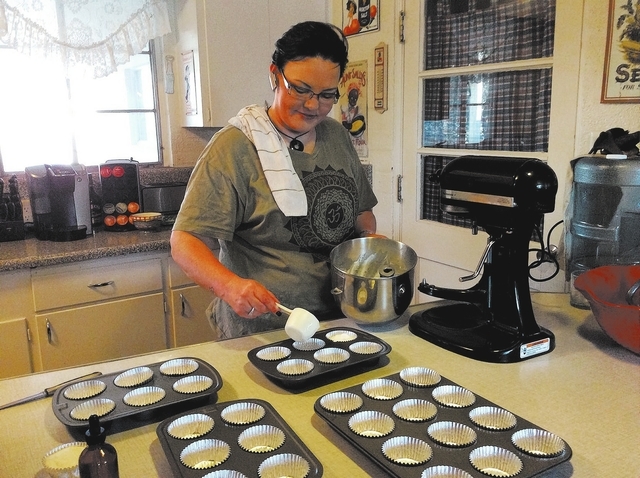 If you have a cold or the flu and are feeling congested, Paula Parker has a solution that is the "bomb."
Parker, a 27-year resident of Boulder City, makes shower bombs that help eliminate nasal and chest congestion.
She said the inspiration behind her bath bombs were shower soothers made by Vicks that her mother used when she was a child and are no longer sold in stores. A search on the Internet, however, revealed several recipes, which Parker altered slightly until she found just the right formula.
"I started making them because my adorable twin grandsons had chesty coughs," she said. "Within a half-hour, there was a noticeable difference with my grandsons."
The base to her bombs is a slurry of baking soda and water. After she mixes the baking soda and water together, she puts them in foil muffin cups and bakes them for about two hours until they are hard. Then she adds her mixture of essential oils.
Parker said it is the oils that make all the difference. She combines eucalyptus, rosemary, camphor and lavender oils, using one ounce of each to make her mixture, and applies an eyedropperfull onto the hardened "muffins."
"The muffins are hard, but they are porous and soak up the oils," she said.
To use them, she recommends putting them in the shower, as far as possible from where the water hits the base, with the water as hot as it can be.
"You need the water to be full hot," she said, noting this helps release the oils.
Because the water is so hot, Parker said you should not get in the shower. Instead, she said she likes to sit on the floor and put a rolled-up towel at the bottom of the door to keep all the steam and scents inside the bathroom.
"You need to sit in the bathroom for as long as you can stand it."
She also said it is a good idea to turn off the heater to the bathroom to keep the oils from getting into the vent system.
Because the oils are so strong, Parker said she applies them and stores the finished bombs outside. She learned that the hard way.
"The first night I made eight dozen. I didn't realize how strong it was. I could smell it through my eyelids."
According to Parker, the main expense to making the bath bombs is the essential oils. That's why she began selling them, as a way to offset her costs.
Through a Facebook site for Boulder City mothers, Parker has found a loyal following where she sells her bath bombs six for $5.
"My first post had 48 comments. My second had 38," she said of the interest in her solution to fight congestion.
Today, she has a list of 42 women who regularly purchase her bath bombs.
Finding her own solutions to cure common ills is not a new concept for Parker. It's something she grew up with. Her grandmother was a Cherokee healer and used oils, plants and herbs regularly.
She said she also likes to use natural ingredients for cleaning her home whenever possible.