Barbecue junkies are smokin' hot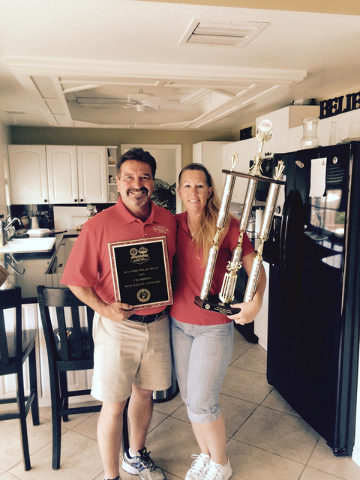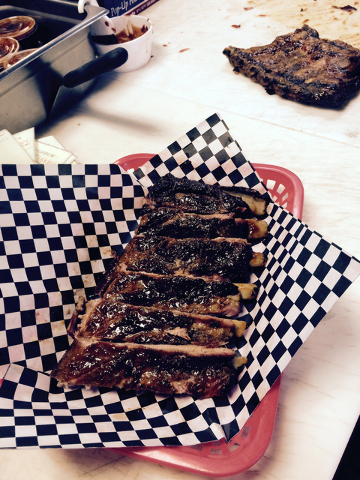 Editor's Note: This article is part of an occasional series showcasing businesses in town.
Dan and Kelly Fox of Fox Smokehouse BBQ are very competitive people. They met as opponents on the softball field in Boulder City and have been competing ever since — just not always against each other.
Dan a former U.S. Marine and veteran of Desert Storm was headed back to his native Oklahoma when his mother told him about Boulder City.
"I was living in Los Angeles and I wanted out," he said.
He moved to Boulder City and got involved as a real estate agent with Bret Runion and Desert Sun Realty. For fun he played softball and other competitive sports.
Kelly worked in the long-term care industry and played softball as well.
After getting together as a couple they would entertain friends and family with backyard barbecue dinners. Everyone who tasted their food said "you have to try barbecue competitions like the Best Dam Barbecue."
Not being ones to shy away from a challenge they jumped right in with both feet.
"Our first year we started with just ribs, then a friend encouraged us to add chicken to our repertoire," he said.
"We had no idea what we were doing and ended up finishing pretty near last that first time," Kelly added.
Not being the type of people to wallow in the ashes of defeat they refined their talents, and rubs, and sauces and came up with BBQ Junkie Competitive Barbecue Team.
Shortly after they started their new venture they found they needed a way to finance their hobby. Part-time catering in their backyard led to events and soon they realized this was getting big really fast. Both quit their jobs and opened Fox Smokehouse BBQ at 1007 Elm St. in Boulder City.
"We started as take-out only but very quickly had to put in some tables and offer counter service. Now it looks like we will be expanding the restaurant and adding double the seating capacity as well as waitress service," Dan said.
According to the Foxes, the feedback from the community has been fabulous and the social media website Yelp consistently ranks Fox Smokehouse in the top three for barbecue in the Las Vegas area.
While working six days a week consistently their restaurant has continued to soar while keeping the quality that they have become known for.
"Tourists, headed for the dam or the lake will seek out places to eat by using social media and our business has grown very quickly," he said.
The restaurant is open seven days weekly at "11 a.m. or when the meat's done" and closes at 7 p.m. or "when the meat's all gone."
Pitmaster Jeremy Dunbar, his brother Joel Dunbar and Lisa Thurston are the original crew members that have been a part of the restaurant since it's inception.
Thurston's family has owned restaurants in Boulder City for many years. Her mother is Melody Thurston, who was the Mel in Mel's Diner.
Thurston said she is truly excited to be a part of Fox Smokehouse.
"I love coming to work here and meeting the people and serving this wonderful food," she said.
Jeremy Dunbar said he is very proud of the meats and other dishes served at the restaurant. When you watch him hand select each piece for quality and appearance it is evident that he, too, enjoys his work.
Away from the restaurant, the BBQ Junkie team continues to excel and has moved way past the back of the pack when they compete.
"We try to do between two and five competitions a year and we always get involved with the Best Dam Barbecue competition," Dan said
On June 6, they joined 41 teams from across the southwestern United States for the Nevada Barbecue Association's Las Vegas Championship Ribfest. They won second place overall in the competition and took home first place in the Restaurant Ribs division.
Menus, hours and other information about the local eatery are available at www.foxsmokehouseBBQ.com.
Their love of barbecue and serving others their food can be seen whenever they are behind the grill or counter of their restaurant, but when the competition is hot stay out of the way because they will be smokin'.
Contact Andy Saylor at andyhali@msn.com.