Baking puts busy teen at ease
October 15, 2014 - 1:20 pm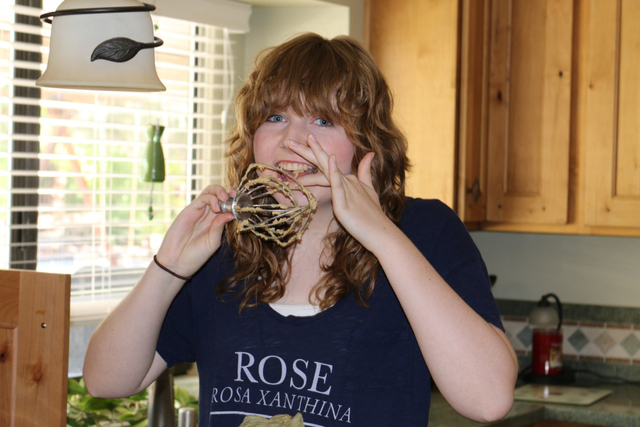 Being young doesn't necessarily mean life is always footloose and fancy free. Ask Breanne Harkins, who has a nonstop schedule full of studies, volunteering and sports.
But, the 16-year-old said having special people share their gifts and talents, helps bring serenity.
Breanne was born in Henderson and has lived in Boulder City all her life with her mother, Jayne; father, Vern, and older brother, Chandler.
This year, there have been some big changes for the Boulder City High School junior.
Breanne beamed explaining that she recently acquired her older brother's bedroom, since he moved to Indiana to attend Rose Holeman Institute of Technology. Along with his move, came some changes in the family dynamics and its way of life. Especially in the kitchen.
Although they are a family of four, Breanne and her mom agreed that they usually cooked for a family of eight when Chandler was home.
"Now we don't have a human garbage disposal … is that why we have a ton of leftovers?" she asked her mom.
Both laughed.
Much of Breanne's limited free time — when she isn't doing homework — is spent in the kitchen.
"School is so time consuming; just trying to cram everything in is hard," Breanne said. "I'm doing well in school though. I'm not very good at math, but I can bake.
"I was handed over the spatula. Well, actually I kinda took it!"
Jayne said, "Breanne kind of took over the whole meal planning thing. … I just buy what she tells me these days."
"The main reason I bake is not just that there will be something sweet and delicious in the end; it's that feeling of serenity, that at-peace feeling. It sounds weird, I know, but all my stress goes away when I bake. And that's why I love it," Breanne said.
When talking about their seasons of cooking, there was an apparent loss and a hole that is impossible to fill. Jayne's mother, Marge Mosser, died this past summer at age 84.
While Jayne recalled learning to cook big meals beside her mother for all the people who helped with the brandings in North Dakota, Breanne said she had summer, Christmas and dance recital visits that were filled with baking and good memories.
As Breanne talked about her Grandma Marge, there was a little extra sparkle in her eyes and a little more giggle in her stories.
"About four years ago, she taught me to make her cinnamon rolls," Breanne said. "She made it look so easy, but I'm still trying to figure out the perfect roll. The first batch I made alone was awful!
"My grandma and my mom are the two people that taught me how to bake. My grandma would make these huge boxes filled with cookies and candies that she would bake herself and send to each family around the country. That inspired me to bake even more."
Breanne is focused on her studies. She is a member of the National Honor Society and FIRST Robotics (Team 3009, High Scalers).
She also volunteers and participates in high school sports such as flag football, swimming, track and cross-country.
"Since I don't have a lot of time, I mainly do things for cross-country," she said. "Cross-county are 'my people,' and a team that eats together, stays together. We support each other so much and there is no drama at all, which is a contrast to high school."
Breanne said that like her grandma, she bakes to make others happy.
"She always liked to help people and put others first."
She shared three of her favorite recipes; the banana bread and chocolate chip cookies are family recipes.
Pumpkin Cookies
I made these for after a cross-country meet and everyone on the team loved them.
2½ cups all-purpose flour
1 teaspoon baking powder
1 teaspoon baking soda
2 teaspoons ground cinnamon
½ teaspoon ground nutmeg
½ teaspoon ground cloves
½ teaspoon salt
½ cup butter, softened
1½ cups white sugar
1 cup canned pumpkin puree
1 egg
1 teaspoon vanilla extract
2 cups confectioner's sugar
3 tablespoons milk
1 tablespoon melted butter
1 teaspoon vanilla extract
Preheat oven to 350 degrees. Combine flour, baking powder, baking soda, cinnamon, nutmeg, ground cloves, and salt; set aside.
In a medium bowl, cream together the ½ cup of butter and white sugar. Add pumpkin, egg and 1 teaspoon vanilla to butter mixture, and beat until creamy. Mix in dry ingredients. Drop on cookie sheet by tablespoonfuls; flatten slightly.
Bake for 15 to 20 minutes in the preheated oven. Cool cookies, then drizzle glaze with fork.
To make glaze: Combine confectioner's sugar, milk, 1 tablespoon melted butter, and 1 teaspoon vanilla. Add milk as needed, to achieve drizzling consistency.
Chocolate Chip Cookies
My favorite recipe ever.
Beat:
1 cup butter
1 cup peanut butter
1 cup sugar
1 cup brown sugar
2 eggs
2 teaspoons vanilla extract
Add:
2¼ cups flour
1 teaspoon baking soda
½ teaspoon salt
1 package of semisweet chocolate chips
Bake at 350 for 8 minutes.
Banana Bread
1¾ cups flour
2 teaspoon baking powder
¼ teaspoon baking soda
½ teaspoon salt
1/3 cup shortening
2/3 cup granulated sugar
2 eggs, well beaten
1 cup well mashed, ripe bananas
Sift first four ingredients. Cream shortening with sugar until fluffy. Add eggs and beat well. Add the first four ingredients alternately with bananas and beating well with each addition. Pour into greased loaf pan. Bake at 350 for 1 hour and 10 minutes.