Artist gives work to library
January 4, 2017 - 2:23 pm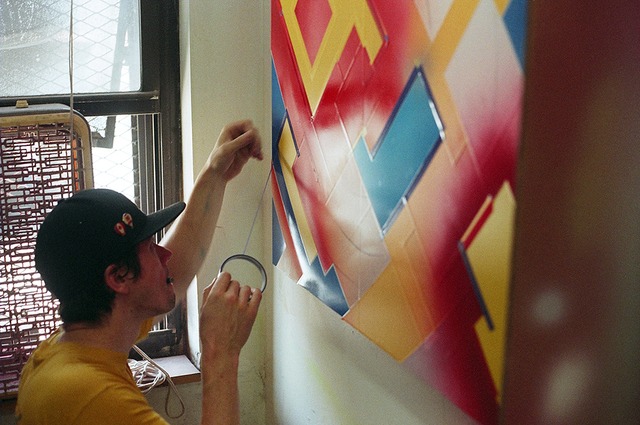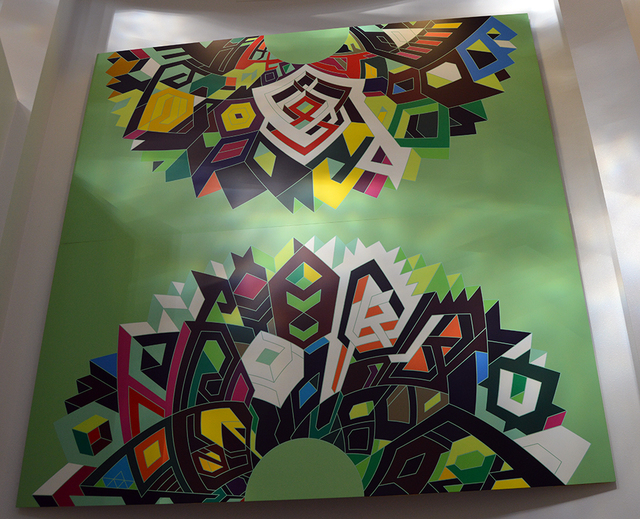 New York artist Tom Burke still remembers the time he spent in the Boulder City Library doing homework and participating in summer reading programs. The library has been a part of Burke's life since he was 9 years old as his mother, Pat Burke, worked in the circulation department from 1989-2015.
"My mom worked at the library so I was always doing homework there or reading a new book," Burke said. "That building was a big part of my childhood."
Nowadays Burke's focus is on his art, which has been featured in a number of galleries from New York City to Los Angeles.
Early this year after finishing up an art exhibit, he needed a place to put a painting titled "Vortex: Vertical Roll," a colorful piece that Burke said was inspired by 1980s video games. Instead of selling the piece he thought of the library he remembered so fondly.
The painting currently hangs in the library's rotunda as a gift from Burke.
"The painting was in storage for the longest time and I knew that it deserved a better home," Burke said. "I am honestly surprised I had not thought of it sooner but the library was the perfect place."
The idea of having his art in a public space that he loved was too much for Burke to pass up.
"Boulder City influenced me a lot when I was younger, to love art, so giving my work to the local library allowed me to have a personal connection," Burke said. "The city does not really influence my art now, but it was critical in my ability to get where I am today."
He said his work is influenced by his life and mood at the time, and he is currently working on canopy art and metal work.
His mother said she was overjoyed when she learned her son wanted to hang his work in his hometown.
"I was thrilled when my son told me he wanted to hang his artwork at the library,"
Pat Burke said. "That building has given me so much during the 26 years I worked there; to see my son's work on the wall just made me so happy."
Burke is not the first artist whose work graced the library walls. Artists donate and display their art throughout the building and Boulder City Library Director Kimberly Diehm plans to continue making the library a welcome place for them.
"A library always seemed like a great place to display art," Diehm said. "I personally love having all this work around. I majored in art history and when I worked at the Clark County Library District I always loved the regular displays they would have."
Diehm said that when Burke approached her about donating the painting the library did not hesitate to move forward.
"It is a beautiful piece of art that has been displayed in galleries in New York and Los Angeles," Diehm said. "We were excited to have the painting, the board was excited so everything just went really smoothly."
While Burke may have moved on to establish his career in a different city, he said that he is happy that he could thank Boulder City in his own way with a piece of artwork that he created.
Contact reporter Max Lancaster at mlancaster @bouldercityreview.com or at 702-586-9401. Follow him on Twitter @MLancasterBCR.