Art in Park returns to Boulder City
September 30, 2015 - 3:37 pm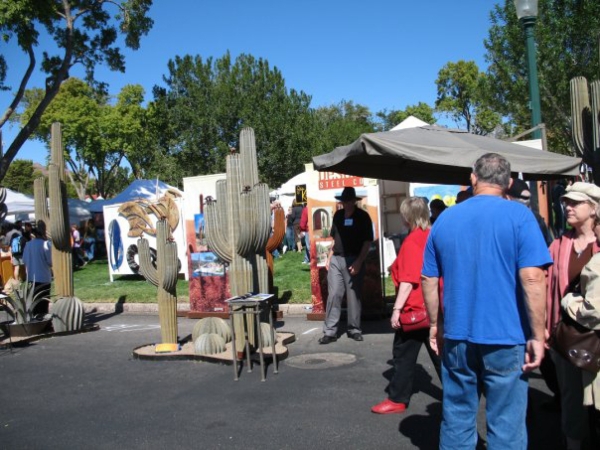 For the 53rd straight year, Bicentennial, Escalante and Wilbur Square parks will become art galleries for Boulder City Hospital Foundation's annual Art in the Park event.
The event, which runs from 9 a.m. to 5 p.m. Saturday and Sunday, will welcome 353 artists and craft vendors, mostly from the Southwestern United States.
"This is a legitimate art show and exhibition," said Tom Maher, CEO of Boulder City Hospital and president of the hospital foundation. "It's not only an opportunity to buy some great arts and crafts, but an opportunity for winning artists to really add a nice award to their portfolio."
The art show typically attracts about 100,000 people, Maher said. But with 40 more displaying artists and vendors than last year, the 2015 edition could bring even more weekend visitors to the Boulder City parks.
First-, second- and third-place awards will be presented in the fine art, fine craft and traditional craft categories, in addition to an overall Best in Show winner.
"We have so many worthy artists at this festival, and we want to recognize as many of them as we can," Maher said.
Robert Marble, 69, a cartoonist from Newport Beach, Calif., is the show's feature artist. Stationed at booth No. 71 this weekend, Marble aims to help people "laugh at themselves" through his art, he said.
"People like the humorous slant of my work and of my characters," Marble said. "Most importantly, no one ever gets hurt in my work."
Marble has attended Boulder City's Art in the Park show since the 1980s, but this year will be his first as featured artist.
"I was very pleased and honored when they called," he said. "It was a no-brainer, I said, 'Count me in.' "
On average, the two-day festival raises about $165,000 for the hospital, Maher said. He expects this year's earnings to be "north of $170,000."
Maher said the money goes into the hospital's general account and will be used to help pay off a loan from the U.S. Department of Agriculture.
"We need to maintain a certain level of cash reserves to satisfy the condition of the loan," he said. "The money we make at Art in the Park gets us to that point."
Maher said the hospital doesn't receive any money from the artists selling their work, except for an initial booth rental fee. Its proceeds come from operating the park and ride service, the sales of hospital-related apparel and food and beverage concessions.
Maher said the hospital's beer and wine booth is one of its biggest money-makers.
"The money we make contributes to the hospital's ongoing viability, which contribute to the services offered to the people of Boulder City," he said.
The show will have about 30 food and beverage vendors, Maher said. It also will feature a raffle, including prizes donated by local businesses and chamber of commerce members. Each artist at the festival also will contribute an item to the raffle, whose prize total will exceed $25,000, Maher said.
The weekend festivities include live music and activities for children. To help alleviate congestion in the downtown area surrounding the parks, parking will be available for $10 per vehicle at the old airport parking lot. From there, a shuttle service will bring visitors to the festival.
Admission to Art in the Park is free.
For more information, call 702-293-0214.
Contact Chris Kudialis at ckudialis@reviewjournal.com or at 702-383-0283. Follow him on Twitter:@kudialisrj.