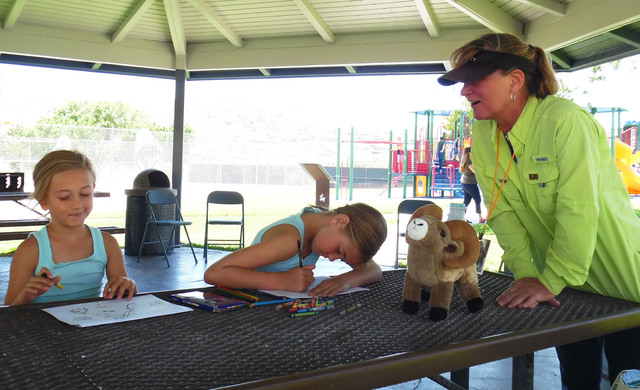 The Boulder City Art Guild hosted Artful Arty's Kids Drawing Day at Hemenway Park Saturday, as nearly two dozen elementary students came out to learn tips on open air art, with hopes of using bighorn sheep as live models.
Unfortunately there were no sheep to be found, as the climate this spring has not yet forced the animals down from the mountains.
The bighorn sheep usually make their way down out of mountains when the temperatures start hitting 90 degrees, according to Leslie Paige, a naturalist and artist who works for the National Park Service and volunteered to teach the children some techniques for drawing wild animals.
"This spring has just been a little more wet and little less hot than usual, so the sheep have plenty of food still and have not had to come down closer to civilization," Paige said. "It's too bad the kids didn't get to see the sheep, but they still seemed to have a great time. They get to experience art in a different way, in the fresh air outside the normal confines of a classroom."
Connie Burnett-Ferraro is a member of the Boulder City Art Guild and she was painting live at the park and teaching kids about "en plein air" painting, where the picture one begins painting may not be the same that one finishes.
"It's just painting outside in nature, with natural light," Burnett-Ferraro said. "It's simple, but you have to move fast because the light and any live subjects are always changing."
Yolanda Growell, another member of the guild, helped to organize the event and thought that the day was a success, with older children receiving valuable lessons and younger kids bouncing around between introductions to art and the adjacent playground. She said the guild will likely try to host another event later in the summer when it is more likely the bighorn sheep will make an appearance.
Contact reporter Hunter Terry at hterry@ bouldercityreview.com or call 702-586-6711. Follow him on Twitter @HunterBCReview