Area businesses replant their roots
November 5, 2014 - 2:36 pm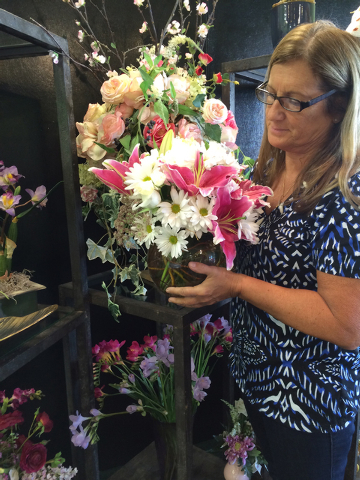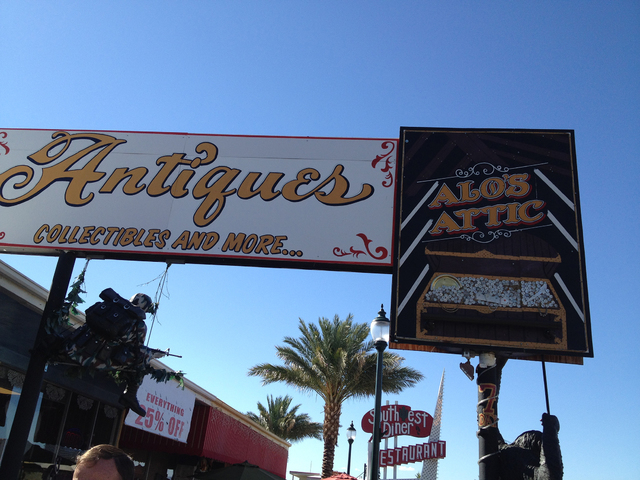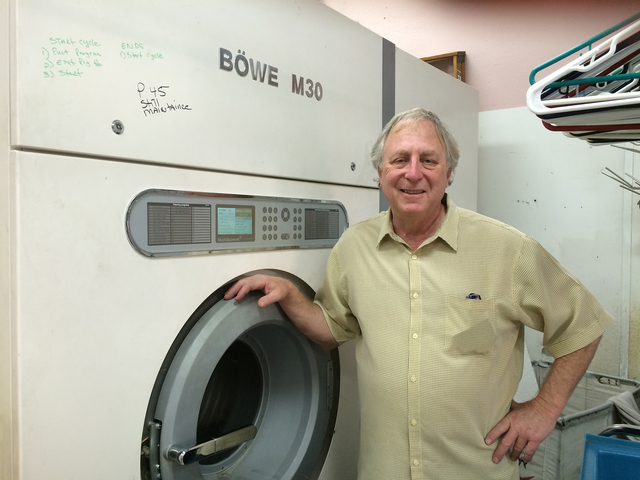 Boulder City Florist
A new location has renewed Kris Thompson's passion for flowers.
Thompson, who owns Boulder City Florist along with her husband, Dan, recently moved her flower business to 1229 Arizona St., in the old Fiddlesticks location, from Marshall Plaza on Nevada Highway.
"It's given me my zen back. I'm very excited," said Kris Thompson, a master floral designer.
Thompson credits the opportunity to be downtown and have windows to display her floral creations and holiday decor for her excitement.
"It's a bigger space and has better lighting."
She said the new location also allows her to be able to offer daily specials and enables people to stop by and pick up flowers for their offices.
Her store also offers artificial flowers and home decor and gift items.
A fourth-generation florist, Thompson began learning about flowers at her grandmother's Las Vegas shop, Claire's Flowers, which opened in 1964.
"I started when I was 8 years old," she said.
She also had the opportunity to work side-by-side with her mother, and now her children work part time at Boulder City Florist.
"My kids used to play in the big flower boxes," she said.
Thompson said she truly enjoys her work because of the joy flowers bring to others, even in sad times.
She said she once tried to leave the flower business, but didn't find it creative enough for her.
Today, in addition to her work, she keeps busy with the Boulder City Sunrise Rotary Club and is on Rotary International's Tournament of Roses float committee. Each year for the past three years, she heads to Pasadena, Calif., in the final days of the year to help decorate the float. She said she is looking forward to returning this December.
Thompson said she officially moved Oct. 1 in the new location, although she was able to transition from one location to the other without closing.
She said she spent about one and a half years looking for the perfect downtown location to move the business, which originally opened in May 2002.
— by Hali Bernstein Saylor
Branch Dry Cleaners
The family owned and operated business recently consolidated into one location at 806 Buchanan Blvd. in the plaza with Vons.
Owner Jed Starkman is the third generation in his family to carry on the dry cleaning business.
His grandparents started in the industry in 1948 when they opened Marlboro Cleaners.
"Through the generations I've seen many changes in the industry, but there is always room to learn more," he said.
A self-declared workaholic, Starkman starts his day around 5 a.m. and doesn't finish until at least 7 p.m. With the exception of pressing the clothes, he handles all tasks at the dry cleaners.
Starkman has been a Boulder City resident for 16 years and opened Joshua Tree Cleaners in town about 16 years ago.
He sold the business to his wife, who renamed it Boulder City Cleaners, and then bought the business back Nov. 4, 2013.
Until recently, Starkman's cleaning plant was in Boulder City. He said fewer customers and a change in the cleaning process to be more environmentally friendly forced him to bring the operations to his dry cleaning business in Henderson.
"I wanted to keep it open but I had to change or get washed away," Starkman said.
That also contributed to his move across the street, where he consolidated with the dry cleaning business operated by his mother.
He said he encourages people to get their clothes dry cleaned because they retain that just-purchased look longer and he is able to remove grease, oils and dirt.
Because the community has been so supportive of his business, Starkman said he wants to give back. One way, he said, is by offering free dry cleaning for anyone who is "down on their luck" and has a suit that needs to cleaned and press for a job interview.
"I want to help them get back on their feet." he said.
The cleaners is open from 6 a.m. to 6 p.m. Monday through Friday and 8 a.m. to 2 p.m. Saturday.
For more information, call 702-293-7571.
— by Hali Bernstein Saylor
Mr. Pawn
After spending nine years inside Marshall Plaza, owner Jarrod McClung relocated his pawn shop, Mr. Pawn, to a more visible location on Nevada Highway.
McClung said the move was all about location, location, location.
"A pawn shop had been located in the Marshall Plaza for over 30 years," he said. "Even being there for 30 years, the shop didn't get recognized by half of Boulder City."
McClung had been searching for a better location since 2007, and the move was completed Aug. 3 when his new shop opened near the Rebel gas station at 1665 Nevada Highway.
Though approximately 700 square feet smaller than his original location, McClung said he's been able to use the space effectively. The transition has been smooth and has helped to increase business, he said.
"It's been a really good move for us. Not only are we more visible to the locals, but we have a higher visibility to the tourists that stop by," he said.
McClung said along with the move, he was able to open up a few new showcases, as well as modernize his store. The other one, he said, was a little on the dated side.
According to McClung, Boulder City only allows two licenses for pawn shops in town.
"Boulder City doesn't want more than that," he said.
— by Steven Slivka
Alo's Attic
Chris Alo, owner of Alo's Attic, has relocated to the Boulder City Antique Market after spending 2.5 years at his previous location next to Southwest Diner.
"I can see a lot of foot traffic," Alo said about his new location at 1101 Arizona St.
Alo said he's leasing the building for the Boulder City Antique Market, but recently bought the business from previous owner Gary Allen.
With his latest move, Alo has incorporated public auctions at 6 every Friday night, but he says he'll change them to a biweekly basis once December rolls around.
The original Alo's Attic location next to Southwest Diner will be open until the end of November. Alo said he plans on having a big parking lot sale at the end of the month with heavy discounts in order to make his move easier.
"So far, so good," he said.
— by Steve Slivka