Annual Art in Park sees increase in sales, visitors
October 8, 2014 - 12:33 pm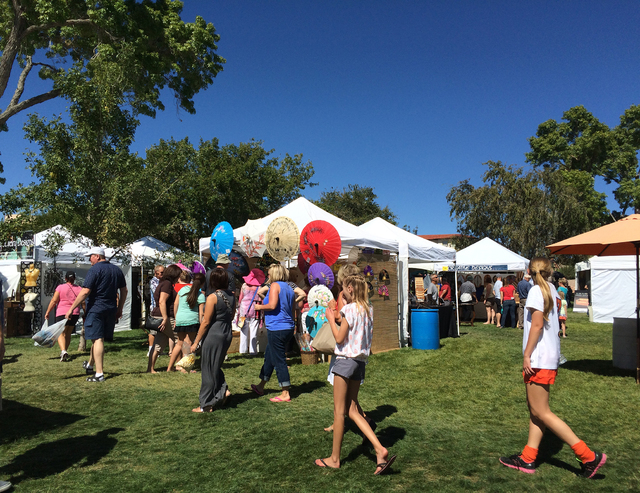 Under a blue sky that was as beautiful as the paintings beneath it, thousands of people flocked to Boulder City Saturday and Sunday for the 52nd annual Art in the Park.
Early reports indicate the main fundraiser for Boulder City Hospital was a success, said
Wendy Adams, community events manager for the Boulder City Hospital Foundation, which sponsored the art show.
"Our preliminary numbers show us up over last year. I can't say what year, but we are up over last year by a couple thousand dollars," said Adams, noting that early figures do not include fees for booth rentals or presales of raffle tickets.
"Everyone was really happy," she said of the artists, crafters and visitors who came to Bicentennial, Wilbur Square and Escalante parks. "I'm reading over 100 emails from artists who said their sales increased over last year and they already want to come back. Obviously it was a positive experience if they are wanting to apply for next year already."
Adams said one of the vendors, a woman who spends all year carving gourds to prepare exclusively for this show, sold out within hours.
Those who came to view the works by fine artists and crafters were equally pleased.
"I always buy something or it wouldn't be Art in the Park," said Kay Friedricks of Henderson.
Friedricks, who grew up in Boulder City, said she returns for the event each year to see old friends as well as how much the arts event has grown.
Adams said the foundation is estimating that between 80,000 and 100,000 people came to Art in the Park during the weekend.
"It's hard to capitalize what that number is because we don't have an entrance. We look at the rows and see how congested they were.
"We saw a steady increase in visitors over the weekend over the last couple of years," she said.
In addition to new visitors, roughly 15 percent of the vendors were new to Art in the Park this year, she said.
"They brought all of their followers and a fresh perspective to Art in the Park."
MaryAnn Del Rio and Brian Knievel, both of Boulder City, said they have been to many of the art events in the past and wouldn't miss Art in the Park.
"I like the homemade things," Del Rio said.
"It helps boost the economy," Knievel added.
Also new to the festival this year was a professional parking service that coordinated shuttle service from a dirt lot on the outskirts of town to the downtown park. According to Adams, hiring the professional company really paid off.
"It is as important to me for them not to have to wait in a dirt parking lot as it is that they enjoy walking around Art in the Park," she said.
Hali Bernstein Saylor is editor of the Boulder City Review. She can be reached at hsaylor@bouldercityreview.com or at 702-586-9523. Follow @HalisComment on Twitter.