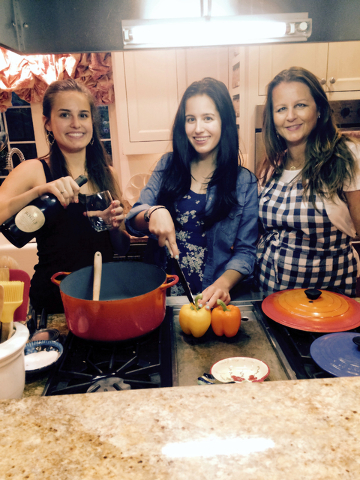 Around the Stanton household when someone says "What's for dinner?" you can only hope it's going to be Italian.
Cally and Karina Stanton became well-versed in the Italian style of cooking while spending several months in Italy and taking lots of cooking classes when they were there.
The girls' love of travel, cooking and sense of adventure was instilled by their parents, Krishun and Olaf Stanton, since they were young. When the Stantons were raising their children they tried to teach them to be strong and independent people.
"When they are small you just try to set the best example and teach them the best you can," Krishun said.
The daughter of Wisconsin dairy farmers, who is a retired airline attendant, knows her way around doing what's right.
"I worked alongside my grandmother when she fed the workers on the farm; during the threshing season she prepared these huge meals and fed all of these people," Krishun said.
"I had my own garden area at the farm and grew my own vegetables. I like to cook Midwestern types of foods but with a healthier California type of approach. Midwestern foods have the three B's: brats, butter and beer."
The Stantons moved to Boulder City in 1986, and when son Gunnar was born Krishun chose to stop working and stay home to raise the children.
She and her sister, Bridgette O'Neill, opened Grandma Daisy's on Nevada Way in 2001 and sold the business to the current owners in 2007.
Olaf owns Characters Unlimited based in Boulder City and Krishun helps out with the business since the kids are now grown. But she is still quite busy with a lot of volunteer work, being members of the Sons of Norway and their church. Now that Gunnar is going away to college she said she hopes to become more involved with Characters Unlimited's marketing and traveling to trade shows.
"We still maintain a home in Wisconsin and so we have always tried to make sure the kids knew their family and their relatives. We try to keep them aware of their roots."
Their daughters — Cally, who graduated Boulder City High in 2009, and Karina, who graduated in 2011 — learned well from their parents' teachings and are now attending UNLV as they prepare for the future. Gunnar, who graduated this year will be attending Arizona State University in the fall.
Cally is studying interior architecture and design while Karina is studying international business and marketing.
The bond between the girls is so close that most of the time they are in the same place in a conversation and they sometimes finish each other's sentences. Their enthusiasm for their travels is almost palpable and evident by the smiles and one- or two-word statements they use to trigger each other's thoughts.
The girls said they believe that having traveled extensively with their parents set the stage for their next adventure. Both girls discussed living abroad and studying there. They said they were influenced by the fact that the family sponsored exchange students when they were growing up. The latest was Malin Molden from Norway, who lived with the family during the 2010-2011 school year.
"We figured if she could stay away from home for a year, we could handle a semester," Cally said.
Karina agreed and added that, "Italy was our best option to study and Northern Italy was the first choice."
In 2013 the girls set off for their adventure and stopped in Norway for encouragement from Molden. Then, they headed on to the south of France where they were met by their parents. The family travelled around Europe and England and the girls get giggly remembering tea in London or lunch in Milan during Fashion Week.
They stayed for five weeks and lived by themselves in an apartment.
"The market was around the corner and we could buy fresh foods almost every day. Our apartment didn't have an oven and I had to learn to cook grilled cheese in a toaster oven," Karina said.
Cally explained that they traveled all over Italy but their apartment was in Torino. If they wanted to go somewhere they traveled on public transportation.
"When Mom and Dad came over they were very nervous about everything," Cally said.
"We were just amazed at how comfortable they were moving around the area and traveling," Krishun said.
"This all began when I was in CSN (College of Southern Nevada) and needed to take a language class. So I decided that French would be good. I had thought about studying abroad and we talked about where we should go," Cally said.
Karina added, "We decided on Italy because everything happens in Italy. They have the art and the architecture and the culture. So we ended up choosing the northern part of Italy."
"The food was incredible. There was always pasta dishes and veal and really good salads," Cally said.
"And gnocchi" Karina said.
"Yes probably gnocchi was our favorite. We ate lots of what we referred to as gnocchi babies. I ate so much that there was one point where my pants began to get way tight," Cally added.
Their second trip was in the fall of 2014 and began with a monthlong stay with Molden in Norway. Then they shipped their bags to Torino.
Again, they spent time just exploring the area. And since they had fallen in love with the area and the food they took cooking classes.
With classes an hour away, the girls would take the train. Upon arrival, the vegetables would be cut and the menu prepared under very strict supervision — and at the end, the girls got to eat what they made.
While making pasta with a hand crank, they also learned to pair wines with their foods.
Their apartment, which had impressive architecture, was next to the city's central park. Directions to get there went something like this: "Go down that street and turn left at the castle then go two blocks." The apartment manager, who had remembered the girls from their last time, helped them out with the unit that the girls shared with three other people. Given that Torino is the home of Nutella, the girls ate a lot of it — describing it as the PB&J of Italy. They would dip potato chips into it — a habit others thought strange.
Also, they made friends with a lot of the shopkeepers and market people who were proud of their establishments and kept them spotless. Some of them didn't speak English, but seemed excited that the girls tried to speak to them in Italian. The girls were impressed that the food was very fresh — they'd buy a big bag of vegetables for one or two euros.
"Here the supermarkets have the less expensive foods and the farmers markets are the more expensive. There it is just the opposite: The organics and fresh vegetables are less expensive and if you purchase them at a supermarket, you seem to pay for the convenience," Karina said.
Added Cally: "We learned to make three types of gnocchi: red, yellow and green. The colors of the Italian flag."
Both girls are developing a palate for wines and cheeses and their mom said she feels that this venture will affect their lives and their choices forever.
Contact Andy Saylor at andyhali@msn.com.
Peperoni in agrodolce (sweet and sour peppers)
2 pounds cleaned peppers, cut into ¼-inch slices
½ cup of extra virgin olive oil
½ cup of white vinegar
1 tin of tuna fish (big one, 160 grams). Do not drain
1 sliced onion
1 tablespoon of capers, about 10
1 tablespoon of sea salt
1 tablespoon of sugar
Put all the ingredients in a pan and when it starts boiling, cook for 10 minutes. Eat when cold.
Sugo di pomodoro (tomato sauce)
For about 1 pound of pasta
½ cup extra virgin olive oil
1 garlic clove, peeled and chopped or ½ onion, very finely chopped
1½ pounds ripe tomatoes, peeled and cut into chunks (or 1 bottle passata di pomodoro)
A few leaves of fresh basil, roughly torn
Salt
Sauté the garlic or onion in the olive oil until golden. Lower the heat so you do not burn yourself when you add the tomatoes, basil and salt. Cook to a moderate heat for about 15 minutes. You should cook it until the sauce has thickened.
Gnocchi di patate
2 pounds of 2-ounce potatoes
1 teaspoon salt
2½ cups flour
1 egg, beaten
6 tablespoons butter
2 garlic cloves, lightly crushed
3-4 sage leaves, torn
2/3 cups freshly grated Parmesan cheese
Boil the scrubbed potatoes in plenty of water. Drain and skin when still hot.
Sieve the potatoes onto a work surface. Sprinkle salt onto the flour in a bowl and mix well, then add the beaten egg. Add half of the flour to the potatoes. Knead, gradually adding more flour until the mixture is soft, smooth and slightly sticky. Shape the mixture into rolls/strips, about 1-inch in diameter and then cut into ¾-inch pieces.
To shape the gnocchi, take a fork and hold it with the prongs resting on the work surface at an angle of about 45 degrees. Take each piece of dough, dust it with flour and press it lightly with the thumb of your other hand against the inner curve of the fork's prongs and, with a quick downward movement, flip it toward the end of the prongs. The gnocchi should be concave on the thumb side and convex with ridges on the fork side.
Put 10 cups of water into a large saucepan and bring to a boil. Do not put salt in the water as this tends to make the gnocchi stick together.
Meanwhile, make the sauce. Put the butter, garlic and sage into a small, heavy saucepan and cook slowly. The sauce is ready when the foam has disappeared and the butter is light golden. Discard the garlic and keep the sauce warm.
Drop the gnocchi into bowling water, about 30 at a time. Cook for 20 seconds after they come to the surface, then lift out and transfer to a heated dish.
Pour over a little sauce, sprinkle with some cheese and keep warm.
Repeat until all the gnocchi are cooked. Pour the remaining sauce over and sprinkle with Parmesan.
Sloppy Joes
4 pounds ground beef (substitute Morning Star crumbles for vegetarians)
1 cup chopped onion
1 cup chopped green pepper
2 10¾-ounce cans tomato soup, undiluted
24 ounces tomato sauce
1 small can tomato paste
1 cup packed brown sugar
¼ cup ketchup
3 tablespoons Worcestershire sauce
1 tablespoon prepared mustard
1 tablespoon dry mustard
1 teaspoon chili powder
1 teaspoon garlic salt
24 hamburger buns
In a large saucepan over medium heat, brown ground beef and onion. Add green pepper. Cook and stir for five minutes. Drain.
Add the remaining ingredients and bring to a boil. Reduce heat, cover and simmer for about one hour, stirring occasionally.
occasionallyxcxcxzczczczczczczzczczczczc
Makes 24 servings