November 19, 2014 - 3:21 pm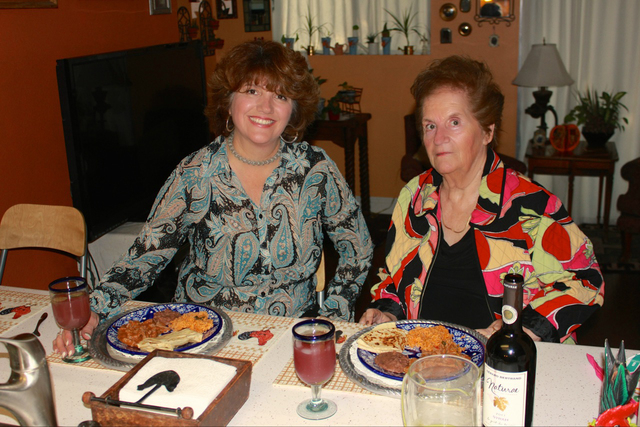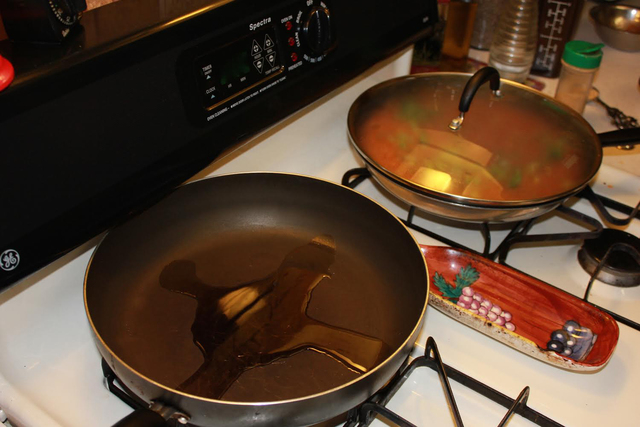 Candy Moncayo and her husband, Luis, love to entertain. They don't worry if there will be enough food. They joke with one another, "Le ponemos mas agua a los frijoles (we just add more water to the beans)!"
There is never a question about if it is a good time to visit. Their door is always open to family and friends. Recently, her mother, Guadalupe Santana, Lupe for short, came to visit from Mexico.
There was cooking, laughing, toasting and remembering.
While bustling around the kitchen, Moncayo spoke with Santana in Spanish about when her daughter was born. Santana said was saddened when she was told she could not have more children after her first child, son Victor, was born.
Six years later, living in Coronado, Calif., Santana had a freak fall. She became pregnant soon after with Maria Candelaria, Candy. She attributed her ability to conceive to the fall.
Not trusting nor feeling comfortable speaking with American doctors, she and her husband, Victor Manuel Santana, chose to go back to Mexico for the delivery.
"Most people come to the U.S. to have their babies; my parents did the exact opposite," Moncayo said.
While living in San Diego in 1993, Moncayo met her future husband, who was a on business trip. In the following months, they fell in love, married and she moved to Mexico City.
Luis Moncayo had two children from his first marriage: Olcan and Ollinca. Together, the Moncayos had two: Yann, who is a freshman at Loyola University New Orleans, and Velzani, who is a junior at Boulder City High School.
It was the summer of 2000 when they came to Boulder City for a family vacation.
"I had been here almost every summer throughout my childhood visiting my uncle, Ramiro Gomez, and family. My brother and I enjoyed visiting our cousins; we are very close to them," Candy Moncayo said.
Luis and the kids decided they loved it, too. In August 2009, Boulder City became home.
"We moved to Boulder City five years ago when the violence was very high in Mexico. The movie 'High School Musical' was big. Velzani always dreamed about going to high school in the USA and have that fun experience," she said.
All four of the Moncayos were born in Mexico and became naturalized citizens with dual citizenship.
Luis Moncayo has a degree in sociology. He had a marketing and social research company and was a college professor in Mexico. Currently, he works for the Clark County School District and does consulting for some companies in Mexico.
Candy Moncayo is a Montesorri teacher and taught early stimulation classes in Mexico. Currently, she is a distributor for Lifevantage and also has a small business helping seniors in the community.
She said she loves working with people and gets very attached to her clients. She feels the desire to help seniors, maybe in part because her mother lives is in a rest home in Mexico. She hopes someone is helping her mom the way she is able to help her clients.
"I love my clients and am very dedicated to them. They range from 87 to 95. Some have been with me since I started my business," Moncayo said. "I try to make their lives, easier, fun and exciting. Losing a client is very hard. I see them as family."
She is a member of a book club where she enjoys good company, good books and good food once a month.
"I have made very good friends in Boulder City. The people have embraced and welcomed us, making my family and I feel a part of the community," Moncayo said.
Cooking is one of her favorite pastimes. She recalled coming home from school and having home-cooked meals that smelled so good coming through the front door they they made her and her brother even hungrier. Moncayo follows this tradition even though she is working.
"My parents taught me to always remember my roots, and never forget were I came from. I guess I do this through my cooking. Our family heritage and past are treasures to me."
Carne con chile
My favorite dish for breakfast or dinner.
½ cup oil
2 pounds beef sirloin or similar (cut in cubes)
6-8 Roma tomatoes, cut in half
3-5 chilies de árbol, a Mexican chili pepper also known as bird's beak (You can add more if you want it spicy)
In a large skillet, cook meat in oil over medium heat. Put tomatoes and chilies de árbol in meat; let them cook in the juice of the meat. When meat is fully cooked, take cooked/stewed tomatoes and chilies out and blend in a blender with garlic salt, to taste.
Pour sauce back into skillet over the meat; heat for 5 minutes. Add more salt, if necessary.
Good with refried beans and flour tortillas.
Arroz Mexicano/ Mexican Rice
2 cups white rice
2 8-ounce cans tomato sauce
2 tablespoons garlic
Cilantro, optional
4 cups water with chicken bouillon or 4 cups of chicken stock
Oil
In a skillet, sauté ½ cup of oil with garlic. Add rice and sauté until rice is golden brown. Add tomato sauce (this gives it color).
Continue mixing until all rice is red, then pour in water with chicken bouillon or chicken stock. Bring to a boil. When boiling, add a handful of cilantro , cover and lower heat until rice is fully cooked.
Albóndigas (Soup)
2 pounds ground beef
1 cup diced onion
1 cup fresh tomatoes, diced
1 cup uncooked oatmeal, 1 cup of uncooked rice or ½ cup of each
2 eggs
2 tablespoons chicken bouillon
Cilantro, optional
Baby carrots
In a big bowl, mix all the ingredients.
In a big pot, heat 12 cups of water or 3 quarts of water and bring to a boil.
Before water starts to boil, make meatballs (albóndigas) and place on a plate. Once water is boiling, put meatballs in the pot. Make sure the water is boiling or the meatballs will fall apart. Add sprigs of cilantro.
Add baby carrots (half or full bag)
In a small skillet sauté:
1 Roma tomato, diced
¼ onion, diced
1 tablespoon minced garlic
1 8-ounce can tomato sauce
Garlic salt to taste
Once mixed and hot, pour sauce directly into boiling water with meatballs. The sauce is called recaudo; it is the seasoning of the soup.
Cook until albóndigas/meatballs are fully cooked.
Serve in a bowl, with 2-4 meatballs per bowl, depending on size, with soup.
You can add cooked Spanish rice or chipotle chilies to soup.
For a great taco to accompany the soup, warm a corn tortilla and fill with a slice of avocado and salt.