A Bella époque: Antiques, collectibles showcased at new marketplace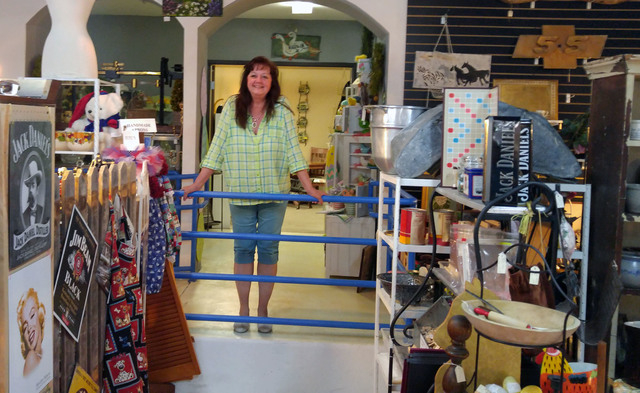 Editor's Note: This article is part of an occasional series showcasing new businesses in town.
Boulder City is well-known for its historic downtown with its thriving antique scene, and late last year two local pickers saw their dream come to fruition when they opened the doors of a brand-new treasure hunter's utopia, Bella Marketplace.
Located at 1212 Wyoming St., Bella Marketplace leases space to more than 20 local vendors, filling approximately 6,000 square feet with novelties running the gamut from old Time magazines, kitschy memorabilia and comic books to children's toys, vintage jewelry and artwork.
Bella Marketplace is also unique in that it has a space dedicated to renovations and repairs, as well as a room for artists and vendors to conduct classes on a variety of topics such as painting, refurbishing and upcycling.
Proprietors Faye and Jim Simak moved to Boulder City in 2004, after living in the Las Vegas area since the late 1970s, and quickly fell back into picking, a tradition she had picked up from her father. Soon after, they began taking distinctive yard and estate sales finds with them to sell on trips to Big Bear, California.
As the great recession took its toll, the sales in Big Bear began to fall off until it became impractical but, luckily for the Simaks they lived in Boulder City, which remained a veritable paradise for antique aficionados.
They continued picking and began to sell their wares out of local antique markets, initially out of the original GoatFeathers, with only a small bookcase displaying their wares. Before that location shut its doors, they had claimed the largest amount of space in the store and Faye Simak had retired from real estate and began working at the antique shop part time.
The Simaks returned to GoatFeathers in 2014 when the new owners opened the doors, after making a home at the Boulder City Antique Market in the interim, but they knew they wanted to find a place of their own.
When they first opened Bella Marketplace, Faye Simak said she was concerned about the prospect of finding vendors without poaching from established shops, but with just a few ads and some positive word of mouth, the shelves were soon full and they needed to institute a wait list.
The Boulder City antique scene continues to grow, drawing tourists from the Hoover Dam as well as visitors from Las Vegas and neighboring communities. According to Faye Simak it is so busy it would be impossible to have succeeded without the assistance of her entire family.
"One big challenge with owning a store of this size, that's also open seven days a week, is being able to have a life separate from the store," she said. "Jim and I are so grateful to have my sister, Kaye Barrieault, as our manager and partner.
She makes it possible for us to have days off, knowing the store is in good hands."
Simak said the antique community in Boulder City is like a family and that is what sets it apart; the support Bella receives from industry peers has been remarkable and integral to its success.
"The antique community here is so special because we really support one another," Simak said. "I send customers to the other stores almost every day and they do the same for us. Each of the shops around here has its own unique personality, so between us we have something for everyone."
Unlike many of the shops in the city, Bella Marketplace is also fortunate enough to have its own parking lot behind the building.
In March the Simaks took advantage of that space to test out a parking lot sale, extending their vendors' space outside in an attempt to entice street traffic that may not have otherwise stopped in, and to offer old pros a little change of atmosphere. Faye Simak said the premiere parking lot sale was such a success they plan to make it a monthly event.
To find out more, call Bella Marketplace at 702-586-5005, or connect with them on Facebook at facebook.com/bc.bella.shop/
Contact reporter Hunter Terry at hterry@bouldercityreview.com or call 702-586-6711. Follow him on Twitter @HunterBCReview.