Vietnam veterans honored with special coins at Boulder City veterans home
November 9, 2017 - 6:42 pm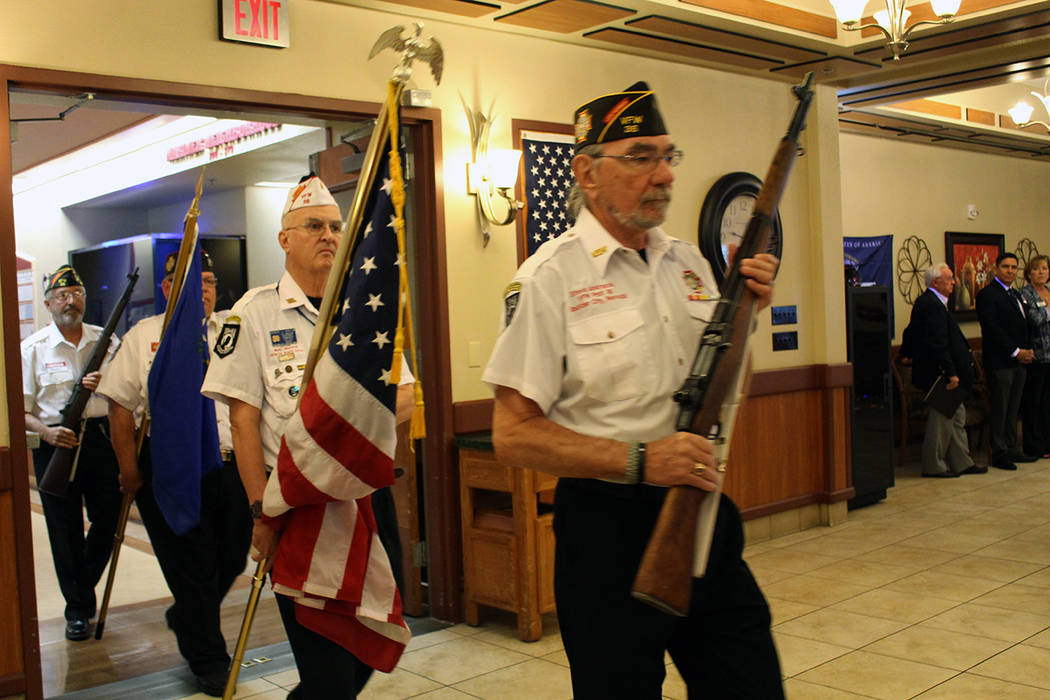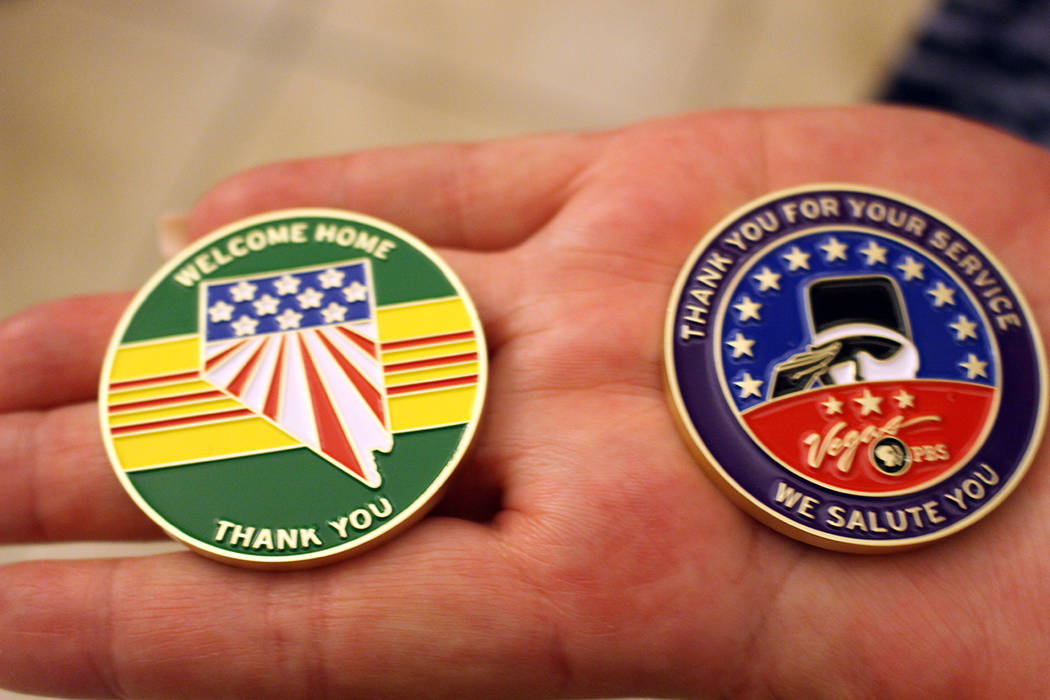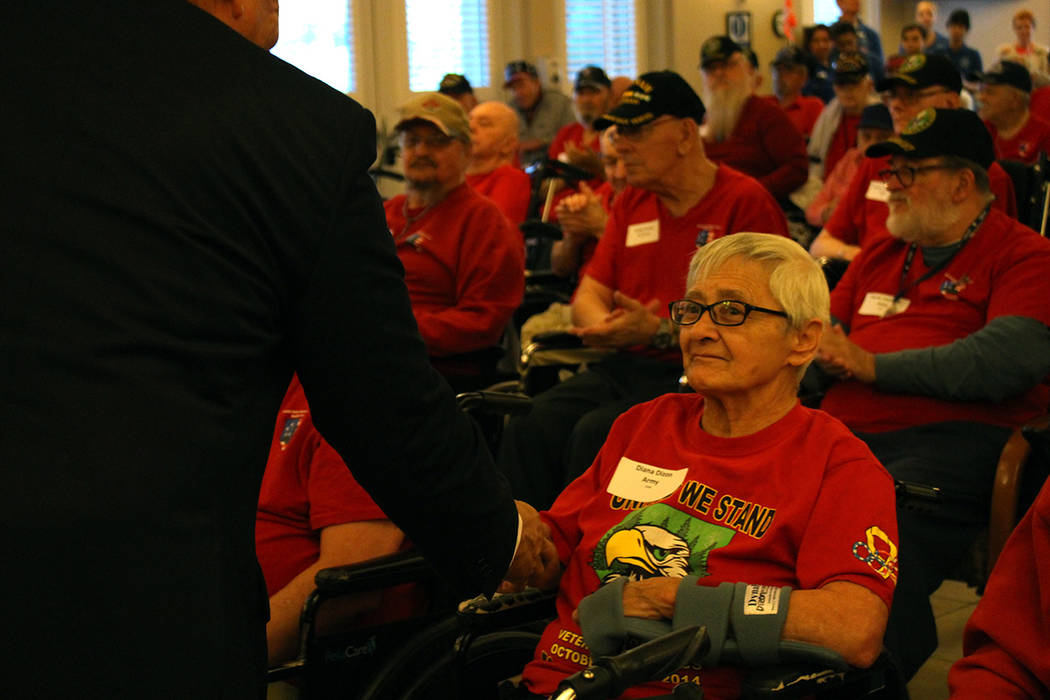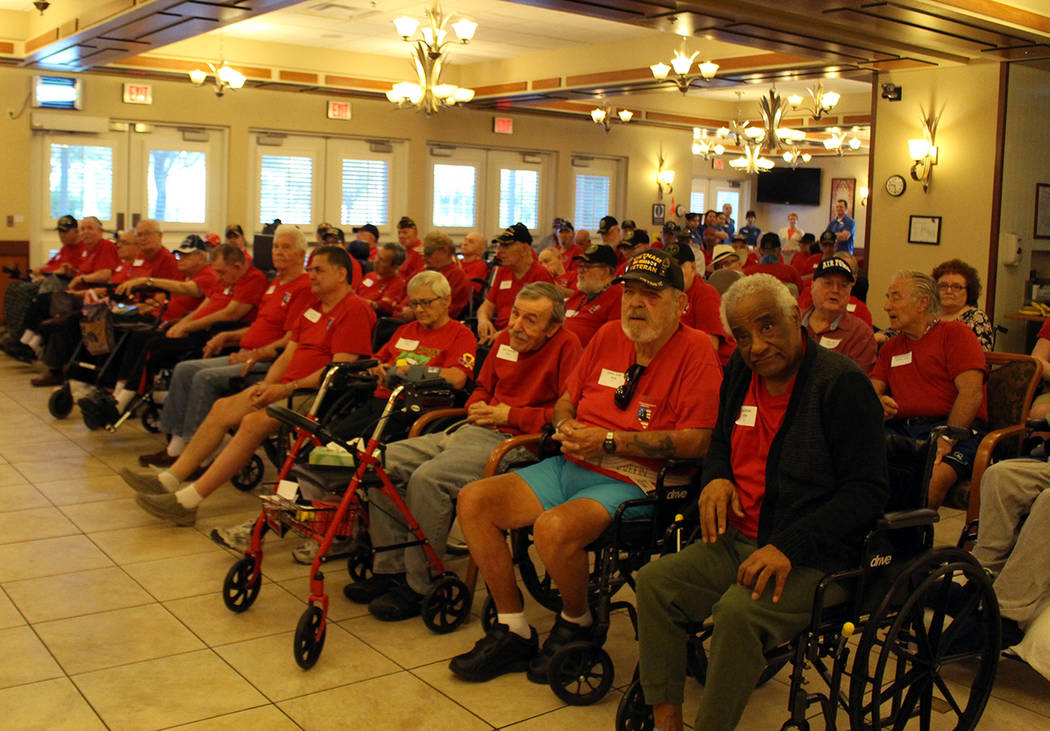 Vietnam War veterans, all wearing red, piled into the cafeteria at the Nevada State Veterans Home in Boulder City on Friday morning. They were finally going to be welcomed home.
Many other veterans coming home from war were given challenge coins — a coin or medallion bearing their branch's insignia. But those returning from Vietnam were met with a polarized nation.
"When they came home 50 years ago, they weren't really welcome," said Juan Rangel, veteran coordinator and 30-year veteran of the Nevada Army National Guard. "Americans were divided in how they felt about the war, and the veterans coming back." They never got their coins.
After filmmaker Ken Burns' documentary on the Vietnam War aired on public television, Vegas PBS decided to do more to thank Vietnam veterans in Nevada.
The public television station designed coins with the shape of Nevada and an American flag on one side and the Vegas PBS emblem and a soldier saluting on the other. The coins were sponsored by the Veterans United Foundation.
On Friday, Vegas PBS officials called the name of each Vietnam veteran living at the home.
James Molinell, a Marine Corps veteran, stood up as Rangel handed him his coin. "Semper Fi!" he shouted, before saluting the man.
"I'll remember those days as long as I'll live," Molinell said.
Malcolm Donaldson, an Air Force veteran, said the coin was a nice gesture.
"It's something," he said, smiling. "Something that you don't see too often."
Vegas PBS officials handed out the coins to all the home's 54 Vietnam veterans, from all branches of the military, and gave an extra 40 or so to Vietnam veteran volunteers and those at the home whose family members had served in the war.
Alonzo Thornton, a nurse at the home and a former Army combat medic, thanked the veterans.
"On behalf of three generations of Alonzo Thorntons in the military, thank you," he said. "When I first joined, I thought it was something out of the movies. It became a lifestyle."
Keith Goudy, a 66-year-old volunteer at the home who served in the Army during the Vietnam War, also received a coin.
"When we came home, it was different," he said. "Most of us just went in the shadows. But you never forget what you saw. It stays in your head."
He describes Vietnam as a "culture shock" for many Americans who were drafted into the war at a young age and hadn't left their hometowns. Now a peace activist, Goudy said his goal is that there are "no more war veterans."
The home's administrator, Linda Gelinger, grew up during the Vietnam era. Her brother died in the war. Tears welled in her eyes as she was handed a coin Friday.
"It's an honor and a privilege to care for you," she told the veterans. "As always, we salute you."