Utah road improvements to stretch into January
December 14, 2016 - 2:52 pm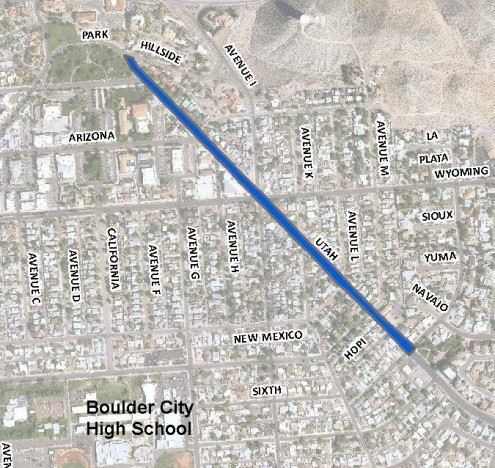 Road improvements on Utah Street are still two months from completion, according to Boulder City Public Works Director Scott Hansen.
The city is replacing fire hydrants and working on utility matters such as creation of new street light conduits and construction of new sidewalk ramps at intersections. Work began at the end of September.
"We are working on a lot of underground work right now making sure things like the fire hydrants and wiring for the light conduits are properly installed," Hansen said. "At the rate we and the (Regional Transportation Commission) are going, I would say we will be finished by the start of February."
The $1.8 million project, which is being funded by the city and the Regional Transport Commission of Southern Nevada, will feature new pavement on Utah Street from Northridge Drive to Park Street.
The City Council approved the agreement with the RTC in 2015.
According to the agreement, the RTC is paying for a majority of the project. Over $1.4 million is coming from commission funds, and the city is responsible for the remaining $400,000.
The city is required to pay only the cost of utilities for the project. That money is coming from the city's utility fund.
The project is being completed by Las Vegas contracting company Aggregate Industries-SWR inc. The contractor is responsible for paving over 24,730 square yards of asphalt as well as 3,200 square feet of land restoration and new signage for the roads.
The RTC did not respond to a request for comment.
Contact reporter Max Lancaster at mlancaster @bouldercityreview.com or at 702-586-9401. Follow him on Twitter @MLancasterBCR.