BCPD invites you to National Night Out on Oct. 3
September 14, 2023 - 9:08 pm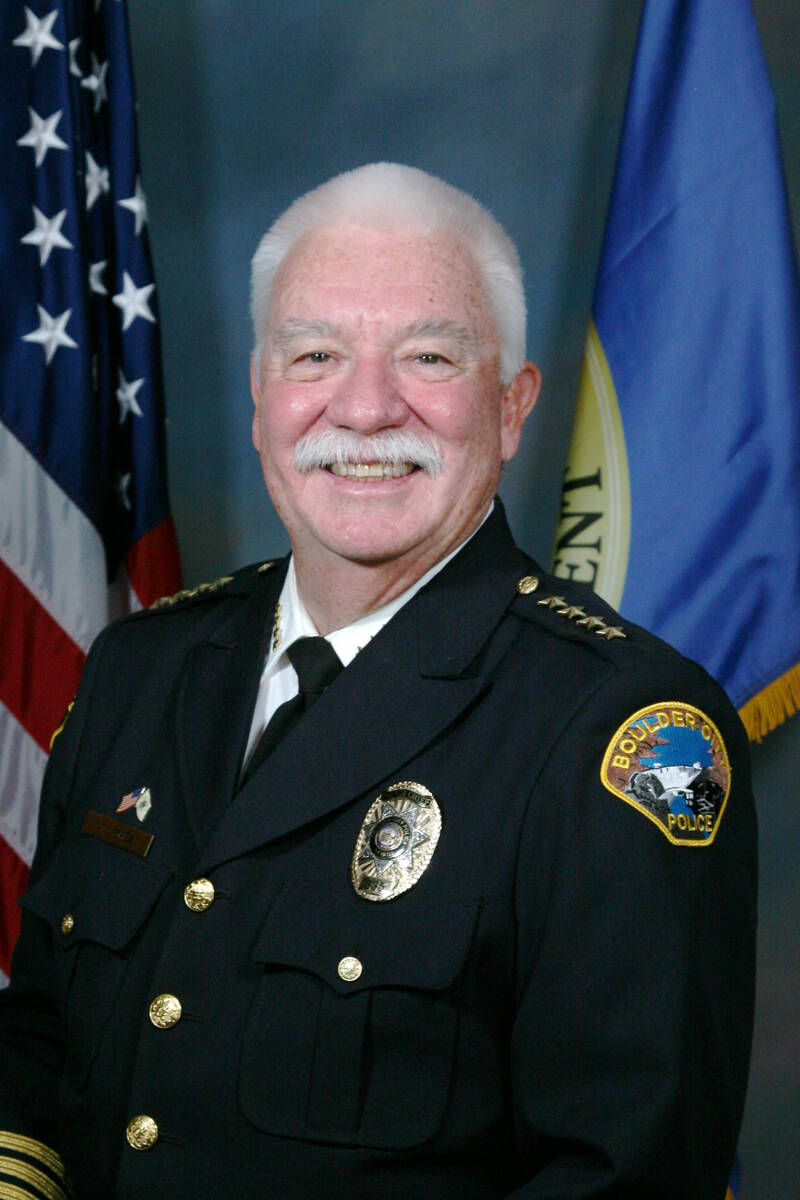 Policing is a career that requires men and women with skills, patience and understanding. The Boulder City Police Department is filled with officers who truly care for this community and the people in it.
Once a year, alongside many other law enforcement agencies and first responders, we celebrate National Night Out. This fun-filled, annual event will be held at Veterans Memorial Park on Tuesday, Oct. 3, 2023, from 6 p.m. to 9 p.m. It is one of the biggest (and in my opinion, the best!) National Night Out events in all of Nevada.
This year, National Night Out celebrates its 40th year. More than 38 million residents have taken part since the inception. The annual campaign promotes "police-community partnerships and neighborhood camaraderie to make our neighborhoods safer, more caring places to live." Often, the first encounter a child has with a police officer can be distressing: a parent being pulled over, or a neighbor being arrested. National Night Out helps kids develop a healthier view of law enforcement, building trust and a sense of community. It is a great way to bring police and neighbors together under enjoyable circumstances.
Boulder City previously celebrated National Night Out the first Tuesday in August. But we all know August in the desert heat can be tough to handle, and many parents said it was tough to juggle getting kids ready for back-to-school. So in 2019, we shifted gears, joining Texas and several other states in the Southwest to celebrate on the first Tuesday in October.
Meet the officers of the Boulder City Police Department, including the Mounted Unit and Animal Control Officers. Get the kids into fun activities like a zipline, rock climbing wall, bounce house and much more.
The Boulder City Fire Department will have fire trucks and an ambulance on site. The highlight of the evening will be the softball game between Boulder City Police Department and Boulder City Fire Department as well as K-9 demonstrations by the BCPD and NPS K-9 units during the intermission breaks. Be sure to add your name to the raffle for a chance to win lots of great prizes while raising money for the BCPD Mounted Unit and BC Animal Control.
Southwest Diner and BC Shaved Ice will have food and beverages available for purchase at the park.
Law enforcement vehicles, equipment and personnel representing local, state and federal agencies from around the valley, including the National Park Service, Nevada Highway Patrol, School District Police, and others. Be sure to watch the skies for the Mercy Air helicopter as well.
Boulder City Police appreciates sponsors such as Quantum Printing, Boulder Dam Credit Union, Boulder City Chamber of Commerce, Albertsons, DJ Mike Pacini, VFW Post 36 Honor Guard, Southwest Diner, Ruben's Wood Craft and Toys, and especially support from City of Boulder City's Mayor and Council, City Manager, Parks and Recreation, Public Works Department and Streets/Building Maintenance Division.
LAST THOUGHTS: September is National Preparedness Month. Whether it is natural disaster or a man-made situation, you should have an emergency plan: Where should your family meet if disaster strikes? What should you take if you need to evacuate your home? This is an excellent time to create or update an emergency plan for you and your loved ones.
Several apps are available for electronic devices to help you receive weather alerts or build an emergency plan. Keep a list of all of your medications in case you need to leave home in a hurry, and make sure you are up-to-date on vaccinations. Check on your neighbors and friends, especially those people with special needs and who are elderly. Pets should also be a part of your emergency plan; be sure to keep dog and cat licenses updated, and microchip all pets. For more information on preparedness, including plan ideas and supply lists, visit www.ready.gov.