World War II era pilot takes to the skies again
October 3, 2013 - 6:42 am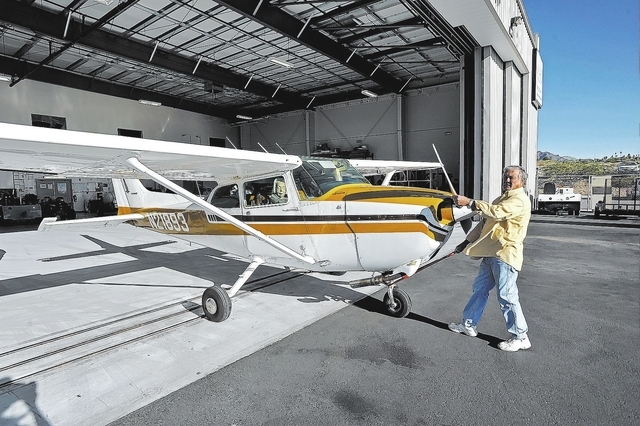 Look up in the sky. It's a bird! It's a plane! It's a 93-year-old woman!
Elma "El" Kahelin didn't expect that her dream of flying would come true Sept. 26, after she told the staff of The Homestead at Boulder City that she wished to fly once again.
But it did.
Kahelin attended college at Kent (Ohio) State University during World War II, where she trained to fly with the Women Airforce Service Pilots, a pioneering program that used civilian women to fly in noncombat situations for the U.S. Army.
"She was very adventurous," Kahelin's daughter, Susan Badger, said. "Her grandma would slip her money for flying."
However, Kahelin married before she would ever fly for the war effort, and never again piloted an aircraft.
But she never lost her love of aviation.
"She never fails to look up in the sky and say, 'I can fly that thing' … even more so in her 90s," Badger said. "That's one of the happiest things in her life."
Upon hearing Kahelin's request, the senior living facility, where Kahelin and her husband have lived since June, contacted a local aviation service provider B.F.E. for help.
B.F.E. General Manager Randy Saenz donated a plane belonging to his company, Fly Sin City, and also found a pilot willing to donate his time.
"It was definitely something I could do to give back and make someone's wish come true," Saenz said.
Kahelin was told she would be going on a flight, but until she arrived at the airport, she was skeptical, Badger said.
"I don't think she believed it until today," Badger said the day of the flight.
Pilot C.J. Roseman said that on the 30-minute flight, he took Kahelin over Hoover Dam, Eldorado Valley's solar fields and also showed her where The Homestead was.
"We were up at about 4,500 feet, so she could see everything," he said.
Roseman said he offered to let Kahelin take the controls, but she chose not to.
Upon exiting the airplane, when Kahelin was asked by the Boulder City Review how the flight was, she said it was "fine."
And although it was a slightly windy day for a flight, Kahelin said the ride was "nice."
For about two years, The Homestead has tried to help its residents' wishes come true, Life Enrichment Director Curt Jeffery said.
"With our residents, we'll routinely poll them, and if it's something we can handle we'll take care of it," he said.
Only one other resident has made a request, and he was taken on a sailboat ride on Lake Mead, Jeffery said.
"Most people say 'I've lived a wonderful life I can't think of anything else I would want to do again, or wanted to do and haven't done,'  " he said. "But every now and then, we'll get somebody who says, 'I want this.'  "
As Kahelin's husband, John Kahelin, waited for the landing, he was asked by the Boulder City Review if he had any wishes he wanted fulfilled.
"I didn't have anything spectacular that would top this," he said.