Woman severely injured in boat accident at lake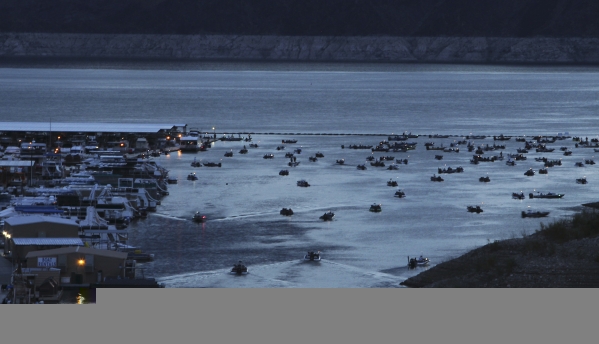 A woman suffered life-threatening injuries after a boating accident July 15 at Lake Mead.
According to park spokeswoman Christie Vanover, Lake Mead officials received a call shortly after 11 a.m. about two boats that collided at Sandy Beach near Calville Bay.
Witnesses said both boats were pulling into a wakeless area near Sandy Beach when one boat hit the other from behind, Vanover said. The boat that was hit had three people on board, including the woman who was airlifted to the hospital, she said.
Though she couldn't go into the severity of the woman's condition, Vanover said the woman had injuries to her lower extremities. She said the site of the crash was close to a developed area, which made the rescue attempt quicker.
Boulder City resident Dan Dombrowski said he was about 100 yards away when he saw the boats crash.
"They were both coming in pretty hot," he said. "I heard them slam together."
Dombrowski said one boat went up in the air after colliding with the other and slid across the deck where the woman was sitting.
The impact, he said, left the woman with a gruesome leg injury.
"It was just some muscles and stuff that were holding her leg together," he said. "I had never seen anything like. It was like a crime scene."
Dombrowski said he immediately ran up the hill near Calville Bay to call the Park Service since the area they were in had no reception. After making the call, he ran back down to apply a tourniquet to the woman's leg and stayed with her until the paramedics arrived.
"I just took control and we worked through it," he said.
Another man on the boat was treated for minor injuries at the scene, Vanover said. The third person on the boat, and the driver of the other boat were not injured.
Privacy laws prevent the Park Service from releasing additional information about the accident or the woman's condition.
Contact reporter Steven Slivka at sslivka@bouldercityreview.com or at 702-586-9401. Follow @StevenSlivka on Twitter.