Woman claims police invaded her privacy, looked through bedroom window
October 19, 2016 - 1:45 pm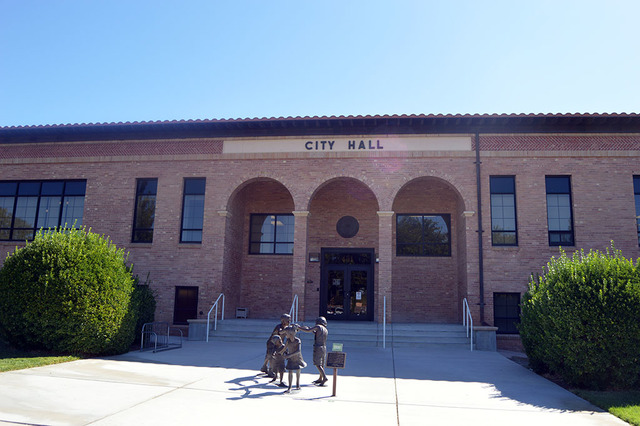 A local resident is demanding a change in Boulder City police procedure after an officer walked into her backyard without a search warrant and looked through her window as she was emerging from the shower, according to her lawyer.
Gabriela Tolman was visited by Boulder City Police Officer Jeffrey Grasso on April 6 after neighbors called the police about Tolman's children flying their toy drone in the neighborhood the day before.
Grasso did not respond to the drone inquiry until the day after the alleged incident, which took place April 5.
When the officer arrived at Tolman's house, he knocked on the door multiple times, but no one answered. Grasso was told by Tolman's neighbors that she was home at the time, according to a patrol car recording obtained from the Boulder City Police Department.
Grasso then went to the north side of the house into the backyard. Grasso said he was allowed to go into that area of the property because "there was no fence wall or barrier," according to a call he made to dispatch at 2:14 p.m. April 6.
However, while the entrance to Tolman's backyard does not have a closed gate or barrier keeping someone out of the area, there is a wall around the property that clearly begins at the north side of the home, creating a distinct entrance from the front yard to the backyard.
Through the window
The window that Grasso looked through was in the back of the house and could not be seen or looked through from the front yard, according to Tolman's lawyer, Bruce Woodbury.
Tolman can be heard in distress and crying while officer Grasso explains his rationale for looking in her window.
"I looked in to make sure everything was OK because they said someone was home," Grasso said in the audio recording as he attempted to calm Tolman. "We think when someone is home and no one answers they are dead or being held up at gunpoint."
In the recording, Tolman is heard telling the officer that she had a meeting and that she understood the situation but had to go. She then asked the officer to leave.
The next day, Tolman filed a written complaint at the police department that stated "Grasso was abusing his power by going into her backyard and looking into her window."
She then wrote that she asked the officer if he had any other reason for going into her backyard besides no one answering the door. Tolman claimed Grasso said he had no other reason. This part of the conversation was not heard in the audio recordings given by the police department.
Tolman said that she is scared to be around police officers since the incident six months ago and that her medical condition has not made things easier.
Tolman has Ehlers-Danlos syndrome, a heritable genetic defect in a person's connective tissue, the tissue that provides support to many body parts such as the skin, muscles and ligaments, according to the Ehlers-Danlos Syndrome Foundation.
She said that dealing with even a small amount of stress can be a challenge for her.
"I don't want to play the victim here," Tolman said during an exclusive interview with the Boulder City Review. "But I should not have to feel traumatized because an officer looked through my window and invaded my privacy over an incident that happened the day before. There was no emergency and he had no right to do that."
City denies wrongdoing
Woodbury, who is the father of Boulder City Mayor Rod Woodbury, said that he and his client both respect the police but are appalled by Grasso's conduct.
"My client and I have great respect and admiration for our police officers," Woodbury wrote in a letter to interim police Chief John Glenn, who was in charge at the time of the incident.
"However we find it difficult to understand how this officer's conduct in looking through the windows of the house including bedroom, in a situation where there was no warrant, no consent and absolutely no emergency or exigent circumstances could be anything other than an illegal and unconstitutional search of our client's premises."
Woodbury wrote the letter in response to two investigations that concluded that the officer had done nothing wrong. The initial inquiry of misconduct by Grasso was done by Sgt. Thomas Healing.
The second investigation, which Glenn said was an independent review, was conducted by Boulder City Detective Sgt. Aaron Johnson.
Boulder City police Chief Timothy Shea did not respond to email for comment and was not in office at the time of the incident.
On Aug. 10, City Attorney Dave Olsen wrote to Woodbury stating that, "While Officer Grasso may have exercised an element of poor judgment in attempting to make contact with Ms. Tolman the way he did, he did not violate state law or violate Boulder City Police policy."
Tolman and Woodbury met with City Manager David Fraser and Olsen on Aug. 30 at City Hall, where Woodbury gave the city four settlement terms, all of which were rejected.
Those terms stated that Boulder City would conduct a policy change, if needed, an evaluation of the officer to determine fitness for duty and that he undergo counseling, an official apology to Tolman and $30,000."
In a letter to Woodbury, Olsen wrote, "Upon review of the facts and after much deliberation the city cannot agree to your proposed settlement terms."
The next step
Woodbury said the next step, should Tolman choose to take it, is a civil rights lawsuit against the city for a violation of her Fourth Amendment rights.
"A lawsuit would be the next step and we don't want it to come to that," Woodbury said. "We got a very cold response from the city and we would be open to meeting with them again to discuss what happened to Ms. Tolman."
Tolman, who was hesitant to speak publicly about the incident, said that she takes no joy in publicly calling out the city.
"We gave them every opportunity to resolve this issue and the city didn't care," Tolman said.
"I don't like speaking against my city, but what happened was so wrong."
The city's Public Information Officer Sue Manteris stated in a brief email, "The city does not comment on personnel issues."
No other information was given.
Contact reporter Max Lancaster at mlancaster @bouldercityreview.com or at 702-586-9401. Follow him on Twitter @MLancasterBCR.