Witness contradicts police sergeant
December 20, 2017 - 3:53 pm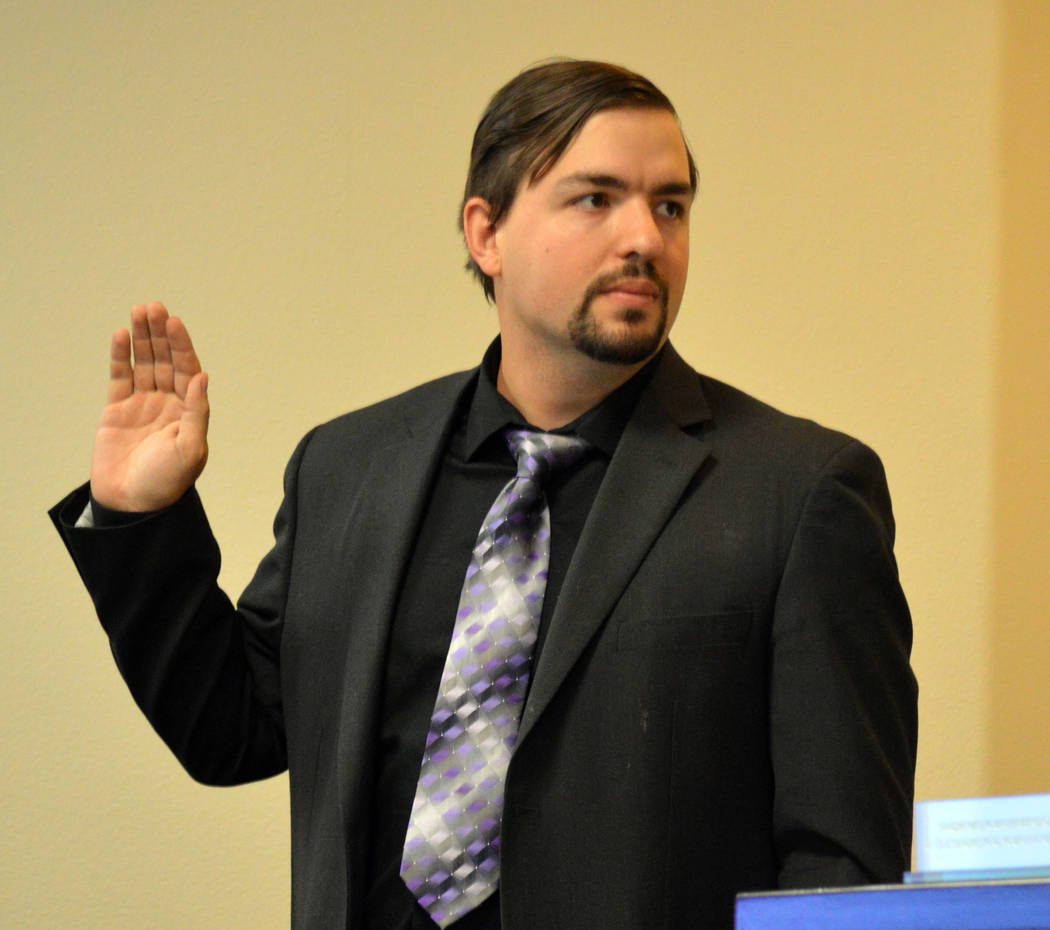 A witness contradicted the deposition of a Boulder City Police sergeant during a hearing Wednesday morning in the case against a resident who was arrested for a "crosswalk protest" during a police-sanctioned pedestrian safety event.
Benjamin Jurek, Boulder City information technology support technician, said that he would have changed Boulder City Police Sgt. John Glenn's dash-camera number in his patrol unit as part of his routine while changing the cameras from vehicle to vehicle, despite Glenn saying earlier that the number was not changed and still reflected the unit number of the patrol vehicle the camera was taken from because his was not functioning properly.
Jurek's statement was part of an evidentiary hearing in Boulder City resident John Hunt's motion to have charges against him dismissed for prosecutorial misconduct.
On June 8, 2016, Glenn arrested Hunt on several charges, including obstructing traffic and resisting arrest after he repeatedly walked back and forth in a marked crosswalk to protest a police-sanctioned pedestrian enforcement detail.
Hunt's attorney Stephen Stubbs was given the dash-cam video from the Boulder City Police car, and found surveillance video of the incident from a nearby business. In the dash-cam video, Glenn seemed to be aware that Hunt was protesting, and the surveillance video did not seem to support the charges brought against him.
The charges were dropped later that month.
The original dash-cam video provided to Stubbs in 2016 included a text overlay in red print that said Unit 277.
Almost a year later, on June 5, 2017, the city brought five charges against Hunt for that same incident. Less than a week prior, on May 30, Hunt's attorneys brought a federal complaint against the city and the police department, accusing them of malicious prosecution, abuse of process, false imprisonment, negligence, assault and battery.
In his deposition Nov. 2 for that federal complaint, Glenn said that his unit number the day Hunt was arrested was 277, but his camera number was 281.
"My vehicle number is 277 … And the camera in unit 277 failed," he said. "It had to be sent back. There was another vehicle that wasn't being used, which was unit 281. The camera out of that vehicle was taken out of that vehicle, placed in my vehicle and the device name was not changed when it was changed over. So my vehicle was being broadcast as 281."
In an email provided to Stubbs by the police department as evidence was being gathered, Glenn added that the unit identifier was "mistakenly not changed" until around Aug. 4, 2016.
At Wednesday's evidentiary hearing before Judge Victor Miller in Boulder City Municipal Court for Stubbs' motion on behalf of his client to dismiss charges for prosecutorial misconduct, Jurek said that he would have changed the unit number to 277 when the camera was changed as a part of his routine.
"I believe John Glenn was mistaken at the time, and my facts are correct," he said.
Jurek did clarify that he did not specifically remember changing that camera number, but changing it was part of his routine when cameras were swapped out.
He compared it to a cashier providing change after transactions.
He did confirm that prior to Hunt's arrest on June 8, the original camera for unit 277 had malfunctioned and 281's was available. He said that he put that one on unit 277 and sent the broken camera out to be repaired.
Representing the city at Wednesday's evidentiary hearing were Acting City Attorney Steve Morris and Assistant City Prosecutor Gary Booker.
If Miller does not approve the motion to dismiss, Hunt's trial is set for March 15.
The evidentiary hearing continued past the Boulder City Review's deadline. Please check www.bouldercityreview.com for the latest updates.
Contact reporter Celia Shortt Goodyear at cgoodyear@bouldercityreview.com or at 702-586-9401. Follow her on Twitter @csgoodyear.