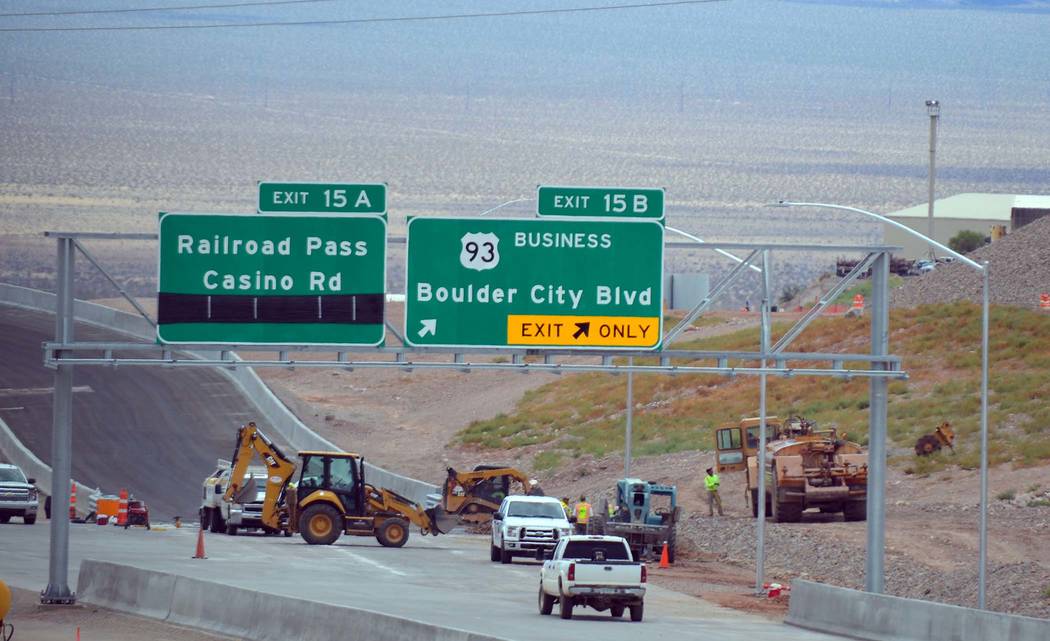 What's in a name? A lot, especially when that name is printed in big, bold letters on a new sign on the interstate.
Somehow in the bureaucracy of paperwork necessary to order signs for Interstate 11, the new name designation for Nevada Highway was changed from the agreed upon "Boulder City Parkway" to "Boulder City Boulevard."
The mix-up became evident last week as signs were being installed by the Nevada Department of Transportation on the portion of Interstate 11 that is set to open next week.
"I heard back from NDOT this morning and they will be changing the signs to 'PKWY,'" said Acting City Manager Scott Hansen on Monday morning. "The council resolution was pretty clear it should be parkway."
According to Tony Illia, spokesman for NDOT, there was a "miscommunication within the Nevada Department of Transportation about what U.S. Highway 93 should be called once Interstate 11 is complete."
He said an agreement in mid-2014 called for it be named Boulder City Boulevard. "However, in late 2014, it was adjusted and renamed Boulder City Parkway. Unfortunately, the department just recently realized this change.
"As a result, four new signs being fabricated as we speak. They should be completed and erected in place before year's end," Illia said.
Jill Rowland-Lagan, CEO of the Boulder City Chamber of Commerce, said the mistake has prompted a lot of conversation within the community.
"With the incorrect labeling on the new signage over the Phase 1 section of the I-11 printed as Boulder City Boulevard (one of the original names discussed) and not Boulder City Parkway, a lot of conversation started within the business community," she said.
Once changed, she said the sign designation should help direct traffic to Boulder City and eliminate any confusion about name of the road or where it travels to.
In the past, the road, officially U.S. Highway 93, has been designated as State Route 101, Boulder Highway, Nevada Highway and Great Basin Highway, Rowland-Lagan said.
"Thanks to the foresight of the Economic Vitality Commission and City Council to jump on the opportunity to use directional signage as a means to market the name Boulder City, and way to end the confusing, multiple-named road coming into town, Boulder City Parkway was selected from many suggested at public meetings, council meetings and solicited by the general public," she said.
Hali Bernstein Saylor is editor of the Boulder City Review. She can be reached at hsaylor@bouldercityreview.com or at 702-586-9523. Follow @HalisComment on Twitter.