Wear it to work: Life jackets serve as reminder about water safety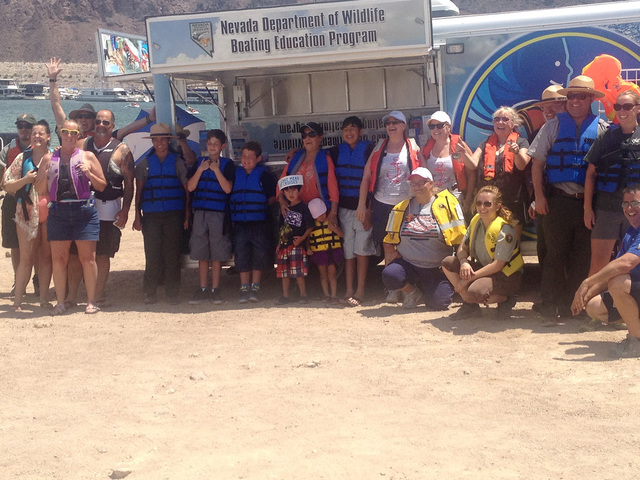 Wear Your Life Jacket to Work Day is Friday, and with it comes a reminder of the importance of water safety, especially when living close to Lake Mead National Recreation Area.
"Always wear your life jacket, whether you are swimming on the beach, boating, kayaking or paddleboarding," said Chelsea Kennedy, public affairs specialist at Lake Mead National Recreational Area. "The weather is unpredictable at the lake and can change from calm one minute to choppy and hazardous the next so best practice is to always wear your life jacket."
The National Safe Boating Council hosts Wear Your Life Jacket to Work Day. It's a unique and educational way to raise awareness about the different types of jackets and which are best.
It usually occurs just before National Safe Boating Week.
"Treat your visit to Lake Mead like it is your first," Kennedy said. "Be cautious. Water hazards may become exposed due to changing water levels. Go slow when near points, islands or shorelines … Lake Mead is a lake with a current in one of the harshest desert environments in the world. Many people underestimate the power of the lake. People think that they are great swimmers or that the heat won't affect them, but it does and they get overwhelmed by the lake."
For those who visit Lake Mead and need a life jacket, there are free life jacket loaner stations at Boulder Beach, Cottonwood Cove and Princess Cove.
Kennedy said that other ways to be safe in the water include: leaving the pool toys at home because the wind and waves can quickly carry them away, boating smart, watching the weather, having the proper safety equipment on your boat, carrying a cellphone, staying sober, and not staying out longer than four hours.
The National Safe Boating Council invites those who participate in Wear Your Life Jacket to Work Day to take a picture of themselves in their life jacket while at work and post it to the Ready, Set, Wear It! Facebook page or submit directly to the NSBC at outreach@safeboatingcouncil.org. They can also tweet their picture using #RSWI2017.
As part of its efforts to promote water safety, Lake Mead National Recreation Area is hosting Wear it Day on Saturday at the Boulder Beach picnic area and Katherine Landing at Lake Mohave. They will be attempting to set a world record for the most life jackets worn in a day.
Water safety activities surrounding the world record attempt will be held at Boulder Beach from 10 a.m. to 1 p.m. and at Katherine Landing from 2-4 p.m.
Contact reporter Celia Shortt Goodyear at cgoodyear@bouldercityreview.com.
Tips for staying safe in the water
Leave pool toys at home. The wind and waves can carry them out quickly. Don't try to retrieve a floating toy blown out too far.
Boat smart.
Watch the weather. Lake conditions can change rapidly.
Make sure your boat has all needed safety equipment. The National Park Service recommends carrying a cellphone and marine band VHF radio (channel 16) to call for help. Having a GPS and knowing how to use it can help responders locate you when you call for help.
Boat sober. If you drink, be responsible and don't operate the vessel.
Boater's hypnosis. Four hours of exposure to wind, sun, glare, noise, motion from the water and vibration produces a type of fatigue that slows operator reaction time comparable to that exhibited by an intoxicated person.
Plan for the unexpected. Make sure several people on board your vessel know how to operate it. Leave boat keys on board the vessel, not in a swimmer's pocket.
Stay hydrated. One gallon per person per day minimum is recommended when out in the summer heat. By the time you feel thirsty, you are already dehydrated.
Drink water regularly before you begin your hike so that you start out hydrated.
— National Park Service