Wanted: Operator for city's motocross track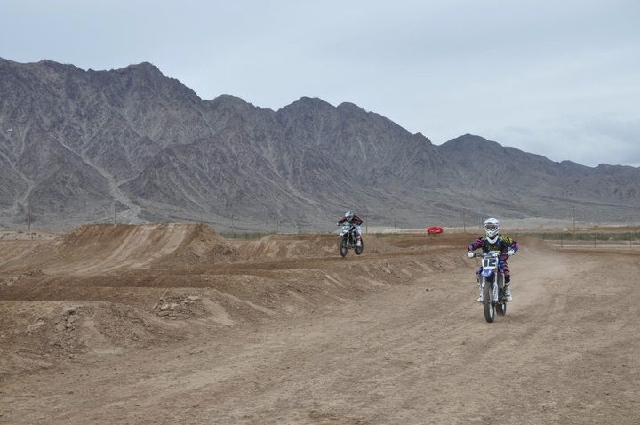 Boulder City officials are seeking bids for the lease and operation of its motocross track.
The City Council voted in February to terminate the lease with Boulder City Motocross operator, BCMX, which had not paid rent since July.
In March, the council received the option of seeking a new bid or flattening the existing Eldorado Valley dirt course.
Scott Hansen, public works director, advised the council at the time that it would cost approximately $70,000 to remediate the property.
"It's a bit of a tough situation, do we go out there and level, that would cost us money … or let someone come in an operate?" Hansen said Monday.
Councilman Cam Walker said Tuesday that the city should not abandon the course simply because of difficulties with the previous operator.
"I think it's hard just to scrap it altogether because there were some challenges before," he said.
At the time of the BCMX lease termination, the city claimed the operator owed more than $90,000 in rent.
Additionally, the city and the previous operator are entangled in a lawsuit with the family of a man who died after crashing his motorcycle at the track in 2010.
However, Walker said a past advisory ballot question, approved by voters in 2002, indicated that Boulder City residents desired a motocross track.
That ballot question read, "Shall the City of Boulder City enter into a recreational land lease in the Eldorado Valley recreation area with Club MX for the purpose of developing 50 acres as a motocross park?"
Walker said the voters' 2002 wishes should be honored.
"I think it's important with the voters, having a motocross track," he said. "And since the city voted … we should see what the interest is before we bulldoze the thing."
The city first advertised the request for a bid June 6.
A pre-bid meeting, where interested parties can meet with city officials and take a tour of the 50-acre site, is scheduled for June 20.
Bids are due by July 11.
The city is placing new requirements on bidders that didn't exist for the previous operator, including a required $100,000 bond.
"The next company that comes in, I want them to put down a bond, so if they fold we don't end up using tax dollars (for cleanup)," Hansen said.
The city claims BCMX owes $50,000 for the cost of an environmental remediation performed last year. BCMX has contested this claim.
The city is also requiring that a future operator provide properly staffed private ambulances on-site during all operational periods.
The previous operator did not have its own medical team, which required Boulder City paramedics to respond to calls and take patients to Las Vegas hospitals.
Fire Chief Kevin Nicholson told the council in March that it was very important for a future operator to provide its own paramedic services, because taking patients to Las Vegas takes a Boulder City rescue unit out of service for at least an hour.
Coy Higley, who owns a local off-road racing communications equipment company, Mobile Radio Communications, said he has been in discussions with investors about opening an off-road truck course on the property.
However, it is unlikely that a bid will be placed by his group by the July 11 deadline, Higley said.
The lease with BCMX was signed in 2007, initially for 30 acres, and later expanded to 50 acres.
Boulder City Motocross has been closed since Jan. 1, 2012, according to its website.
According to Hansen, the closed track has invited a trespassing problem, often requiring police response.
"It seems like every time my staff goes down there, there's somebody down there using the site," Hansen said.
Hansen said the city has not yet received any bids, and he's not sure if it will.
"I totally understand council's decision," he said. "But I'm not optimistic."
City Manager David Fraser said that if the city does not find a suitable operator, the course will likely need to be flattened.
"We either need to get somebody in there operating or we need to pull the plug on it," he said.