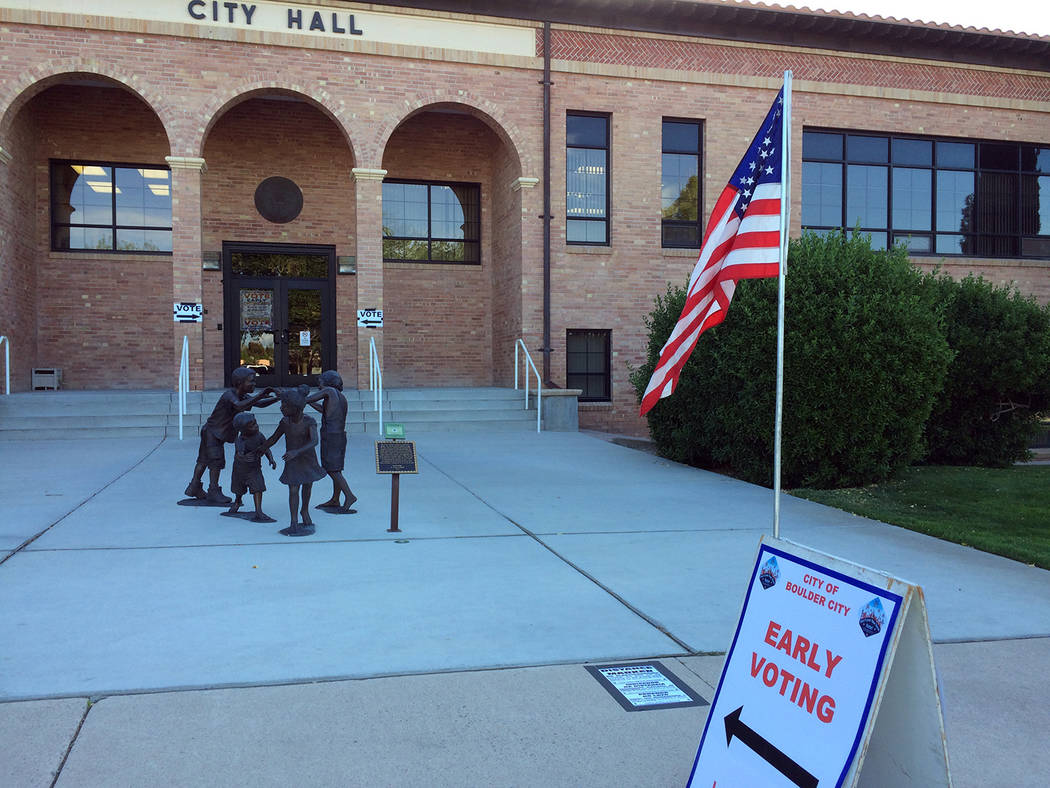 If the early voter turnout for the current municipal election is any indication, it appears that a greater number of residents are eager to have their say on who will represent them on the City Council and to weigh in on two ballot issues.
After four days of early voting, which ended Saturday, 2,372 votes had been cast, 606 more than were cast in early voting for the primary and more than the number cast on any of the four days of early voting for the primary.
As with past elections, turnout was heaviest the first day and dwindled nearly in half by the final day of early voting. On May 31, the first day of early voting, 792 ballots were cast. The other three days saw 656, 513 and 411, respectively.
By contrast, with four additional candidates seeking a seat on the City Council and no ballot questions, the primary drew 565, 509, 420 and 272 voters each day. In all, only 3,437 votes were cast for the April primary.
As of Monday, there are 10,409 active registered voters in Boulder City, according to the Clark County elections department.
The four candidates running for the two seats are Warren Harhay, Kiernan McManus, John Milburn and Cam Walker, who is seeking re-election to his third and final term.
The first ballot question asks whether the 30 allotments per development per year limit from the controlled-growth ordinance should be removed, but the 120 allotment cap per year be kept.
The second one is an advisory question asking the voters if they support a full interchange on Interstate 11 at Buchanan Boulevard, south of the Southern Nevada Veterans Memorial Cemetery.
The polls will be open from 7 a.m. to 7 p.m. Tuesday. Residents can vote at either of the city's two voting centers: Boulder City Parks and Recreation Center, 900 Arizona St., and King Elementary School, 888 Adams Blvd.
Hali Bernstein Saylor is editor of the Boulder City Review. She can be reached at hsaylor@bouldercityreview.com or at 702-586-9523. Follow @HalisComment on Twitter.