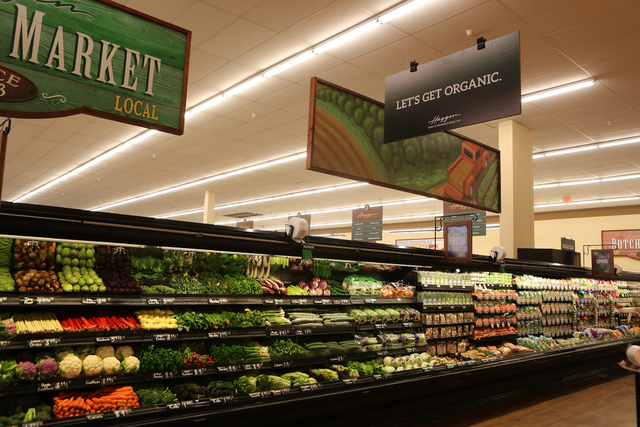 The Vons in Boulder City is approaching its final weeks as the grocery store prepares for its transformation into a Northwest-based Haggen grocery store.
The store will close as Vons at 6 p.m. June 7 as the inside of the building is repainted and the shelves stocked with new products. The store will reopen as Haggen two days later sometime in the afternoon, according to a company statement.
The pharmacy will remain open during the closure, beginning around 11 a.m. June 8 and operating during regular pharmacy hours, which are 9 a.m. to 9 p.m. weekdays, and 9 a.m. to 5 p.m. on weekends.
About 25 percent of the conversion will be complete once the store reopens. The rest of the transformation, which will include the addition of approximately 1,000 new products, will be finished during the course of the next few months.
Spokeswoman Kris Ellenberg said Haggen is more than doubling the amount of organic produce in the store. Along with traditional grocery store items, Haggen offers a variety of organic and gluten-free foods.
"Haggen is kind of wanting to be that one-stop shopping solution," Ellenberg said.
The new store will have a revamped bakery, deli and seafood section. Haggens in the Northwest are famous for their cinnamon rolls, a component that the company will bring to Boulder City, Ellenberg added.
One of Haggen's staples is its work with local farmers and other providers to bring a more authentic feel to the stores, she said. As for pricing, the products that customers are familiar with will be priced very similar to traditional grocery stores, she added.
Specialty items such as the organic and gluten-free selections will be more expensive.
"Across the board, the goal is to be priced within cents of other local grocers," she said.
The chain's acquisition of 146 stores is the result of the merger between Albertsons and Safeway, Vons' parent company, which was approved by the Federal Trade Commission in late January.
Haggen is expanding from 18 stores with 16 pharmacies to 164 stores with 106 pharmacies, according to a company news release. It also is increasing its workforce from 2,000 employees to more than 10,000 as it transforms into a regional grocery chain in five states.
Seven Nevada stores and 10 Arizona stores are expected to be converted in the late spring. As many as 12 stores will be converted each week.
"We like to think of ourselves as a full-line grocery store with a bias toward fresh, quality, organic, local and 'healthy for you' options, so that guests can do all their shopping with us instead of traveling to multiple stores," said Moran Golan, Haggen's Pacific Southwest director of communications.
The company is planning to retain all employees after the store reopens.
Contact reporter Steven Slivka at sslivka@bouldercityreview.com or at 702-586-9401. Follow him on Twitter @StevenSlivka.