Vigil honors animal cruelty victims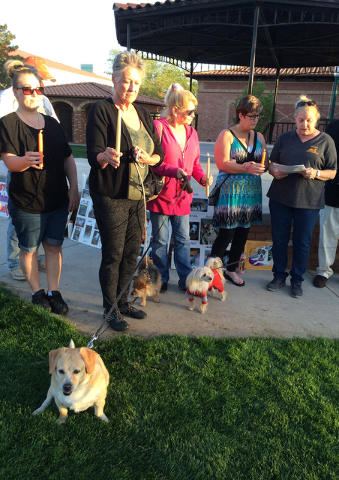 Despite the wagging tails of a trio of dogs, the mood was decidedly somber on the afternoon of March 16 as several area residents gathered in Bicentennial Park to say a prayer for local animals, especially those that fell victim to animal cruelty.
The vigil was designed to help bring closure to those whose animals were killed by Boulder City's former animal control supervisor Mary Jo Frazier, said Mona Angelone, who helped organize the event.
Jeanie Slater, who worked at the animal shelter from 1989 to 1996, read several prayers for animals at the vigil, which lasted roughly two minutes and was sparsely attended.
Among those attending was Linda Schriek and her dog, DeeCee, who she adopted at the shelter five years ago.
"I don't know how she escaped," Schriek said, noting her dog had been turned in twice to the shelter.
Schriek was one of several dog owners who were visiting the park and asked to join the vigil.
The vigil came eight days after Frazier was arrested on two charges of animal cruelty and appeared in court.
Frazier appeared in front of District Court Judge Susan Johnson on March 8, five days after being indicted by the Clark County grand jury.
"We appreciate the justice we're getting but are praying for more," Angelone said.
Among those attending was state Sen. Mark Manendo, a staunch supporter of animal rights.
Manendo said he promised himself he would do whatever he could to help protect animals when he was about 7 years old after his cat Snooky disappeared and came back several days later with a thick rope around its neck that had been chewed through.
"I understood then that there are bad people in the world who do bad things," Manendo said. "If someone would do this, I wondered what would have happened if he had not chewed himself free. I was devastated."
Also present was attorney Bruce Gale, who was contacted by the nonprofit Nevada Political Action for Animals. Gale, who was born and raised on a horse ranch in Houston, Texas, said he has always been fond of animals and will consider helping the victims file a civil suit against Frazier.
Hali Bernstein Saylor is editor of the Boulder City Review. She can be reached at hsaylor@bouldercityreview.com or at 702-586-9523. Follow @HalisComment on Twitter.