Veterans home earns award
October 22, 2014 - 1:33 pm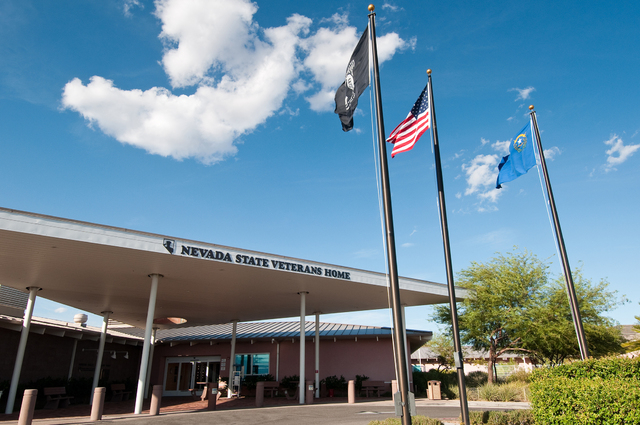 For the second straight year, the Nevada State Veterans Home in Boulder City won the Quality Award from HealthInsight, a private nonprofit community organization that reviews and recognizes Medicare-certified providers for demonstrating high-quality health care.
According to Donna Thorson, HealthInsight's project coordinator, seven facilities in Nevada applied for the award, but only five won. She said for a facility to be eligible for the award, it must rank in the top 75 percentile of nursing homes in the country based on the facility's data.
The facility also must not have any deficiencies in its last Medicare survey to be eligible. The facility must then submit information about a quality service improvement it completed within the past year.
The two options each facility could choose from included reducing potentially avoidable hospitalizations, or reducing the use of anti-psychotic medication for people with dementia.
With Veterans Affairs facilities making news for ugly scandals that included neglecting the care of its patients, winning a Quality Award helps to restore the trust that may have been lost before, according to Charles Pullen of the Nevada Veterans Services Department.
"I think when you have something like this, it validates the care that veterans are receiving," Pullen said. "It gives light to the fact that the instances that have been reported and investigated are definitely the minority compared to the contacts that you have everyday between staff and other veterans."
In August, two employees at the Nevada State Veterans Home were suspended after they were seen drinking in the parking lot. They were not employed by the state, but were contracted by Healthcare Services Group Inc. Department Director Kat Miller described them as "back of the house" employees who didn't have direct contact with patients.
According to Pullen, the veterans home has 245 employees and 180 beds for veterans, most of which are always full.
"We're generally close to full capacity all the time. It's an indicative element to the quality of care being given overall," he said.
"It shows that they put a lot of effort to make sure their residents have a higher quality of life," Thorson said about the Veterans Home. "They are showing that they are providing quality care for their residents."
Contact reporter Steven Slivka at sslivka@bouldercityreview.com or at 702-586-9401. Follow @StevenSlivka on Twitter.