Vegas cop killings, Bundy standoff among top 10 news stories for 2014
January 5, 2015 - 9:05 am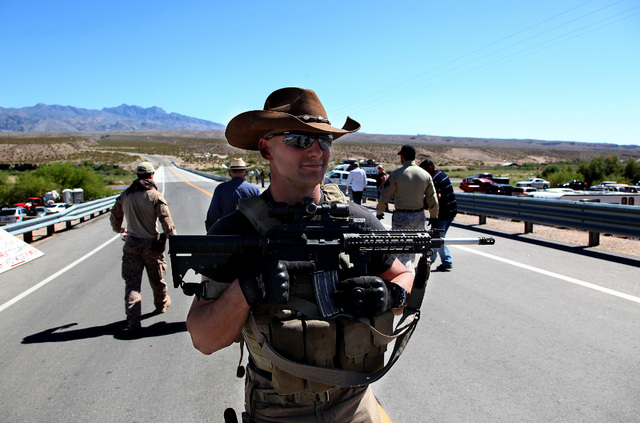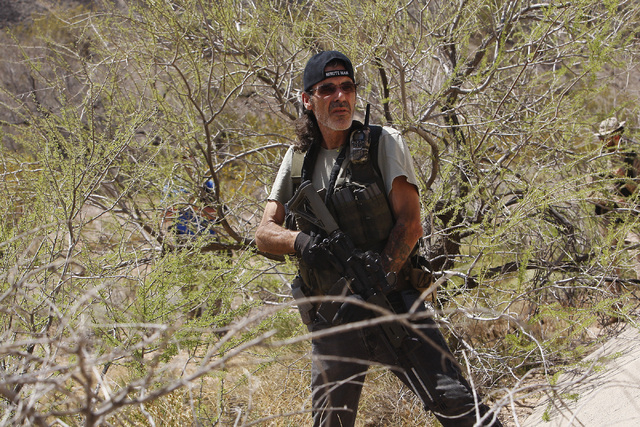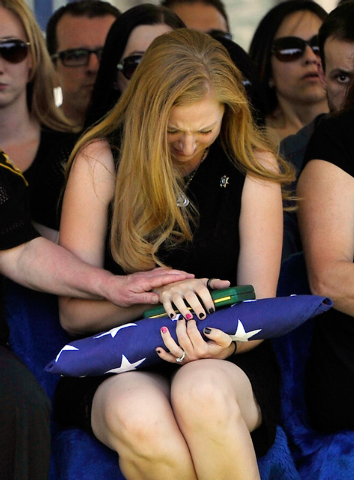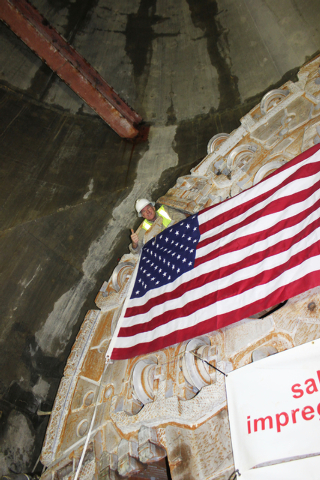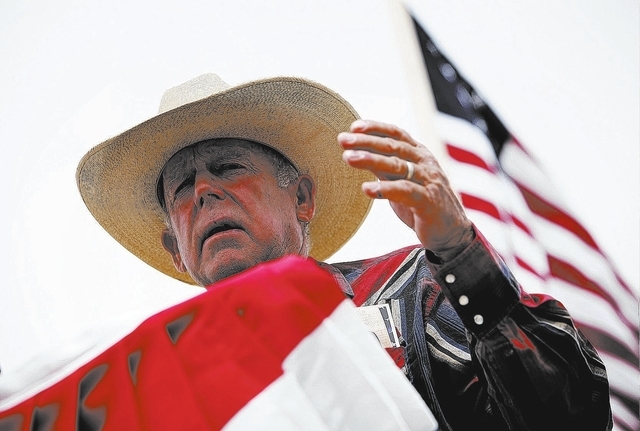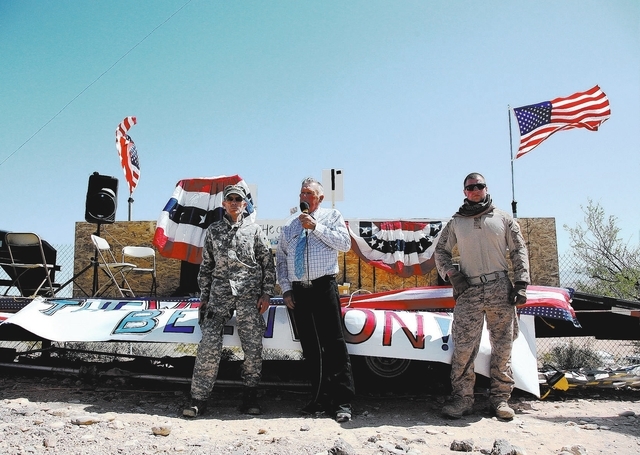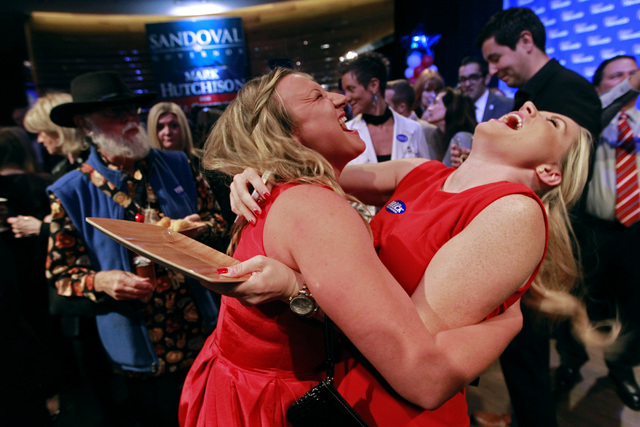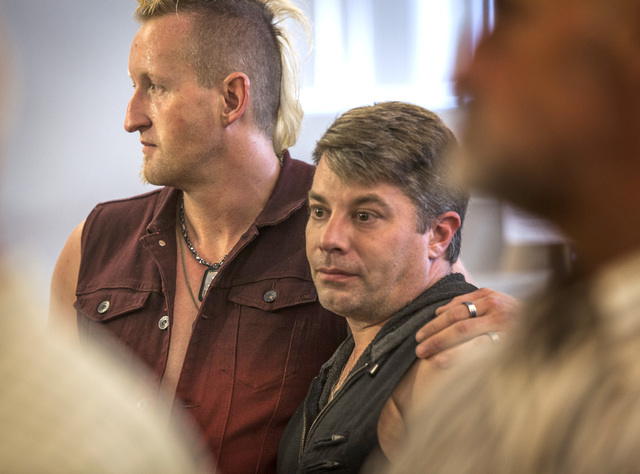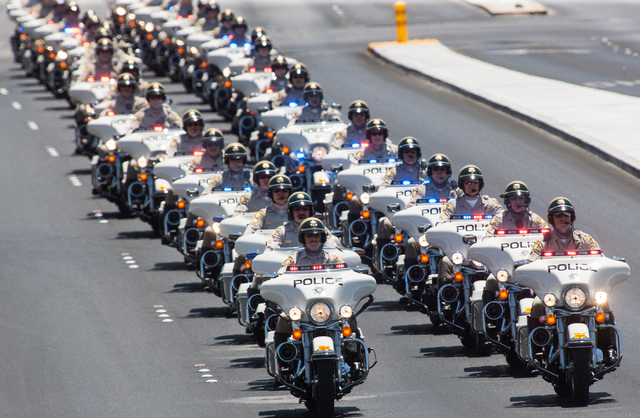 In a year when Nevada marked the 150th anniversary of statehood, the defeat of a proposed margins tax to fund education in Nevada, a standoff between the feds and a Southern Nevada rancher, the legalization of gay marriage and a political storm that left Republicans in charge of the Legislature topped state news in 2014. As we enter a new year, Review-Journal reporters looked back at some of hottest stories on their beats.
A long-simmering dispute between federal range managers and Clark County rancher Cliven Bundy mushroomed into international news when the Bureau of Land Management moved to round up his cattle in early April.
The action began with BLM's closure of 600,000 acres of federal land where Bundy has been running his cattle illegally for 20 years without a permit or paying any grazing fees.
As a crew of contract cowboys began collecting the scattered animals, a defiant Bundy compared the federal government to cattle rustlers and welcomed armed militia members to rally at his side.
The standoff nearly ended in a shootout April 12 when Bundy supporters, some of them armed, marched on the BLM's holding pens and were met by a line of law enforcement officers. Federal authorities quickly backed down, canceling the roundup, allowing the cows to be released and briefly turning Bundy into a conservative folk hero.
His support promptly vanished two weeks later when the rancher used his own daily press conferences outside Bunkerville to voice a string of racist rants.
By year's end, Bundy had been widely denounced and mocked by everyone from President Barack Obama to Mad magazine, but his cattle remained free to roam.
On Oct. 7, in one of the biggest, most dramatic social upheavals in Nevada history, the state's ban on same-sex marriage was found unconstitutional, ushering in a wave of euphoria and a rush to marriage bureaus by same-sex couples.
Although same-sex marriage opponents are challenging the 9th U.S. Circuit Court of Appeals' ruling, thousands of couples have tied the knot.
In a unanimous decision from a three-judge panel, the court said Nevada's constitutional ban on same-sex marriage imposed "profound legal, financial, social and psychic harms" on many of its citizens.
Nevada was one of many states in which same-sex marriage bans fell in 2014 as federal courts mostly found the prohibitions unconstitutional.
Gay marriages in Nevada continue even as the 9th Circuit Court has been asked to reconsider its ruling. Such a decision is highly unlikely, legal experts say.
The U.S. Supreme Court is expected to ultimately decide the issue, but it declined to take up the controversy this term.
In an election shocker, the Republican Party dominated the Nov. 4 voting in Nevada and nationwide, leaving Democrats in defeat and plotting a comeback in 2016 when the White House will be at stake.
In the Silver State, Republicans retained the governor's office and gained majority control of both the Senate and Assembly for the first time since 1929 when the GOP last ran both the executive and legislative branches of government. In 2014, Republicans also won all the top state constitutional offices, including governor, lieutenant governor, attorney general, secretary of state, controller and treasurer.
Buoyed by popular Gov. Brian Sandoval, who won re-election with more than 70 percent of the vote, Republicans swept the balloting thanks to greater voter turnout than Democrats, who were disappointed in the Nevada slate of candidates and by President Barack Obama, whose job approval ratings plunged.
Although Democrats enjoy greater voter registration than Republicans by about 63,000 voters statewide, the GOP dominated the low-turnout election. Only 46 percent of registered Nevada voters cast ballots, the lowest general election turnout since 1978.
As a result, some state candidates won election on Sandoval's coattails while Republican congressional candidate Cresent Hardy, an assemblyman, scored an upset over freshman U.S. Rep. Steven Horsford, D-Nev., in the sprawling 4th Congressional District that stretches from northern Clark County across all or part of six rural counties.
In the Nevada Legislature, the GOP picked up one seat to flip the Senate to Republican control, 11 seats to 10. And in the Assembly, the GOP scored a net gain of 10 seats to take control, with 25 seats to 17 for Democrats.
Nevada public schools rarely get the attention heaped on them in 2014 by the hotly contested margins tax, also called the Education Initiative, singling out businesses to pay, whether profitable or not.
With many businesses arguing that the tax would bury them and no guarantee the tax would increase school funding, it wasn't just a bare majority of Nevada voters that said "no" to the Education Initiative — a 2 percent margins tax on all Nevada businesses with at least $1 million in annual revenue that would have provided an estimated $800 million a year to public schools. A resounding 79 percent of voters rejected the tax measure, aka Question 3.
Although the political action committee in support of the Education Initiative raised $1.6 million in 2014, a trio of opposing PACs raised $7.4 million, according to expense reports released by the Nevada secretary of state. The state teachers association proposing the tax and its Clark County affiliate were the only major contributors to the Education Initiative.
The University of Nevada, Las Vegas has submitted its application for accreditation of its medical school, the first step in a yearslong process that supporters hope encourages more graduates to practice in Southern Nevada. To start the school, UNLV is seeking $26.7 million from the Legislature.
MountainView Hospital and the University of Nevada School of Medicine, meanwhile, have agreed to develop a graduate medical education program based at MountainView Hospital with the goal of increasing the number of physicians serving Southern Nevada.
The two developments were the biggest announcements during 2014 affecting the expansion of the medical workforce in Southern Nevada. Nevada ranks near the bottom of national lists in health care in almost every category.
To turn that around, Nevada needs doctors. The efforts at UNLV and MountainView, and the announcement in 2013 of Roseman University of Health Sciences' plans to create a medical school in Southern Nevada, will bolster efforts by the University of Nevada School of Medicine and Touro University Nevada to prepare doctors to serve the region. About 80 percent of doctors who finish their training stay in that same state.
In his first speech to a veterans group, new Veterans Affairs Secretary Robert McDonald came to Las Vegas in August to lay out his plan to fix the scandal-rocked Veterans Affairs Department. He told the National Disabled American Veterans convention he would launch the agency on a path to restore trust among those who had served in the military and were promised timely health care.
McDonald's predecessor, Eric Shinseki, had resigned in May amid allegations that veterans had died waiting for health care while managers at VA facilities in Phoenix and elsewhere had tried to cover up reporting false wait times to VA headquarters to collect bonuses.
Despite McDonald's effort to correct problems, issues persisted at the Veterans Benefits Administration's regional office in Reno. That office ranks among the worst in the nation for processing disability compensation claims in a timely fashion.
The case of Las Vegas Marine veteran Steve Lowery, who was awarded a Navy Cross for valor in Vietnam in 1969, epitomized the VA's problems. He revealed in December that the VA Reno office had twice rejected a claim he filed in 1994, the year after he retired as a major.
Despite scars from shrapnel on his knee and from an AK-47 bullet that ripped through his thighs, plus Purple Heart medals and medical records that he submitted for review, the VA Reno office denied his claim in 2012 saying his wounds were unrelated to his military service. After the Review-Journal's Dec. 7 story, the VA arranged a physical examination for Lowery so he can proceed with his claim.
Other big stories in 2014 that affected Boulder City include:
n Lake Mead: Sapped by 14 years of record drought and decades of overuse, Lake Mead shrank over the summer to its lowest level since the reservoir was began filling in 1937. And in a positive development, the Southern Nevada Water Authority and its general contractor reached a major milestone in their effort to build a new deep-water intake for the Las Vegas Valley.
n Interstate 11: Although the formal congressional designation of Interstate 11 came when federal legislation was approved in 2012, the governors of Nevada and Arizona put an exclamation point on that in March by unveiling signs identifying the U.S. Highway 93 corridor that would carry most of I-11.