Two golf tournaments to benefit local kids
September 5, 2013 - 3:00 am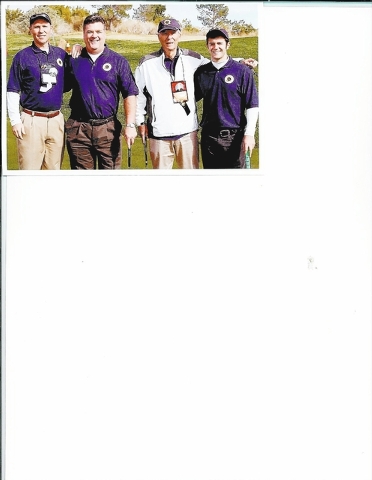 Two charity golf tournaments to benefit local children will be in Boulder City, and both are still seeking golfers, sponsors and donations.
Puttin' Fore the Kids, which benefits the local boys and girls after-school program, will be Saturday at the Boulder City Municipal Golf Course.
The money raised will benefit the after-school program operated through the city's Parks and Recreation Department. It began after the Boys & Girls Club-funded program ended locally.
The annual Dan Leach Memorial Fund Golf Tournament will be Oct. 12 at Boulder Creek Golf Course. It is the nonprofit organization's only fundraising event each year. It provides financial assistance for local youngsters to participate in athletics and other activites.
"One hundred percent of all donations collected from our event will go directly to the boys and girls after-school program," said Bob Conrad, one of the Puttin' Fore the Kids organizers. Other organizers are Jack Gaal and David Hawkins.
"Even after the Boys & Girls Club cut funding, we had to have a place for these kids in Boulder City," Conrad said. "This is our way of assisting the program."
Puttin' Fore the Kids has a title sponsor in Jack's Place Sports Bar & Grill on Nevada Way, but it's still in need of last-minute golfers and donations. The municipal golf course is at 1 Clubhouse Drive.
Puttin' Fore the Kids has partnered with the Dan Leach Memorial Fund, and all entry fees and donations will be paid to the fund. The fund will make a donation directly to the city's after-school program.
"Our event does not hold … nonprofit charity status, so the Leach Fund is assisting us so that all donations to our event can flow through them and can be a 100 percent donation," Conrad said. "The goal was to get as much money to the kids as we could. These are two separate golf events, and we hope everyone will support both of them because who they are really supporting is our local youth."
Puttin' Fore the Kids' shotgun start is at 7:30 a.m. Check-in time is 6 a.m. A barbecue lunch will be after the event. For more information, contact Gaal at 702-234-7260, Conrad at 760-900-5042 or Hawkins at 702-296-3859.
The third annual Dan Leach Memorial Fund Golf Tournament will be a scramble start. It begins at 12:30 p.m. Check-in time is 11 a.m. At 5 p.m., there will be a dinner with a raffle and a silent auction. To register or donate, call 534-5437 or go to www.danleachmemorialfund.org.
In recent years, the fund has sponsored local children with opportunities for athletics, music and the arts.
"Dan was a true believer that if the kids stay busy with extracurricular activities like athletics, band, and dance that they are less likely to get into trouble and that they will graduate as better rounded students," said Laura Leach, Dan Leach's widow. "That is what Dan thought, and so we work to fulfill that mission in his loving memory."
Dan Leach, a Las Vegas corrections officer for 25 years, was killed when his Metro van collided with a semitrailer on Nov. 21, 2009, just north of Searchlight while delivering prisoners.
Other donations from the Dan Leach Fund this past year helped send several football players to their first football camp. It paid Little League fees for youngsters whose parents lost their jobs. It paid for dancing shoes and music lessons for some local kids.
Each time a child sees a dream fulfilled, Laura Leach said his friends remember Dan and share a smile because they know he would have made such dreams come true himself if he was still here.
"The golf tournament is now our main fundraiser," fund secretary Michelle Inman said. "We are not doing as many small events as in the past so that we can concentrate on our biggest event. We are still hoping to gather more golfers, along with donations of items for our silent auction."
Pedro F. Fonteboa can be reached at fonteboavegas@yahoo.com.