Triplex fire ruled an accident; damage estimate not available
September 23, 2015 - 3:46 pm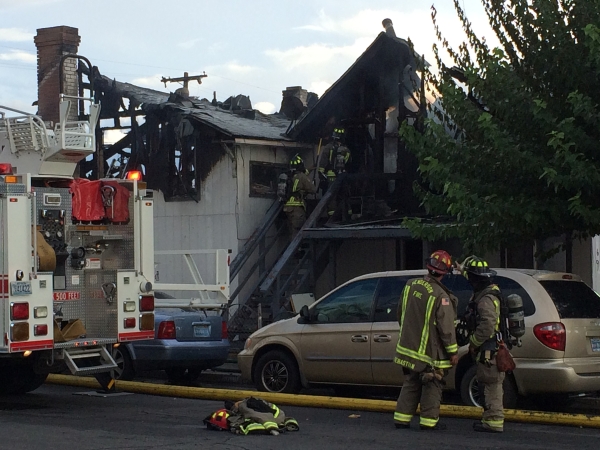 A Sept. 14 fire that destroyed a Boulder City triplex was ruled an accident, the Boulder City Police Department said Tuesday, but a damage estimate was not yet available.
Police Chief Bill Conger said the fire was likely started by a cigarette after they ruled out the possibility of suspicious origins.
The fire remained under investigation Tuesday and a damage estimate was not available, Boulder City Fire Chief Kevin Nicholson said.
After initially directing comment to the police department, the fire chief said he could not provide any further details. Nicholson also declined to provide the investigating organization for further comment.
"I haven't followed what has been going on," Nicholson said. "It's not something I'm involved with."
The three-unit building at the corner of Wyoming Street and Avenue L caught fire around 3:30 p.m. on Sept. 14, the Boulder City Fire Department said. Two families living at the triplex were displaced and a third unit was vacant.
Property manager Anna Argueno of Desert Sun Realty said Caleb Dunnean's name was on the lease for the upstairs unit.
Shey Reyes said she lived in the unit with Nathan Dunnean, 33 and their children Nathan, 3, and Mason, 2. Caleb Dunnean, 33, and girlfriend Bailey Scott also lived there, Reyes said.
Nathan Dunnean, Scott and the two children were home when the apartment caught fire, Reyes said. Dunnean suffered a broken foot while jumping out of the second-story window, but the children, who were dropped from the window, had only minor scratches.
"It was a miracle they were all able to get out," Reyes said. "And my kids, they're really tough."
Alicia Tederman lived in the downstairs unit with her fiance, Logan Pierce, and their two children, Kairi, 5 and Brayden, 5. The family escaped unharmed, but they lost "everything" in the blaze.
Tederman said on Sept. 16 that the fire appears to have started upstairs and they were home when someone banged on their door and told them to get out.
Boulder City resident Amber Howe, who works with Tederman at Mountain View Care Center, said Tuesday that community support for the family has been "overwhelming" and "wonderful."
Howe, who teamed up with Boulder City resident Jennifer Olsen to collect donations for the families, said her phone has been ringing "off the hook" with donation offers since last week.
"We got a lot of kids and adults clothes, kids clothes, blankets, towels and laundry soap," Howe said. "Pretty much everything you can think of."
"Both families have been very grateful for everything they've received," Howe said.
With the families still in temporary housing, Howe said the families are still seeking furniture items, like sofas and beds.
Donations can be given to Howe at 850 Jeri Lane or by calling her at 775-354-7060. Additionally, donations can be made by contacting Jennifer Olsen at 1510 Sandra Drive or by calling her at 702-521-0773.
Howe said the two can make arrangements to have large items picked up and will sort all the donations to make sure each family gets what it needs.
Contact Chris Kudialis at ckudialis@reviewjournal.com or 702-383-0283. Find him on Twitter: @kudialisrj