Trail blazers: Discussion centers on OHV use in town
September 5, 2018 - 3:13 pm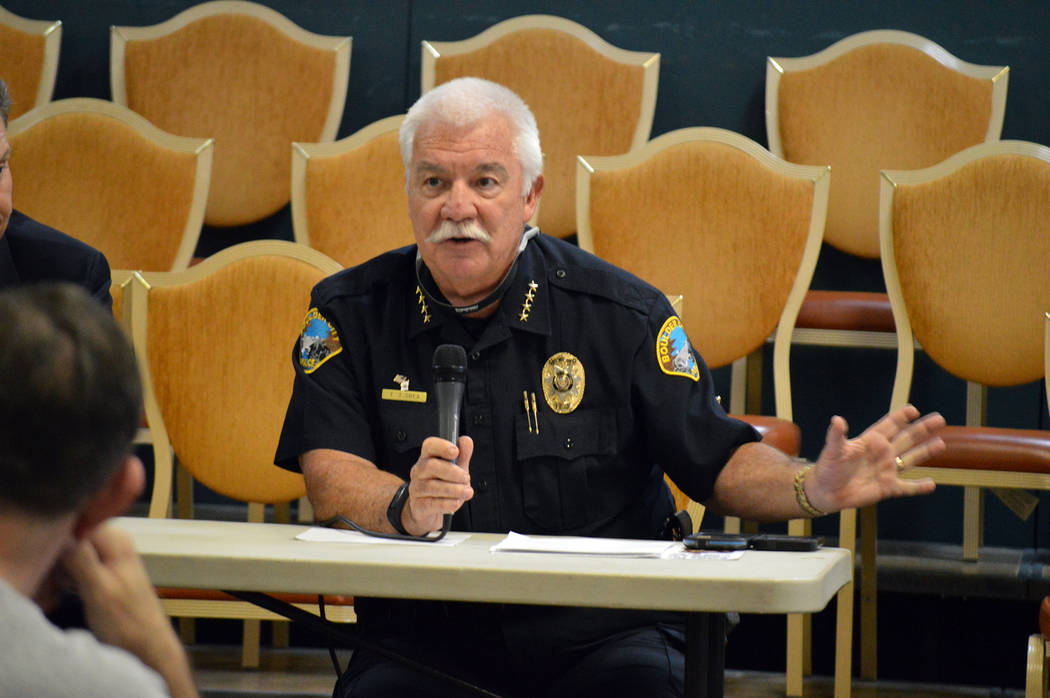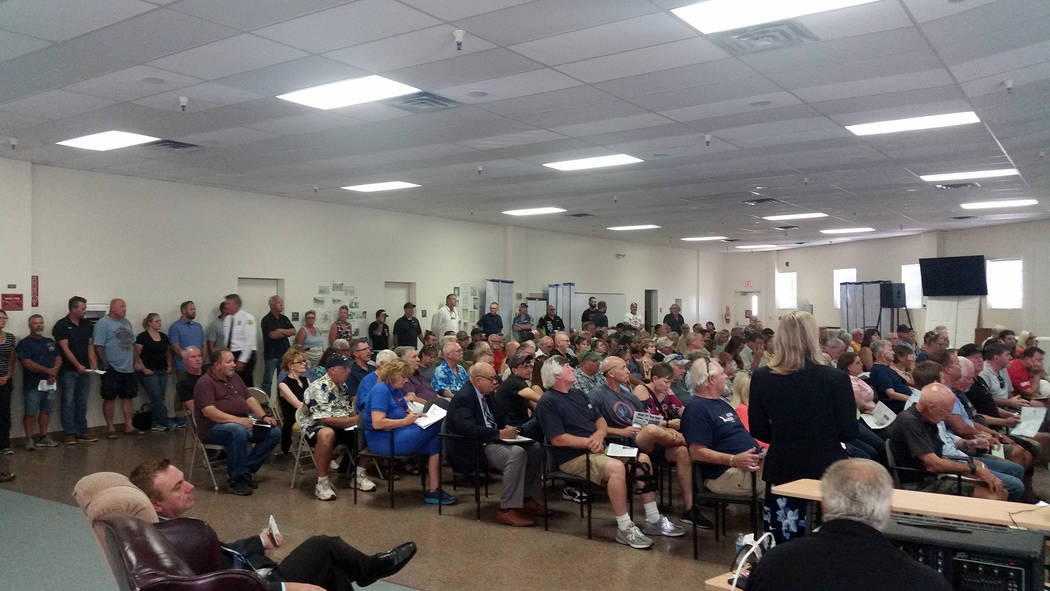 Education about the possibility and legality of allowing off-highway vehicles on Boulder City streets was the focus of a town hall meeting Tuesday night attended by more than 150 people.
For the past year and a half, residents and business owners have supported the idea of a trail system in town for off-road vehicles. It would have access points to the desert from city streets and allow riders to travel through town on the OHVs.
Tuesday's meeting at the Elaine K. Smith Building was an opportunity for residents to learn more about what is allowed in Boulder City with OHVs. City staff was also able to hear from the public about their wants and concerns with a possible trail system.
According to Nevada Revised Statutes 490.105, large all-terrain vehicles may operate on portions of a highway that have been designated as a general or minor county road. Designating those roads is up to the municipalities.
"Boulder City as a municipality has not designated any of its paved roads as permissible for large off-highway vehicle use," said Boulder City Attorney Steve Morris. "As it stands now, it would be illegal to operate that large off-highway vehicle on a city street — not only a large off-highway vehicle, but any off-highway vehicle on city streets."
The meeting featured a panel discussion with Morris, Police Chief Tim Shea, Community Development Director Michael Mays and Boulder City Chamber of Commerce CEO Jill Rowland-Lagan.
Rowland-Lagan said that she and a group of residents and business owners have been talking about a trail system for a few years and originally discussed five access points from the city to desert. In the past few weeks, that has been narrowed down to two access points.
She said one would be at Buchanan Boulevard past the Southern Nevada Veterans Memorial Cemetery and the other would be at the end of Utah Street past the landfill. Both locations would be far enough away from residences so dust and noise would be less of a concern for homeowners.
Resident Joel Pepper said the system would reinforce the city's slogan of "Boulder City, a world away for a day."
"This is one way to differentiate us from other places and help boost the economy, too," he said.
Resident Mindy Hampe said she liked the idea of two access points. She also said that by allowing off-highway vehicles on city streets it could help reduce the city's emissions as well as bring more families into town to live, which would help support the local businesses.
Other residents expressed concerns about having enough parking and stirring up naturally occurring asbestos by riding in the desert and then coming into town.
"We can only drive one at a time," said Joel Hampe about the off-highway vehicles taking more parking spots in town.
"This is absurd that you want to flood this town with asbestos dust. … This is absurd that we're even discussing this," said Carlos Raines.
Rowland-Lagan said they were looking at all the available resources about asbestos in the area and would be looking at how to keep it off the streets.
"We are monitoring that," she said. "These vehicles are already in the desert. We need to figure out about the streets."
Other attendees mentioned the economic impact and that it could bring more people and business into town.
"I think this would be a good way to get more people into Boulder City," said Cindy Ford, owner of Southwest Diner.
Tony McCleery said he rides his off-highway vehicle in Utah where he can go from town to town on the trail system.
"There are so many potentials," he said.
McCleery said currently the city has no OHV dealers, manufacturers or modifiers.
"These folks will come to town if they see the potential," he said.
Rowland-Lagan said there are five businesses that are paying attention to what is going on in town with OHVs.
"They are interested in coming here," she said.
The businesses involve selling OHVs, maintaining and accessorizing them.
Registering and insuring the OHVs was another concern brought up by staff and attendees.
Should the city allow these types of vehicles on its streets, it could change its insurance rates with Nevada POOL/PACT, Mays said.
"Insurance could increase," he said.
Mays said he had reached out to the POOL/PACT and was told they would have to research the potential impacts.
Additionally, Morris said that anyone driving an OHV on city streets would need to be a licensed driver.
Shea said OHVs are not registered with the Nevada Department of Motor Vehicles, but are registered through the Off-Highway Vehicle Commission.
Other topics brought up included how long it would take to get a resolution passed to allow the OHVs as well as the ability and desire of the community to put it to a vote.
Morris said the length of time for a resolution would be however long it takes to pass a bill. He also said the community did have the ability to put allowing OHVs in town to a vote.
Boulder City Communications Manager Lisa LaPlante said city staff will research what was brought up and inform City Council members at a later time.
Contact reporter Celia Shortt Goodyear at cgoodyear@bouldercityreview.com or at 702-586-9401. Follow her on Twitter @csgoodyear.