The Herrs: Like mother, like daughter
October 3, 2013 - 6:41 am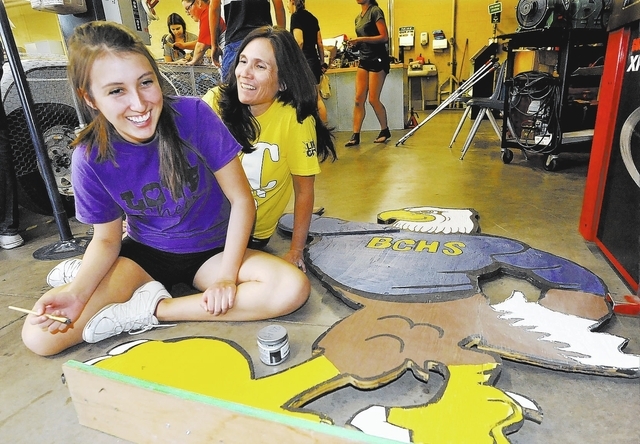 Emma Herr knew that becoming student body president at Boulder City High School would draw the comparisons. But she welcomed them. After all, she doesn't think she could follow a better example.
There are plenty of eyes, not to mention pressure, on Herr. Her goal is to do better than the student body president in 1986-87 — her mother and Boulder City teacher Cheryl Herr.
"This is something I wanted to do since I was a freshman," Emma Herr said. "At first, I just wanted to get involved but as the high school years passed, I felt I really wanted to do this as a senior and do it with my mom. Not many kids will have the special bonding with their mom(s) that I will benefit from doing this."
Cheryl Herr is in her seventh year as a math teacher at Boulder City High and her second year as adviser to the Student Council. She oversees homecoming week.
Homecoming week began Monday with daily Dr. Seuss themes, but the main festivities are today, Friday and Saturday. Emma Herr is in the middle of it all, helping to organize the float-building, the parade, the king and queen events and the "Seussville" dance.
Students dressed up Monday wearing stripes for "Cat in the Hat Day." Tuesday was "Thing 1 and Thing 2 Day" and students matched up what they wore with a "twin" at the school. On Wednesday it was "Oh, Places You Will Go! Day" and students dressed as tourists.
Today is Lorax Day and neon clothes will be the fashion. Friday, like other Fridays, is School Spirit Day and students are encouraged to wear the school's colors.
Today, floats will assemble at 5 p.m. at the preparade staging area (Girl Scout Building at Broadbent Park) off Sixth Street. The homecoming parade will be through town from 6 to 7 p.m., finishing at the site of the bonfire — the old Boulder City Airport (next to the fire station; behind McDonald's).
The Homecoming Assembly is in the main gym from 11:42 a.m. to 12:30 p.m. Friday. The tailgate party in the football parking lot begins at 5:30 p.m. with the varsity football game against Virgin Valley at 7 p.m.
The Boulder City king and queen will be announced during the halftime celebration at the football field.
The week's festivities end Saturday with the "Seussville" theme homecoming dance from 7 to 10 p.m. in the school's auxiliary gym. Advance tickets are on sale today and Friday at the banker's office at the school for $25 per person. Tickets are $30 at the door.
To bring a student from a different school to the dance, Boulder City students must fill out a guest permission slip, available in Room 216.
Cheryl Herr knows what needs to be done. She has come full circle, from building floats for four years in school to serving as student body president for the class of 1987. From the bonfires of the late 1980s, to helping organize today's parade and bonfire.
"My best homecoming memory was definitely float-building," Cheryl Herr said. "Our class had a lot of spirit and everyone showed up to work on the float. It was a social event, but all of the classes really put a lot of work into their floats and took pride in winning.
"I think it's really pretty cool that Emma is doing this because I don't think it happens very often where a parent and child both have been student body president of the same school. As the faculty adviser, I am proud of the effort she and the other students have put forth. But on a personal level, I am so proud of the young lady she has become."
Emma Herr is trying to win the float competition with her classmates as a senior as her mother did with the winning float in 1986.
"We won last year as juniors and a win this year would make it three out of four, and we don't believe any other graduating class has ever done that at Boulder City," Emma Herr said. "We're so excited about float building and the competition this year."
The class of 2014 came in second place as freshmen, losing to the seniors, and won best float as sophomores and juniors.
"We are all looking forward to the homecoming royalty and this year we have the added bonus of electing faculty royalty," Emma Herr said. "There will be two teachers honored."
The faculty male and female homecoming teachers will be announced at halftime. The winners were determined by which teacher could collect the most coins in a fundraising drive from Sept. 16 to Wednesday to fill jars with coins to benefit the Head Strong G! Foundation and Giuliani Grasso.
The homecoming traditions started in the 1950s, but have not always been held as some senior graduating classes skipped holding the events. In the early 1950s, there were floats but no parade. Today, the students will participate in a parade with floats, and bonfire.
"Growing up in Boulder City from kindergarten to 12th grade, I really have a love of this school and all of its traditions," said Cheryl Herr, who married her high school sweetheart, Robert Herr, (class of 1985) and has three children, Emma, 17; Nolan, 13; and Raegan, 11. "I run into a lot of alumni in town that give me suggestions or I use them as a resource and ask them questions. Homecoming in Boulder City is always memorable."
This one more so, given it is a shared experience with Emma.