Teachers use high-powered telescope to scan sky for clues about solar system
November 18, 2015 - 4:22 pm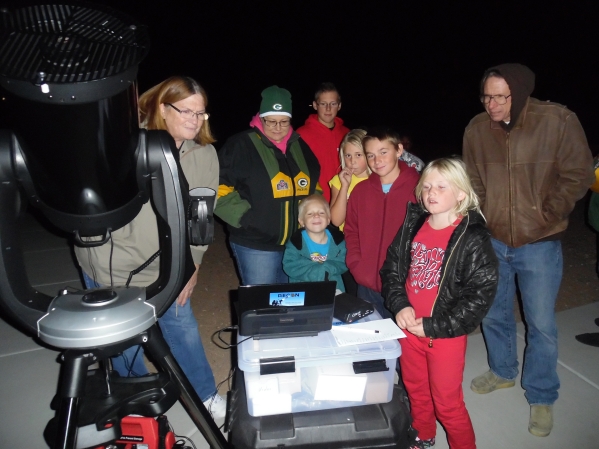 Members of Boulder City High School might be on the precipice of groundbreaking research involving our solar system.
Charlene Wiesenborn, head of the science department at BCHS, along with Avis Johnson, a teacher at Harry Reid Elementary School in Searchlight, have been asked to track objects that lie in the Kuiper Belt, which sits just beyond Neptune.
"Last year, John Keller — who's an astronomer from Cal Poly, San Luis Obispo — sent an email out to people whom he thought might be interested in the project," Wiesenborn said. "They were trying to get schools and communities involved in this project, and we fit within the area they targeted."
The Research and Education Collaborative Occultation Network was started by Keller and Marc Buie, who teaches at the Southwest Research Institute in Boulder, Colo.
They've set up 55 sites, including 11 in Nevada, that run from Oroville, Wash., to Yuma, Ariz., to track objects in the Kuiper Belt.
Keller said the project design requires telescopes spaced every 30 miles, stretching from the Canadian border to the Mexican border.
"The goal of RECON is to determine the sizes, densities and other characteristics of newly discovered Kuiper Belt objects orbiting the sun beyond Neptune," Buie said. "Because these objects have been relatively undisturbed since their formation, they hold important clues about the origins of our solar system."
Pluto was the first Kuiper Belt object discovered in 1930, according to RECON.
Since 1992, there's been over a thousand objects discovered, and it's estimated that there are more than 100,000 objects larger than 62 miles in diameter in this region of the solar system.
In addition to having campaigns in Searchlight, RECON also has set up in Carson City, Yerington, Hawthorne, Tonopah, Beatty, Indian Springs, Henderson and Laughlin.
Wiesenborn, Johnson and students from BCHS and Harry Reid have started campaigns in Searchlight, with their most recent retrieval of data happening Nov. 11.
"We're still at that infancy point where Avis and I are still learning how to use the telescope and set it up, so we haven't approached as many students as we want to," Wiesenborn said. "It's a five-year commitment. This first year is just learning, but after that we want to get more students involved as well as community members. They're welcome to join us."
The group has a high-powered telescope that tracks data based the stars that it aligns with. Once data is captured, the telescope uploads it to a computer, where software specific to RECON computes the data.
The first campaign didn't go so well, as technical issues with the equipment didn't plot the data Wiesenborn and Johnson had hoped for, the teachers said.
During the five-year project, however, there will be ample time for the teachers and students to learn how to work the equipment while trying to figure out more about our solar system.
"It's good for the kids to see living science and be part of some actual research that's going on," Johnson said. "Anytime you can do experimental activities with the kids, it sticks with them. This is part of breaking research that they're doing. It's mind-boggling."
Contact reporter Randy Faehnrich at rfaehnrich@bouldercityreview.com or at 702-586-9401. Follow him on Twitter @RandyFaehnrich.