Teacher's assault charge dismissed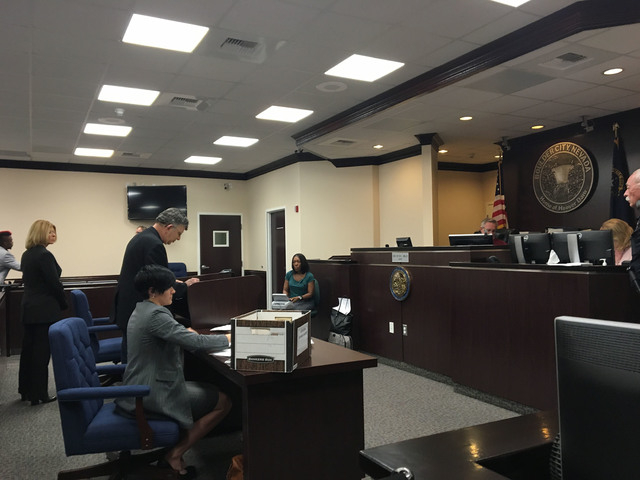 A Boulder City teacher who was accused of firing a gun at her husband after he came home from a night out in January appeared in court for about three minutes Tuesday afternoon.
Jacqueline DeSilva, a special education teacher at Boulder City High School, was arrested Jan. 13 and faced charges of assault with a deadly weapon and discharging a firearm in a building within a prohibited area.
Judge Victor Miller called up DeSilva's case just before 1:45 p.m. Tuesday, at which point DeSilva's attorney, Stephen Stein, said the case had been resolved.
Stein said negotiations with the district attorney's office resulted in the assault charge being dismissed and the count of discharging a weapon in a prohibited area being downgraded to a trespassing charge.
After the state confirmed the negotiated charge and DeSilva pleaded no contest, Miller sentenced her to pay a $585 fee and issued a 60-day suspended jail sentence. As long as she pays the fine, forfeits the weapon used in the shooting (her attorney said she already turned the gun in to the police department) and stays out of trouble until a state status check six months from now, DeSilva will not have to serve jail time.
DeSilva was assigned to "home with pay" in January after Clark County School District officials heard about the shooting. A CCSD spokeswoman said administrators and teachers are the only school staff who qualify for paid leave; support staff such as bus drivers and custodians would be put on leave without pay.
DeSilva, whose base pay in 2014 was $63,586, worked as a special education teacher in Boulder City starting in 2009, public salary records show. She was still "assigned to home" Wednesday morning, according to a CCSD spokeswoman Melinda Malone.
Contact Kimber Laux at klaux@bouldercityreview.com or 702-586-9401. On Twitter: @lauxkimber