Teacher, family grateful for support after fire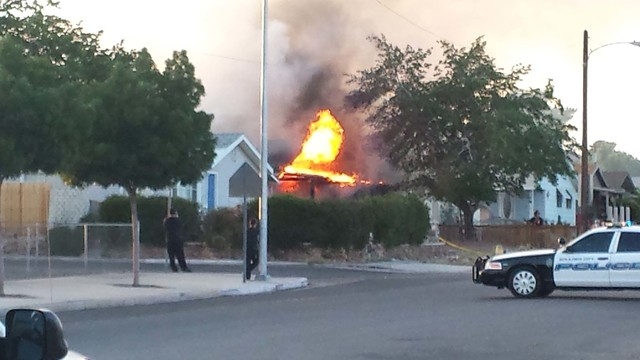 A local schoolteacher and her family are without a home after a fire destroyed their house May 8.
Lisa Combs, a fifth-grade teacher at King Elementary School, was in California on a field trip when she received a call that her house was engulfed in flames.
"I felt like I was in a dream," she said.
The Boulder City Fire Department responded to the scene on California Avenue near New Mexico Street about 7 p.m. and found Combs' home on fire. No one was injured in the fire that took almost an hour to extinguish, and Fire Chief Kevin Nicholson said a cause for the fire has yet to be determined.
Combs said her husband was the only one at home when the fire started, and even though her four cats died in the blaze, she's grateful that nobody in her family was injured.
She said she's received tons of support from the community, and people around the neighborhood have dropped items off on her temporary doorstep to help her family get through their difficult time.
"It really is amazing," she said of all the support she's received. "But we're going to be fine. We didn't lose any family members."
As Combs waits for an answer as to what caused the fire, she, her husband and two of their children are staying with her two other children who live next door to their old house. Combs, who bought her house 10 years ago, said she doesn't believe it can be saved after the fire.
Members of the community have already provided her and her family with clothes and food, and an account has been set up for them at the Boulder Dam Credit Union for anyone who wants to help. Donations are also being collected at King Elementary School.
"I'm totally blessed that all of my family is safe," she said. "You can't ask for anymore than that. I have my kids and my husband. It's wonderful."
The fire investigation remains ongoing.