Swimwear will be outfit of choice for barrel racers
August 15, 2013 - 1:04 am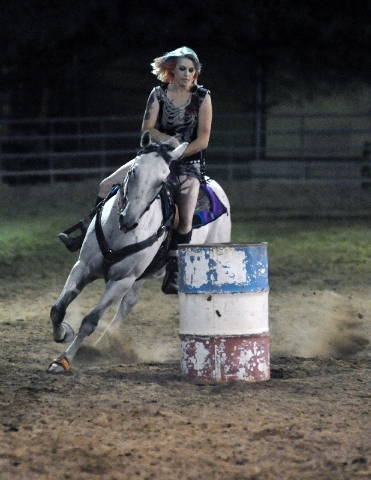 What do you get when you take 100 women wearing bikinis and put them on horses in a high-speed rodeo event? Sponsorship dollars.
Saturday's Bikini Race 2013, 8 p.m. at the Boulder City Horsemen's Association, 1 Corral Road, is the latest barrel racing event in a monthly race series hosted by local barrel racing club BCRacers. Sponsors plan to hold the event annually
The event, which is free to the public, will find women — and some men — competing in their swimwear for what BCRacers Marketing Director Tilly Jenski said is an "unprecedented amount" of sponsorship cash for a Boulder City barrel racing event. Local businesses including the Backstop Sports Pub and The Greatful Pet Animal Clinic, and Las Vegas businesses, such as Stoney's Rockin' Country nightclub and Findlay Acura, have provided $2,400 in prize money, she said.
In comparison, the last barrel racing event hosted by the club only received $500 from sponsors, Jenski said.
It is usually difficult to find sponsorship for the club's events, but this time, Jenski said, she just had to tell potential sponsors that it wouldn't be any ordinary rodeo event.
"Barrel races happen all the time but it's unusual you have a barrel race with something like this," she said. "It makes it more of a spectator (sport)."
The last bikini barrel race in Boulder City, hosted by another club, was in 2004, Jenski said. Another occurred in Las Vegas two years ago.
Saturday's race will operate just like any other barrel racing event, with riders tearing across an arena at full speed, circling three metal barrels in a clover-shaped pattern, and riding back out of the arena at full speed. Riders compete for the fastest time.
Jenski said entrants don't even have to wear a bikini or swimsuit, and all entrants will be eligible for a piece of the open class purse, which will be $2,000 in sponsorship money, plus money from entry fees.
"We don't want to exclude people … we are keeping it open to everybody," she said.
But for those who choose to wear a bikini, a one-piece bathing suit or, for men, swim trunks, there will be a side pot of $400 in sponsorship money up for grabs.
Plus, local sponsor Boulder Dam Brewing Co., which will be selling beer at the event, has pledged to donate $1 to the bikini/swimsuit side pot for every beer sold .
There also will be a bikini fashion contest after the race, where prizes will be awarded in multiple categories, including "best wardrobe malfunction," Jenski said.
"We're trying to push people to get in the spirit to wear a bikini," Jenski said.
The event has received wide support from the barrel racing community and is expecting to attract more than 100 racers from as far as Utah and Arizona, Jenski said.
"Everyone is very supportive of this," Jenski said. "It is a great way to show sponsors what an effective means of advertising this is, and at the same time it supports the local barrel racing community. And the money goes back into the community."
Las Vegas resident Tessa Morgan, 20, said the decision to enter Saturday's competition was an easy one.
"I saw it and I was like, 'Bikinis?' I gotta do it," Morgan said.
Although it sounds fun, Morgan said bikini barrel racing is not without added risk. "Normally you want to ride a horse in close to the barrel, but if you barely graze one (in a bikini) it will probably leave a nice little scrape for you," she said.
Boulder City Chamber of Commerce CEO Jill Lagan said her office has received some phone calls from people curious about the unusual event. "They're asking, 'What does that really mean? Are the riders in bikinis? Is it our local girls (or) are they from Vegas?' " Lagan said. "One guy was adamant about knowing when it was because he didn't want to miss it."
Although it could be conceived that the event might ruffle a few conservative feathers, neither Lagan nor Jenski said they have heard any criticism.
"We're trying to make it family-friendly," Jenski said. "We want it to be a community event. … Of course they're watching girls in bikinis on fast horses, but we want the families to come out."