Swim champ to test Coast Guard's water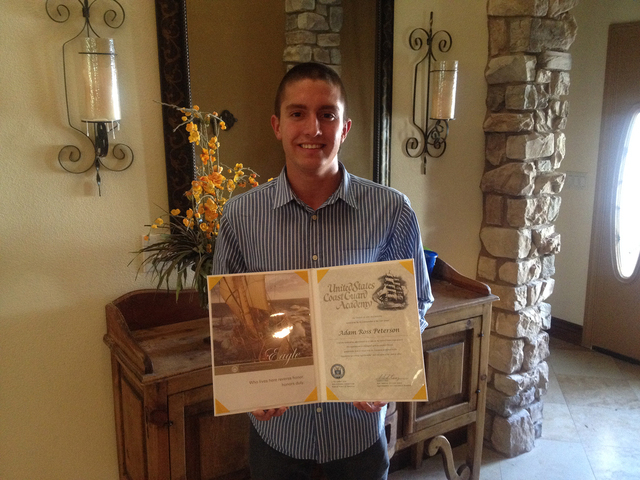 Adam Peterson will graduate from Boulder City High School tonight, and by the end of the month, the four-time state swimming champ will be on his way to Connecticut as a U.S. Coast Guardsman.
Thousands of men and women join the Coast Guard every year, but Peterson is the only high school student from Nevada to be given a fully paid appointment, a feat that he didn't even know about until he was presented with the award at the Boulder City High School Scholarship Night May 19.
"It was a good surprise," he said. "I was just taken aback that I was the only one to get an appointment from Nevada."
Peterson said he found out about his appointment in December when the Coast Guard swim coach called him during class to tell him. Peterson said he cautiously answered the phone and spoke softly so he wouldn't get in trouble.
The Coast Guard's humanitarian effort is what Peterson was drawn to.
"In the Coast Guard, your job is every day," he said. "In the Air Force or Navy, they're training all the time. You just wait for something instead of the Coast Guard, which is an everyday effort."
Growing up in Boulder City, Peterson told his parents he wanted to be a tank driver, a job that his mother told him could be deadly.
"His response was, 'Well, Mom, that's OK because the guys behind me will get 'em,' " Carol Peterson said.
Peterson finished his high school career with weighted GPA of 4.4. During his senior year, he took Advanced Placement calculus, AP English, honors government, psychology and Student Council.
While applying for his Coast Guard appointment, Peterson completed a rigorous physical test that included a 1½-mile run, as many pull ups as he could do, as many push ups and crunches as he could do in two minutes, and a shuttle run. The Coast Guard Academy weighed his grades, leadership skills, letters of recommendation and the four essays he wrote when it gave him the appointment.
During his tenure at Boulder City High School, Peterson helped his team win the state championship in swimming four times. He said the physicality and the structured regiment of swimming helped him prepare for the Coast Guard.
"I think I'm more physically prepared than mentally prepared," he said of the transition from high school life in Boulder City to military life in New England. "The Coast Guard is really regimental and they're gonna get up in your face and yell at you. I think that transition from civilian life to military life is what I'm most scared about."
Peterson's father, Brian Peterson, and uncle, Brad Peterson, both enlisted in the Navy, and Carol Peterson said she knew her son was destined to join the military.
"He's been drawn to some sort of military service since he was 4 or 5 years old. He would draw pictures of planes and military-service men and women," she said.
Peterson will report to the Coast Guard base in New London, Conn., by June 30. After he completes four years of schooling, he wants to get his pilot's license.
When it came to choosing one word to describe her son, Carol Peterson used the word "determined."
"Because of the goals," she said. "At first it was just a hobby, and thinking about what he wanted to be 14 years later, and the drive and the continuing nature of the desire to serve and (him) following through on that. To obtain his accomplishment he's had to be determined in all aspects."
All that's left for Peterson to do now is pack a bag, which will only contain white clothes, and say goodbye to his family and the friends he's made since coming to Boulder City as a kid.
"He's flying the coop, but soaring to new heights and reaching his dream," Carol Peterson said.